Your jnAccount:
Log In
or
Register
| New to Jellyneo?
Click here!
Site Updates
Pick your news: Neopets News
| Crossword | JN Updates | Daily Puzzle | Neopies
Trivia Challenge Results
Posted by Dave
Posted on January 3, 2023, 10:40 am NST
Congratulations to all 1,234 visitors who participated in this year's
December Trivia Challenge
! 357 of you rose to the challenge to answer all 8 out of 8 correctly.
Trophies have been awarded, so if you participated by answering at least one question correctly, check out your jnAccount trophy cabinet!
Everyone who answered at least one question correct also received a jnAccount trophy cabinet theme to claim.
Claim it now!
If you got all 8 of 8 questions, then you received two cabinet claims!
And if you were curious to see what the answers (and where you could find them)...
Happy New Year!
Posted by Dave
Posted on December 31, 2022, 2:00 am NST
From all of us at Jellyneo:
Happy Holidays, from the JN Staff!
Posted by Dave
Posted on December 24, 2022, 6:00 am NST
Merry
Christmas!
Make sure you stop by the
Advent Calendar
today, December 25th, to pick up a new avatar:
---
From all of us at Jellyneo...
---
Wishlists Updates!
We've rolled out some updates to wishlists over in our
Item Database
. Now, you'll find a new "On Your Wishlists" module on each item page when searching the database. This module will display all of the wishlists you have added the item to, along with all of the attributes like quanity, top priority status, and more. The module also contains some quick links to manage your wishlist, remove the item if you'd like, or toggle some of the attributes.
We also spruced up the "Add to Wishlist" workflow for individual items. The list of wishlists is now be divvied up into "Not On These Wishlists" and "Already On These Wishlists"—and you can now update all of the item's attributes for lists you've already added it to.
---
Want to get into the Christmas mood?
Peruse our archive of Flash-free Advent Calendar animations from 2000 through 2016! All of the Flash-based animations from prior years of the Advent have been converted to a modern movie format for you to continue enjoying. They always put us in a seasonal mood this time of year!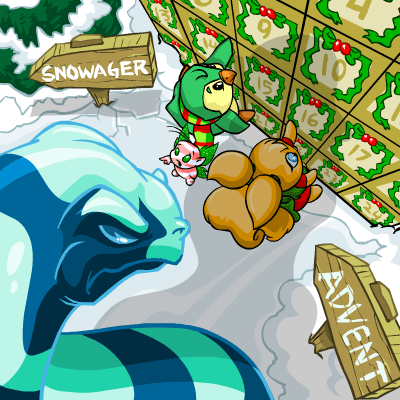 ---
December
Trivia
returns to our homepage on the 26th! Check for a new question daily between December 26th through January 2nd, and answer all 8 for a shiny new trophy in your jnAccount trophy cabinet.
Happy Thanksgiving!
Posted by Dave
Posted on November 24, 2022, 12:00 am NST
If you're in the USA, all of us at Jellyneo hope that you have a happy, healthy, and safe Thanksgiving!
Costume Contest: Voting Closing Soon!
Posted by Dave
Posted on October 28, 2022, 12:00 am NST
The third, and final, round of our Costume Contest is closing SOON, on the 29th at 11:59pm NST to be exact! If you haven't already,
go vote!
Round three has similar voting to round two, except you only have one vote this round, rather than three. You may vote for whichever costumes made it to this round. (The top rated 30 pets from round two moved on. If your costume didn't make it, never fear! It could show up as a staff pick at the end.)
Bonus Vote:
If you rated all pets in round one, you should have a bonus vote available to use!
Good luck to the round three finalists! Winners will be announced on October 31st.