Your jnAccount:
Log In
or
Register
| New to Jellyneo?
Click here!
The Turmaculus
In one corner, weighing in at... *cough* Uh, what was it again?
We don't know for sure, just keep going!
Okay okay, um, really really heavy, we have the Turmulcus. Er, Tumacalacus. No, that wasn't it... Turbo Cactus? Ah, Turmaculus!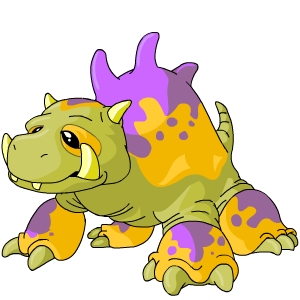 In the other corner, weighing in at one pound, we have...your Petpet.


*MEEEEEEP*
Waking Turmaculus
Turmaculus (affectionately referred to as Turmy) is awake for one random hour every day. Actually, it's not completely random; there are some complicated patterns to predict which hours he could be asleep, and you can check the /~Brownhownd pet page to see which hours are possible for a given day.
If a Jellyneo staffer happens to confirm Turmy is awake at a particular hour, we will also alert our visitors on the sidebar of our site.
You can choose to wake Turmy with any method available; all of them work the same and have no relationship to the possible prizes.
Prizes
Turmaculus can destroy your Petpet! When Turmy eats your Petpet, it is permanently gone forever, and if it had a Petpetpet then it is permanently gone forever too. There is no way to get it back. So make sure you don't use a Petpet that you are fond of!
If you do manage to wake Turmy, he will reward you (not-so) greatly with one of several possible prizes:
Nothing! Turmaculus might not awaken for you, even if he awakens for other users. If this is the case, there will be no "Try Again" button; this button only appears when Turmaculus is asleep for everybody.
100 NP
350 NP
Full heal of your active pet
Increases the Strength of your active pet by one
Increases your Petpet's level by one
Turmy will eat your Petpet, deleting it forever, but awarding you an avatar and a Battledome challenger!

Turmaculus / Guide

Get your petpet eaten by Turmaculus.

Released: June 10, 2004

One of the exclusive item prizes in the table below
Current Turmaculus Prizes
Prior to February 7, 2018, the below prizes were also available, but are now retired.
Well, someone must've whispered into Turmy's ear to ask him to for new prizes, and maybe he woke up on the right side of the grass today because we hear he actually has been handing out some new prizes! Try your luck and see if you can nab one at just…the…right… time!
Retired Turmaculus Prizes
Help us improve!
Did you find what you were looking for on this page?
This article was written by: Ruby