Your jnAccount:
Log In
or
Register
| New to Jellyneo?
Click here!
Tiki Tours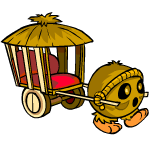 Hey, since you've spent the time to travel all the way out to this Mystery Island why not spend the day on a Tiki Tour? That's right! For just 50 25 Neopoints, you can let the Tiki Tour Guide give one of your Neopets a tropical tour! Your pet will experience the full glory of Mystery Island, and as a result, will have an increase in its mood level. (Before 2014, this mood-boosting tactic was useful for evading the Random Events that could change your Neopets' colour if they were too sad. This is no longer possible.)
Plus at the end of the tour you're given an opportunity to pick up 'free stuff'! No, unfortunately no items.
The Tour
If you don't wish to pay the 50 NP fee, here's the tour reproduced in its entirety: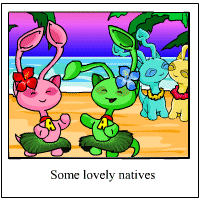 The Mystery Island is a fantastic place to holiday. The natives are friendly and fun loving and the surfing is phenomenal! Here you can see the wonderful surf, the beautiful native dancing girls, and the world famous tropical sunset.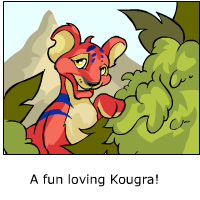 While on the Island you should take in the breathtaking scenery of the deepest jungle and the great Techo Mountain. The vegetation is unlike any found in Neopia Central.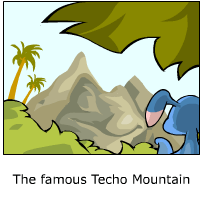 Techo Mountain is one of the 16 wonders of Neopia. Its sheer size is amazing. Few people manage to climb all the way up its dizzy heights. It is rumoured to have secret passages built by the ancient Coco's running through it.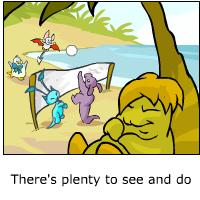 On the Island you can do as much or as little as you want. There are many sporting events held all year round that are free to enter in.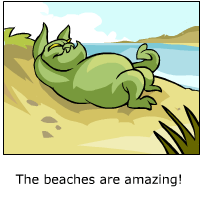 If you have had enough of sightseeing then why not just take it easy for a while. There are hundreds of secluded coves where you can just lay back, take in the scenery and forget all your worries.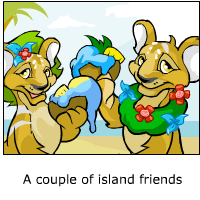 Well, I hope you have enjoyed our little tour, do come back now and don't forget to collect your free stuff from the reception desk on your way out!
"Free Stuff"
The freebies offered are simply a few animated graphics to show off from your visit to Mystery Island:





Links to Screensavers and Neogreetings are also "offered."
Avatar
Like many other places in Neopia, the Tiki Tour offers the opportunity for an avatar:
Help us improve!
Did you find what you were looking for on this page?
This article was written by: DragonBeak