Your jnAccount:
Log In
or
Register
| New to Jellyneo?
Click here!
Snow Faerie Quests
Atop the snowy peaks of Terror Mountain, tucked away inside of her igloo, lives a mysterious Snow Faerie named Taelia. She asks Neopians to bring her various items from around Neopia. We don't really know why exactly she needs all that she requests, but the rewards are potentially worthwhile.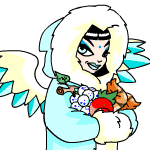 Starting a Quest
Unlike most of the other faeries who pop up at random, Taelia will wait for you to come to her. Once you agree to start a quest for her you will be presented with a screen similar to this:
Taelia's quests are always for 2-4 items ranging in rarities of 30-85 from several categories: Food, Baked, Candy, Medicine, Slushie, Snow Food, and Magic Item. You can click here to see all the items that she may request.
Quest Limits
You may complete up to 10 Snow Faerie, Kitchen, and Edna quests per day. They use a daily combined limit.
You may not start one of Taelia's quests if you have 60 or more items in your inventory.
You may not attempt Taelia's quests from a side account.
Finding The Items
Taelia allows you to use the Shop Wizard to find the items she has requested. She will give you between 1 to 2 hours to collect the items. This can be useful if one of the items she requests is on the expensive side, as it can give you time to look for it to restock in the main shops.
Turning the Items In
After purchasing the items, return to the igloo with the items in your inventory. Click on the "I have the Ingredients!" button to turn them in.
Rewards
Generally, you will receive all of the following for completing a quest:
One random item r50 through r90 from category Food, Magic Item, Battle Magic, Defence Magic, or Slushie (click here for a full list), or one of the exclusive prizes listed in the section below
One standard magical snowball (see table below)
An amount of Neopoints; the average reward is 2,000 NP, but can range from ~500 to ~3500NP distributed roughly along a bell curve
Exclusive Quest Prizes
The following items are only available by completing a quest for Taelia:
Ice Cream Machine Coupons
Magical Snowballs
The following snowballs are possible to receive for completing a quest:
Avatar and Battledome Opponent
Completing one of Taelia's quests for the first time will also earn you an avatar and Taelia as an opponent in the Battledome.
Taelia's Sayings
Taelia has a couple pieces of random dialogue when you complete quests for her.
While waiting for you to turn in items, she will say one of the following:
Boy this place is freezing...
Could you put an extra log on the fire on your way out?
Fancy a game of Snow Wars later?
Have you tried skiing the Alpine Challenge yet? Its so much fun! [note: this is a reference to a game that was sent to the Game Graveyard back in 2002]
Help yourself to Chia Cookies!
Im so glad I have such a warm coat on!!
Please hurry up and bring me back my ingredients!
Thanks for all your help!
If you fail a quest by letting the time expire, she will say one of the following:
Are you always this slow?
Bah, the Air Faerie never has this trouble finding ingredients!
Grrr, there goes another spell.
Ok well that has like totally ruined my spell now!
The spell wore off ages ago, these items are useless to me now!
You were too late, sorry... try again later I guess..
Help us improve!
Did you find what you were looking for on this page?
This article was written by: Weepit