Your jnAccount:
Log In
or
Register
| New to Jellyneo?
Click here!
Lever of DOOM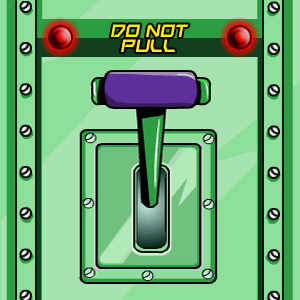 DO NOT PULL THIS LEVER
The Lever of Doom... you just might not want to pull it. It just might do some disastrous things! Well, not really that disastrous. The lever had a makeover (along with the rest of the Space Station) following the Return of Dr. Sloth plot; however, it is still the same old random avatar-giver that you have grown to know and hate love.
What It Does
If you have more than 100 Neopoints out, the Lever of Doom takes away 100 Neopoints from your Neopoints on hand. There is no limit to the number of times per day that you can pull the lever.
"Oh no!! An evil mechanical hand emerges from a panel and steals 100 Neopoints from you!!"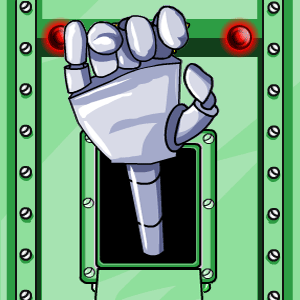 However if you have less than 100 Neopoints, the lever doesn't take away 100 Neopoints. Instead, it says:
"How odd. Nothing happens when you pull the lever."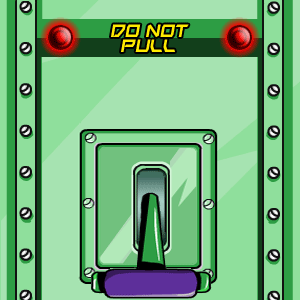 What Is It For?
The Lever of Doom was designed as a way of getting rid of some of the Neopoints in the Neopian economy. Every day, millions of Neopoints are awarded to players through the numerous Flash games on the site and through Random Events, whereas only a fraction of this gets removed from the economy through users buying from the main Neopian Shops. This is why certain games cost Neopoints to play; The Neopets Team then tries to tempt users to play these games by offering avatars. Economics at work!
Below is the avatar you can win from the Lever of Doom. How many pulls of the lever it takes before you are awarded with it is completely random; some extremely lucky users have received it on their very first pull, whereas others have spent millions and have yet to be awarded it. So, be prepared to come back more than once (and to spend a lot of Neopoints) if it's the avatar you're after!
Lever of Doom / Guide
Random when having 100 NP stolen by the Lever of Doom.
When activated, the 2019 Charity Corner perk, Avatar Goldmine, increased the chances of obtaining this avatar.
Released: February 8, 2005
Help us improve!
Did you find what you were looking for on this page?
This article was written by: Terry