Your jnAccount:
Log In
or
Register
| New to Jellyneo?
Click here!
Kelp Menu
As of January 12, 2021, Kelp is not available. In order to feed your pet at Kelp, Adobe Flash is needed which was discontinued on January 12th by Adobe. We anticipate TNT will be converting this feature to be Flash-free at some point in 2021.
Kelp is a restaurant located in Maraqua. It offers a limited menu of exclusive food that you can purchase to feed your pet with.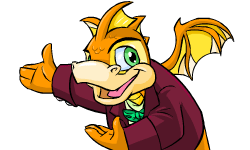 Entering the Restaurant
The restaurant has limited spots to seat Neopets. Fortunately, this was only an issue back in the early days when everyone wanted to visit and eat at Kelp. Nowadays, there usually is not a waiting list to get in.
To enter the restaurant, simply visit the lobby and click the button to say what name your "reservation" is under. (You don't actually need a reservation!)
Menu Selection
Once you're seated, a waitress will present your options on various course menus. You may only select one item per menu. Prices are not listed on the menus, so check out our menus below for a full price listing (which are ordered from cheapest to most expensive):
Cocktail Menu

Lemwart Fizz
7,000 NP
(cheapest option)

Thornberry Brew
7,000 NP
(cheapest option)

Aged Tchea Juice
8,000 NP

Phear Juice Tonic
8,000 NP

Blue and Orange Rambus Blend
9,000 NP

Cornupepper Lemonade
9,000 NP

Foozette Juice
9,000 NP

Funnydew Melon Delight
9,000 NP

Seaweed Surprise
9,000 NP

Twirly Fruit Blend
9,000 NP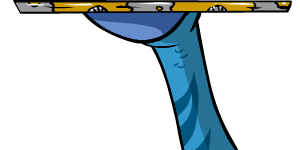 Leftovers
If you purchase more food than your pet can eat, you will get to bring home the leftovers. When this happens, you will be taken to a screen which will show you which of the dishes you get to take home, and it will then be added to your inventory.
The items you receive are chosen from what you ordered, so if you'd like a particular dish you will need to select it from the menu.
As well as a food item, you will also be awarded with an avatar if your pet brings home a bag of leftovers:
Bon Appétit / Guide
Awarded randomly when you take your pet for a meal at the Kelp Restaurant and receive leftovers to take home.
Released: April 21, 2005
Increasing Chances of Leftovers
You can increase your chances of receiving leftovers by doing the following:
Bring your lightest Neopet (by weight). Weight is listed on your pet's lookup.
Make sure the Neopet you bring is "very bloated" by feeding them before bringing them to Kelp.
Select an item from each of the 4 menus above. (The minimum cost is 60,400 NP if choosing the cheapest items highlighted above.)
It may still take a few tries before you get lucky enough for leftovers. The methods above are not always guaranteed.
There are no known ways to influence exactly which items you get to take home as leftovers, apart from at least ordering the items you wish to keep.
Help us improve!
Did you find what you were looking for on this page?
This article was written by: Dave