Your jnAccount:
Log In
or
Register
| New to Jellyneo?
Click here!
The Island Mystic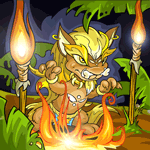 The Island Mystic's hut, located on the Northwestern side of Mystery Island, is a highly visited site. Each day, Neopians visit the Mystic to have their daily fortunes told. Some good, some bad, some tragic, but the Island Mystic still manages to draw a crowd.
The possible fortunes he may give you are broken up into 4 different pools of sayings, based on the different possible endings for different starting phrases. Each fortune is randomly strung together with one phrase from each column within a given set. (Note: The fortunes do not come true! If they do, it's only a coincidence!) Thanks to thelastparticiple for the data collection that enabled this phrase mapping!
The Fortunes
This first set of possible fortunes has over 23,000 unique options about fighting with Neopets - 1,152 of which could contain "Kyries".
Possible Fortunes - Pool 1
You will be assaulted by
You will be attacked by
You will be chased by
You will be taunted by
You will defeat in single combat
You will defend yourself against
You will fight off
You will suffer injuries from
a flock of
a pack of
a trio of
an army of
countless
legions of
scores of
several
deranged
enormous
enraged
evil
flying
four-headed
gigantic
glow-in-the-dark
huge
insane
invisible
psychotic
purple
radioactive
rampaging
snarling
stealthy
three-headed
Acaras.
Aishas.
Blumaroos.
Chias.
Eyries.
Faeries.
Kaus.
Kikos.
Kyries.
Lennies.
Lupes.
Monoceri.
Mutants.
Nimmos.
Pant Devils.
Scorchios.
Shoyrus.
Sloth's Minions.
Techos.
Zafaras.
This second set of possible fortunes has only 162 unique options - all of which are just for fun.
Possible Fortunes - Pool 2
Your confidence
Your direction in life
Your luck
Your sense of direction
Your sense of self
will alter
will cease
will change
in a strange way.
unexpectedly.
without your noticing.
Your ability to
breathe
drink fish oil
drink mutant slime
drink oven grease
drink processed lard
eat
fly
hear
hop
run fast
see
sing
smell
This third set of possible fortunes has 2,000 unique options - 75 of which could contain "Kyries".
Possible Fortunes - Pool 3
You will eventually
You will quickly
You will rapidly
You will slowly
You will suddenly
decide to
make a decision to
realise that you forgot to
realise that you must
realise you have to
burp repeatedly.
bury all your clothes.
feed your Neopet a Green Negg.
feed your pets mashed potatoes.
feed your pets Sausages.
gargle with jelly.
give your Neopet a petpet.
hug your Neopet.
korrall some kaus!.
never eat bananas.
paint your left ear green.
pretend your name is Keith.
put your finger in your ear.
sing a song backwards.
stop wearing a hat.
visit the wishing well.
play
Cheat.
Dice-A-Roo.
Gormball.
NeoQuest II.
feed your
look after your
play with your
Acaras.
Aishas.
Blumaroos.
Chias.
Eyries.
Faeries.
Kaus.
Kikos.
Kyries.
Lennies.
Lupes.
Monoceri.
Mutants.
Nimmos.
Pant Devils.
Scorchios.
Shoyrus.
Sloth's Minions.
Techos.
Zafaras.
This final set of possible fortunes has 5,100 unique options and forecasts what can happen at certain places.
Possible Fortunes - Pool 4
You will accidentally discard
You will come across
You will discover
You will find
You will happen across
You will have stolen from you
You will lose
You will misplace
You will mistakenly crush
You will reveal
You will totally forget
You will unearth
a Blumaroo Plushie
a bottled Faerie
a Cement Mixer
a Chia plushie
a cool weapon
a Gold Bike
a golden Juppie
a Kau Plushie
a keychain
a Paintbrush
a Rod of Supernova
a valuable artifact
all of your Neopoints
all your food
an Aisha plushie
an apple
gold and jewels
many Neopoints
most of your Neopoints
rare Neggs
some of your Neopoints
somebody else's trousers
vast riches
your best friend's items
your Neggs
at the Bank.
at the Battle Magic Shop.
at the Food Shop.
at the Magic Shop.
at the Smoothie Shop.
at the Space Station.
at the Wishing Well.
in Faerieland.
in Happy Valley.
in Kiko Lake.
in Maraqua.
in Neopia Central.
in the Haunted Woods.
in the Ice Caves.
in the Uni Meadows.
on Mystery Island.
on Terror Mountain.
You will have
amazing
awful
bad
demonic
dissapointing
evil
excellent
good
horrible
incredible
nasty
outrageous
perilous
terrible
treacherous
unexpected
ungodly
unusual
fortune
luck
The Avatar
To receive the Island Mystic's avatar, your fortune must contain the word "Kyries," and from the options above, just Pool 1 and Pool 3 contain this. Only 1,227 of the 30,914 total potential fortunes can award the avatar.
You can receive up to two different fortunes per day. One in English and a second fortune in any of the non-English languages available on Neopets. To view your second fortune, when viewing on the classic page, scroll to the bottom of the page and select another language in the dropdown menu in the footer.
You only need to bother with one alternate language. The French fortune of the day, for example, is simply a translated version of the Spanish fortune of the day! When translated, "Kyris" or "Kyriis" will award the avatar.
Island Mystic / Guide
Go to the Island Mystic and receive a fortune with the word "Kyries" in it.
Released: August 27, 2004
Help us improve!
Did you find what you were looking for on this page?
This article was written by: Dave & Quail