Your jnAccount:
Log In
or
Register
| New to Jellyneo?
Click here!
Daily Dare - March 2007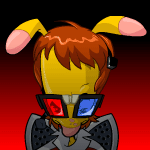 AAA is up to his antics again! Only this time, he's throwing out 31 challenges, one for each day of March 2007!
Basics
The basic concept behind the Daily Dare is that you are presented with two scores, one being AAA's and one being Abigail's. Abigail's will always be much lower than AAA's, and will be the score that most of you non-game players will be going for. Once you choose which score you'd like to go up against, you then have to play the game and beat it. This is basically a mini-much-easier-to-win Better Than You. :P
Prizes
Each round can win you some special prizes! These prizes will only be available from the Daily Dare, so we suggest saving your prize and selling it a little later on if you'd like more Neopoints. ;) We're keeping an easy-to-use archive of all the prizes given out; just take a look at the two columns with pictures in them in the table below.
Strategy
Who should you go up against? Abigail or AAA? AAA's prize will almost always be more valuable simply because his scores are so high and not as many Neopians will be winning them. Luckily, there's a little method to get the best possible prize. Before choosing who to challenge, play the game. Try to score as high as you can. Once you get a satisfying score that either beats AAA or Abigail, do not send it! Go back to the Daily Dare page and challenge the appropriate person that matches your score. Then you can go back and send the score, and it'll count for the challenge!
The Games & Prize Archive
The table below contains all of the prizes, scores needed, and the day in which they were issued. Clicking on the date in the "Day" column will bring you to the dare for that day, and clicking on the game image or name will bring you to our game guide for that game. Also, be sure to check out the Master Cheat List for a full list of cheats on all of the games!
Final Prizes
There are more prizes than just that warm tingly feeling knowing you've played a role in freeing AAA and Abigail. Each day, you can win the prize of the person you've successfully challenged. These are unique to the Daily Dare and can be seen below. Also, there are additional prizes for true gamers which will come out in April (hopefully):
The Ultimate Prize - Beat AAA's score on the launch day of all the games.
Uberiffic - Beat all of Abigail's scores or a combination of AAA's and Abigail's scores on the launch day of every game.
Megasuperb - Beat AAA's scores for all of the games by the end of the Daily Dare.
Spifftastic - Beat all of Abigail's scores or a combination of AAA's and Abigail's scores for all of the games by the end of the Daily Dare.
If you'd like a checklist of all of the prizes, check out our Item Database.