Your jnAccount:
Log In
or
Register
| New to Jellyneo?
Click here!
The Voyage of the Cyodrake's Gaze
Jellyneo's Coverage of the Cyodrake's Gaze Plot
Updates & Releases

The story unfolds...
On the third of August, a mysterious ship made port in the harbor of Krawk Island. This ship, from an unknown land, was christened the Cyodrake's Gaze and is captained by a benevolent Gnorbu named Tuan. From this Neopet, you learned how they endured a vicious storm of epic proportions, and in the process, lost a faithful crew member named Hoban.

September 13th -- Prizes have been released!


Something Has Happened!
You are now eligible to use the 'Cyodrake's Gaze' theme when browsing the Neopets.com website! Check out your User Preferences to change your theme.
Aisha - Hoban the Navigator / Guide
Awarded for guessing two or more correct answers on the "Who Pushed Hoban" questionnaire and then visiting this page.
Released: September 13, 2006
You got both the sidebar and avatar if you have two or more answers right.
Trophies:





Five Answers | Four Answers | Three Answers | Two Answers

Prizes





Hobans Hat | Hobans Map Book | Hobans Left-Overs
September 9th
-- Hoban has been found! He was indeed pushed off the ship by that sneaky
Chef Bonju
. Congrats to those who guessed correctly, though no prizes for a correct guess were given out. It was a nice super-short-mini-plot. :P In other news,
Shenkuu has been released!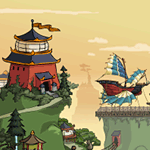 August 30th
-- You can now guess where Hoban was pushed over...
Click here to do so!
August 29th
-- The
Gaze
is back at Mystery Island! Also, the
Map Room
is now accessible.
August 27th
-- It appears that the
Gaze
is still docked in the Lost Desert but is gone. Hmmmm.... ;)
August 23rd
-- The Lost Desert is the
Gaze
's current location of choice. Be sure to read
Linae's story
.



August 19th
-- The
Cyodrake's Gaze
has again disappeared. Where could it have gone this time?
August 15th
-- The
Gaze
has reappeared again in Faerieland, of all places! (IT CAN FLY NOW :O)
August 11th
-- The
Gaze
has disappeared again. Who knows where it might be now? ;)

Where has the ship gone from my Empty Healing Potion
I remember putting the Gaze in here...
August 8th
-- The
Gaze
has again reappeared! This time, they're docked on the southwest coast of
Mystery Island
. We've also added in a
comics page
showing all of the comics thus far. You'll be able to view them when the
Gaze
leaves Mystery Island! There is also a new chat board
for the Cyodrake Gaze plot!

August 6th
-- Without notice, the ship leaves Krawk Island. It is currently unknown where the ship is located!

Gone, just like that!
August 3rd
-- The
Gaze
makes port in Krawk Island harbor after losing a member of its crew in a large storm. With it, comes three shops, a cooking pot type feature, and the start of the latest plot...