Warning: The Altador Mini-Plot is currently unavailable as of January 12, 2021. Certain parts of it require Adobe Flash to progress, and those have not yet been converted to HTML5 by TNT. We will update once the plot is able to be finished again.
Altador Mini-Plot Full Walkthrough
Quick Jump: Day 1 | Day 2 | Day 3 | Day 4 | Day 5 | Day 6 | Day 7 | Day 8 | Day 9 | Day 10 | Day 11 | Day 12 | Day 13 | Day 14
---
March 25th, 2006
On 25th March the flyers in the
Altadorian Archives
changed slightly to include a flyer for the Astronomy Club:
Clicking on the middle flyer will take you to an advertisement for the Astronomy Club:
You look at the flyer on the bulletin board. It seems to be advertising an Astronomy Club!

"Join the Astronomy Club! With your very own telescope, learn to search the heavens for interesting cosmological phenomena, see ancient nebulae, and identify constellations!"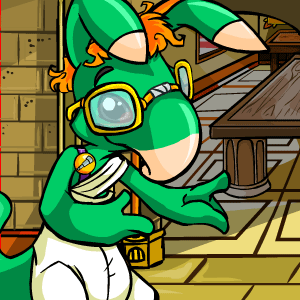 "Hi! We'd be glad to have you in our club!"
The president of the Astronomy Club welcomes you warmly. "Our Astronomy Club is growing by the day! Apparently we're the only club in Altador that's actually accepting new members at the moment."
Click 'Join the Astronomy Club' in order to join!
The Astronomy Club is a place where Neopians can learn all about the cosmos. Stars, planets, comets, asteroids, constellations, nebulae... they're all out there waiting to be discovered.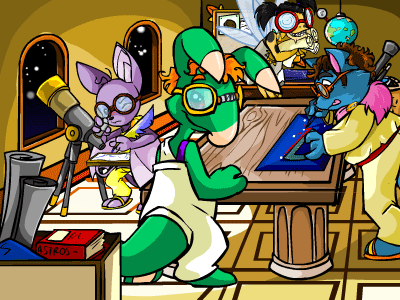 The president of the Astronomy Club waves as you enter the astronomy lab. "Hey, thanks for coming! We're really happy you joined the club. In fact, as a new member, we've got a special gift for you..."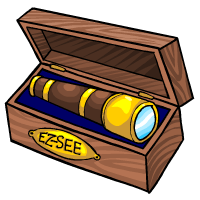 E-Z See Telescope
"...your very own telescope! It's just a basic model, but it will let you look up at the stars. You'll just have to find somewhere reasonably high-altitude to use it."
If you now make your way back to the Hall of Heroes you can climb the stairs up to the observatory.
Once there, click the telescope stand to start stargazing!
Thats all the steps for now. Meanwhile, the Janitor and the Archivist both have comments to say on your new membership.
The janitor says, "Hm, so you joined an Astronomy Club, eh? That sounds like fun. I wish I had the time to join a club."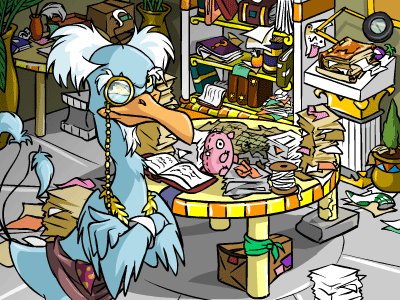 The archivist says, "Ah, I see you've joined the Astronomy Club. Is there more excitement to be found than in observing the heavens, and mapping the intricate patterns of the cosmos?"
Click here for the next steps!
---
Quick Jump: Day 1 | Day 2 | Day 3 | Day 4 | Day 5 | Day 6 | Day 7 | Day 8 | Day 9 | Day 10 | Day 11 | Day 12 | Day 13 | Day 14