Newest Avatars | All Solutions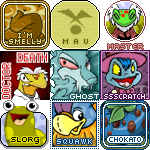 Welcome to Jellyneo's Neopets Avatar Checklist Tool. From here, you'll be able to get a quick checklist of the avatars you still need, along with being able to generate some code to put your avatars needed list on one of your petpages. It's easy to generate your list, so let's get started!
To generate your list...
Visit your Neoboards Settings page. (Note this new page as of August 2023!)
On this page, right click and select "View Page Source."
In the coding that pops up, press CTRL + A on your keyboard to select all of the text, and then CTRL + C to copy it.
Come back here and in the text box below, hit CTRL + V to paste in the coding.
Submit the form, and see what avatars you still need!
Paste Your Neoboards Preferences Source Code Here: