Your jnAccount:
Log In
or
Register
| New to Jellyneo?
Click here!
Welcome to Jellyneo.net!
Welcome to Jellyneo, the #1 ad-free Neopets help site! We offer news and tips for the popular online game Neopets. Here's what you can find on the site:
You can also register a jnAccount; it's free and lets you access special features! (Find out more!)
Pick your news: Neopets News | Crossword | JN Updates | Daily Puzzle | Advent
Happy Thanksgiving!
Posted by Dave
Posted on November 23, 2023, 12:00 am NST
If you're in the USA, all of us at Jellyneo hope that you have a happy, healthy, and safe Thanksgiving!
2023 Black Friday NC Mall Sale
Posted by Kenny
Posted on November 22, 2023, 11:34 am NST
UPDATE, Nov 24th, 12:15 PM NST:
Due to the issues loading the NC Mall, TNT is extending the sale of the extra-box-granting Black Friday version of the
Cutie Pie Weewoo Gift Box Mystery Capsules
through November 28th:
We're very sorry there has been issues with the NC Mall loading. Since you've been so patient with us, we'd like to extend the sale of the Black Friday GBMCs until November 28th!

These will be 50% off and have a higher chance of granting extra gift boxes (up to 6) regardless of when they're opened!

Now is the time to stock up Happy shopping!
While the GBCs were always planned to be on discount through the 28th, originally only ones purchased on November 24th would give extra boxes.
---
Over at the
NC Mall
, the annual Black Friday sales have begun with the Pumpkin Spice & Spells Mystery Capsule and Everything Nice Fall Retired Mystery Capsule on sale for 50% off through Friday, November 24th.
And don't forget, the 24th birthday discount code,
Y25BIRTHDAY
, is still active to use in the NC Mall on any purchase over 1,000 NC for a 150 NC discount until November 30th.
The second phase of the Black Friday sale begins on Friday, November 24th and will see the Cutie Pie Weewoo Gift Box Mystery Capsule on sale along with a version that gives extra gift boxes. (They will remain discounted through Tuesday, November 28th, but only the ones sold on Friday the 24th will give extra boxes.)
Faerie Quest, Lab Ray, and NC Archives Fortune Cookies will also be on sale during the second phase; the exact discounts were not announced by TNT, but will
likely
be the same as the last two years.
For a full rundown of this year's Black Friday sale dates and expected discounts, check out our NC Mall Black Friday sales guide:
Urgent: Account Access Issues
Posted by Dave
Posted on November 20, 2023, 8:46 am NST
UPDATE, Nov 21st, 12:30 PM NST:
Neopets has posted a follow-up to yesterday's glitches and downtime:
🚨 FEAR NOT, NEOPIANS! 🛠️ An update from the Neopets Team:

We know yesterday's technical difficulties were stressful for our community, and we're here to provide you all with an update. Firstly, thank you to our incredible players for their patience, understanding, and for being so vigilant.

On Monday, 20th November at approximately 8:30AM PST, we were alerted to an issue on-site where users were finding themselves logged into incorrect accounts. The site was taken down shortly after for emergency maintenance to protect our players. We remained offline while our team conducted thorough investigations and fixes.

Unfortunately, this cache error occurred as we are in the midst of upgrading our infrastructure and service provider. We can confirm that while players may have appeared in other accounts, no changes were made to accounts. We understand that this was a major concern for our players but rest assured your account remains unchanged and as you left them.

Services are now operating normally and The Neopets Team is continuing to monitor the site closely. Our system migration will be complete by 22nd November 2023. If you are still experiencing any issues, please contact our Customer Support team by submitting a ticket here: https://support.neopets.com/hc/en-us/requests/new

We truly apologise for the inconvenience and concern this may have caused. Thank you to everyone who submitted reports, and for supporting us as we worked hard to bring Neopets.com back up and running!
In short, the issues seen were a caching issue. Accounts themselves were not being accessed, so it's very unlikely that anyone would have been able to remove items, NP, or pets from your account. That being said, it was still quite a privacy invasion, as things like inventory contents and bank accounts were visible to others.
On the brightside, this issue was stemming from Neopets making efforts to upgrade their server infrastructure, so hopefully this means a speedier site with less lag and HTTP errors in the future!
---
UPDATE, 1:50 PM NST:
As of ~1:30 PM NST the site seems to be restored for most users. Some users are still experiencing intermittent error messages, however.
If you're experiencing issues, try removing the
www.
from the URL, so you're just visiting
https://neopets.com
, for example.
---
UPDATE, 8:56 AM NST:
TNT has turned on maintenance mode, and the site is now inaccessible, hopefully for them to get to the bottom of this issue!
---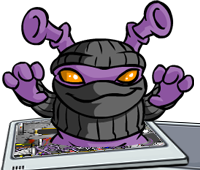 Neopets is experiencing some very severe account access issues this morning. It appears that the site is returning page views from other people's accounts, allowing you to see account data that another Neopian would see, such as their site theme, pets, bank account, inventory, etc.
This began around 8:00 AM NST, and currently we're unable to find reports or prove whether someone can
do
something to your account if they see your data. For example, we can't verify whether someone can take Neopoints out of your bank account if they can see your bank account and balance.
In addition to seeing account data from other Neopians, random pages seem to be coming back as 404 not found or redirecting you to another page instead. (Personally, I can't access the Quest Log this morning—it keeps redirecting me to a password reset page for someone else's account of all things.)
We'll be monitoring the situation this morning and keep this post updated.
Feature Friday: Magma Pool Checklist
Posted by Kenny
Posted on November 17, 2023, 7:30 pm NST
This weekend, we're shining the spotlight on one of our hottest features: the
Magma Pool Time Checklist
!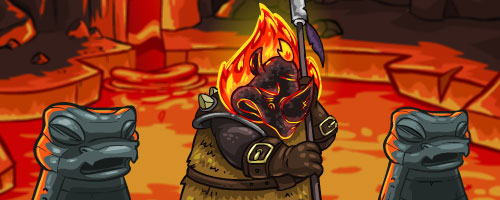 For those who don't know, the
Magma Pool
is where you can paint your pets
Magma
!
For most players, there is just one
10 minute
interval out of the entire day where you can catch the guard asleep and use the pool. It's random, and different for every player. (A very small number of players who qualify for an absurd list of requirements—see our
Magma Pool guide
for more on that—are able to use it any time they want.)
Tracking that time can be difficult. "Did I check this minute yet?" "I remember I caught him asleep once before...when was that exactly?" Fortunately, Jellyneo has a tool to make it easier!
Simply visit the pool and mark off the outcome on our tracker! If you check off two time slots within 10 minutes of each other, it's even smart enough to block off the minutes in between them!
Happy hunting!
Neopets 24th Birthday Celebrations
Posted by Kenny
Posted on November 15, 2023, 3:57 am NST
UPDATE, 6:00 PM NST:
The AMA code has been shared! You can redeem it at
Grundo's Warehouse
.
BIRTHDAY25LIVE
According to the AMA, this code will only be valid for 72 hours! (We do not know precisely when it will stop working, so we recommend to redeem it by the end of the Neopian day on Friday, November 17th, to be extra safe!)
Redeeming the code will award you the item
25 Recipes for 25 Years
. Although it appears to be a book, it is a No-Trade item of category Gift with no interaction options.
We also now have a recap and links to rewatch the stream on our Monthly AMAs article:
---
Neopets is celebrating its 24th birthday today!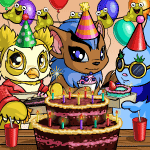 ---
A variety of celebrations are happening throughout Neopia:


Need the "Happy Birthday!" avatar? Visit the New Features page today.
The Swashbuckling Academy is offering free training to all pets all day. If you've already enrolled for a course you haven't paid, just cancel and re-enroll to get the free course.
Treasure of the Black Pawkeet is free today and costs 150NP (half price) for the rest of November.
Neopians have increased chances of a good result at Coltzan's Shrine today.
The number of tickets for sale at the Ticket Booth is increased to 25,000 (instead of 5,000) today.
All users have access to the Birthday Site Theme on both the classic layout and the mobile revamp. This site theme increases your chances of Random Events.
For the next three days you may submit 5 scores for Neopoints on Flash games instead of the usual 3 until the end of Friday (17th). This applies to classic games only, not those on the beta site.
---
FREE NEOCASH!
Make sure you visit the
Neopets homepage
to claim your free 750 NC. It will take awhile for it to show up on your account, as it needs to be processed and many folks are claiming it.

We wanted to celebrate our 24th Birthday by giving you 750 NC! We would have sent a birthday cake, but the frosting might give some a case of the neezles. Thank you so much for making Neopia such a special place!

Your gift will be added to your account shortly. Go spend it on something nice!
---
A free goodie bag is available at the
NC Mall
, available to claim on your sides as well. Inside, you'll find a foreground wearable:
Additionally, there is a limited time discount code available at the NC Mall through the goodie bag. Use
Y25BIRTHDAY
at the checkout to get a discount of 150 NC off any total purchase over 1,000 NC. This will last until the end of November 30th.
---
Neopets will also be hosting a live AMA with CEO Dom, support staffer Alice W, Art Advisor Anthony Conley, and Jellyneo staffer macosten tonight at 5pm NST. For more information, check out our guide:
---
Additionally, to celebrate the birthday, a new Poogle colour is available:
Toy
This is based on a design by Neopets user eyries_forever.