Your jnAccount:
Log In
or
Register
| New to Jellyneo?
Click here!
Welcome to Jellyneo.net!
Welcome to Jellyneo, the #1 ad-free Neopets help site! We offer news and tips for the popular online game Neopets. Here's what you can find on the site:
You can also register a jnAccount; it's free and lets you access special features! (Find out more!)
Pick your news: Neopets News
| Crossword | JN Updates | Daily Puzzle | Altador Cup XVI
Eyrie Day Roundup
Posted by Zelda
Posted on October 11, 2021, 4:38 pm NST
To celebrate Eyrie Day yesterday, you can now bring the ocean to the skies:
Water
And to round out the recent Neoquest II-themed releases, you can now cosplay as
Talinia
, just in time for Halloween!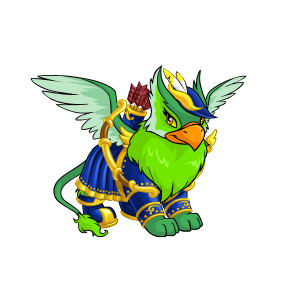 TNT to Allow #NoNeoNFTs Beauty Contest Entries
Posted by Dave
Posted on October 11, 2021, 3:07 pm NST
For the past week, a number of
Beauty Contest
entries in support of #NoNeoNFTs were being rejected by TNT due to NFTs being too "controversial."
Luckily, TNT has reversed this stance and entries that support the #NoNeoNFTs protest will be accepted into the weekly contest (assuming they follow all the other rules):
You can find that message here on the
Art board
.
Any entries submitted (and accepted) will appear in the next round, which begins Friday, October 15th. If you had your entry rejected, it's encouraged for you to re-submit it to it can be reviewed again.
Thank You
Posted by Dave
Posted on October 11, 2021, 10:47 am NST
UPDATE:
See TNT's response
here
.
---
It's been quite a weekend.
All of us here at Jellyneo would like to say one thing: thank you.
Thank you for the outpouring of support we saw from all Neopians who came together to say #NoNeoNFTs with us. Our blackout was only initially planned as a splash page across Jellyneo, but y'all took it to the next level and we
loved
to see it. 💚
In particular, we'd like to give a shout out to the following Neopets fan communities that joined in to say #NoNeoNFTs with us:
Dress to Impress
Neopian Times Writers' Forum
/r/Neopets
Neostalgia Podcast
Pet Simmer Julie
Magnetismo Times
Royalneo
Sketched Neo
The Daily Neopets
Lost and Pound
Metaneo
S2BookWorld
Castleneo
NeoMerch
Neostocks.info
Neofood.club
The Old Battledome
Omneo
Truth: it is what it is
And that's only what we came across this past weekend! The list above represents a massive chunk (if not all) of the Neopets community—the only thing you might find as much consensus on is about bringing Key Quest back!
What's Next?
With a fresh week upon us, we will continue to press Neopets to cancel the Metaverse project and say #NoNeoNFTs. We'll also continue to call out the Neopets Metaverse team for their unprofessional behaviors that continue to drag the Neopets brand down. (We know there will be more!) We encourage you all to keep sending your feedback to Neopets, whether it be on social media or the Neoboards.
Our landing page,
jellyneo.net/nfts
, will remain online for the foreseeable future, and you can always get there by clicking the banner at the top of most Jellyneo pages.
We will continue to update the page above with new developments, along with sharing those updates right here on the front page of Jellyneo.
Thank you again to everyone who took a stand this weekend—now go feed your Neopets.
---
🚨 WARNING 🚨:
Due to
unprecedented
demand for our free adoptable NFTopets (blockchain and crypto free!) we need to take extreme measures. Over 140,000 NFTopets have been "minted" so far, and unfortunately our NFTopets server is going out of business. We're pulling a
Neopets CryptoQuest
, as it were! All NFTopets will be deleted on October 31, 2021. Sorry!
If you have one you particularly like, make sure to "right click and save as"—which you can do for free to keep your NFTopet forever.
In the meantime, make sure to mint one and slap it on your lookup or in your shop!
Didn't get an NFTopet? Never fear, you can "mint" yours at
jellyneo.net/nfts
:
Neopets Metaverse Team Calls Neopians a Bunch of "Hateoooors"
Posted by Dave
Posted on October 10, 2021, 10:11 am NST
UPDATE, 4:45 PM NST:
An
apology has been posted
by the Neopets Metaverse team. In it, they apologize for their earlier tweet that used "imagery generally known by net users to be hateful."
Kudos to that. But notably absent was an apology for calling the Neopets community dumb and in need of education.
(As of writing, there also hasn't been any apologies for the other scandals from their team, which you can read about at
jellyneo.net/nfts
.)
---
UPDATE, 11:30 AM NST:
The tweet below has been deleted! The sentiment by the Neopets Metaverse team, sadly, has not.
You can read the full Twitter thread on the WayBackMachine—the internet does not forget!
Turns out the internet does forget, as the WayBackMachine link above was somehow removed. Never fear, you can read the original
here on Jellyneo
(1.6 MB screenshot).
---
A Twitter thread (17 individual tweets) posted this morning to the
@NeopetsMeta
Twitter feed is attempting to educate all of the "hateoooors" who do not understand NFTs.
Pictured: Us Neopians
We won't mince words here: this sort of trash is downright patronizing and is taking the Neopets brand straight into the rubbish dump. It alienates the existing user base by belittling us—we know exactly what NFTs are, and we don't want them. This is not how you build support for a project facing uphill adversity.
One of the continuing themes we've seen in the Neopets Metaverse community is that all of us Neopians are just "dumb haters" that don't understand NFTs and how NFTs will
save
the Neopets brand. The official tweet above from the Neopets Metaverse team reinforces these ideas. Here's a sampling of what the NFT community thinks about Neopets users from the Neopets Metaverse Discord community:
... Yes, we are a "culprit," and we're proud to be doing it!
---
UPDATE:
Moderator J0hn (who works for the Neopets Metaverse team), had some sassy remarks for Jellyneo's very own Herdy after it was pointed out that the tweet above wasn't building any bridges:
Very professional, J0hn! When another Neopian asked for answers on the roadmap (read about the roadmap
here
), the sass came back out again:
---
Are you a hateoooor that needs education? Let us know in the comments? (Also let us know how closely you resemble that portrait of the Neopian NFT hateoooor!)
And if you haven't already, read all about the Neopets Metaverse project at
jellyneo.net/nfts
. You'll see even more unnerving history about this project, along with several ways you can voice your opinion to Neopets and JumpStart! (We even have adoptable "NFTopets" that you can generate for
free
—no blockchain involved!)
Costume Contest: Voting Now Open!
Posted by Dave
Posted on October 8, 2021, 8:46 am NST
Our Costume Contest is now open
for voting
!
Just like last year, round one is a rating round. You have the opportunity to rate all entries with a "Yay" (aka a thumbs up if you like it) or a "Nay" (aka a thumbs down if you don't like it). The 75 pets with the highest cumulative ratings will move on to the next round, where normal voting resumes.
Also, if you rate all 211 entries this year, you'll get an extra bonus vote to use in round three!
And as a quick warning as in year's past, please only use one jnAccount to vote. Each year we usually have to disqualify a handful of people that made the contest unfair by voting on several accounts.