Your jnAccount:
Log In
or
Register
| New to Jellyneo?
Click here!
Welcome to Jellyneo.net!
Welcome to Jellyneo, the #1 ad-free Neopets help site! We offer news and tips for the popular online game Neopets. Here's what you can find on the site:
You can also register a jnAccount; it's free and lets you access special features! (Find out more!)
Pick your news: Neopets News
| Crossword | JN Updates | Daily Puzzle | Altador Cup
February NC Collectible
Posted by Herdy
Posted on February 1, 2022, 12:55 pm NST
The fifth and final item for the
Neopia On Ice
collection is now released, and features
Donny
! This item will only be available in February.
As this is the final item in the set, a bonus is also now available to those who purchased them all:
February Monthly Freebies!
Posted by Suzuka
Posted on February 1, 2022, 10:11 am NST
A brand new month (and Lunar New Year) is here, and with it another chance to collect some
freebie foods
and Neopoints!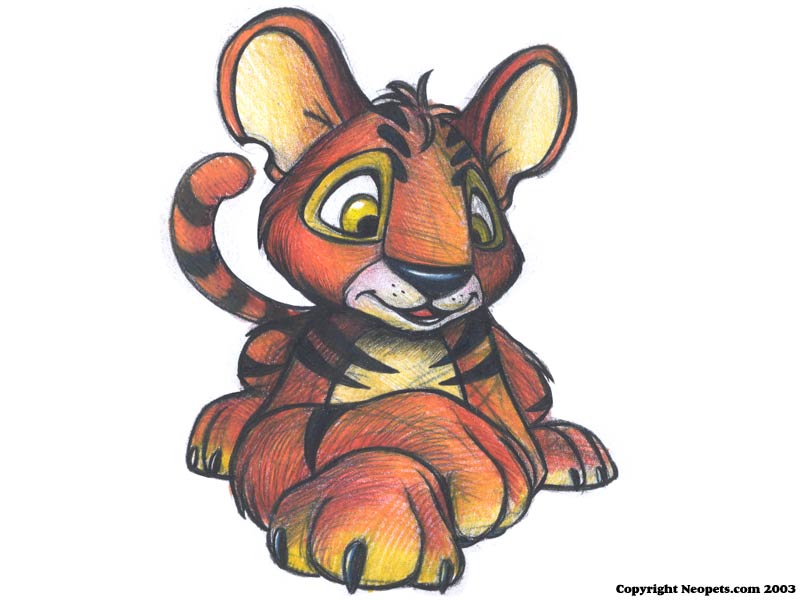 Happy Year of the Tiger!
» Collect Your Freebies Now! «
Donations
Want to help JN out, and earn a trophy or two in the process? You can find all the details you need to donate to help keep JN online and ad-free for the future on our
donation page
!
Contribute to Jellyneo
Not in a position to donate, but want to help out by contributing some of your time? We're always looking for help on different projects! Check out the
Contribute to Jellyneo
page (also linked on the sidebar) to see what we currently need help with at the moment. Projects include: submitting data for existing articles (like Test Your Strength results), writing new articles, helping us research old Neopian content, modeling wearables, and more!
The Neopies Begin
Posted by Quail
Posted on February 1, 2022, 2:30 am NST
The
Neopies
have returned for another year! From now, until February 20th, you will be able to vote on the best of last year's content.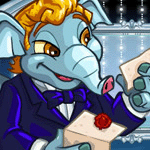 There are 17 categories this year, and as a reminder, there is a bonus prize for voting in each category on the day it is released. Note that today's first category, Best Advent Comic, will be available tomorrow as well as part of a Day 1.5 format.
---
UPDATE:
This year's accompanying NC event, the
VIP Raffle
, has been announced to begin on Monday, February 7th.
NFT Metaverse Wants Your "Critical Opinions"
Posted by Dave
Posted on December 30, 2021, 11:52 am NST
We hope you're having a good holiday interlude between Christmas and the New Year!
When you have a few moments, the Neopets Metaverse team is soliciting "thoughts, ideas, and critical opinions" from fellow Neopians on how they should begin building out the play-to-earn version of Neopia. This "game" will be where you can use your sad, fruit salad hat Neopets NFTs.
Here's a sampling of the questions:
» We are super bold on bringing Neopets to the blockchain. If you are a die-hard Neopets fan, what elements of the existing game do you want to see in the Metaverse?

» What questions or words of wisdom do you have for the building team? We will keep them in mind.

» Who should we partner with, and why? Please feel free to dump some links here for us to check.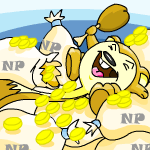 The survey is only open until early morning January 1st, so get your thoughts in
now
! It's imperative that real Neopians get your feedback to the Neopets team building out this new version of Neopia.
If you've missed the NFT debacle from the last couple months—never fear, you can
read all about it here!
NetDragon, owner of Neopets, has since declared the project a "success" and is going full steam ahead on Neopets NFTs.
Neopets Metaverse Minting Wraps, NetDragon Declares "Success"
Posted by Dave
Posted on November 19, 2021, 11:07 am NST
UPDATE:
As we mentioned a few times now, the time has come to shut down our free NFTopets project. In the spirit of closure, we have "burned" all of the NFTopets, which you can see below!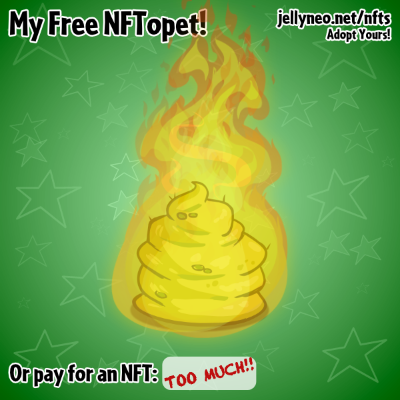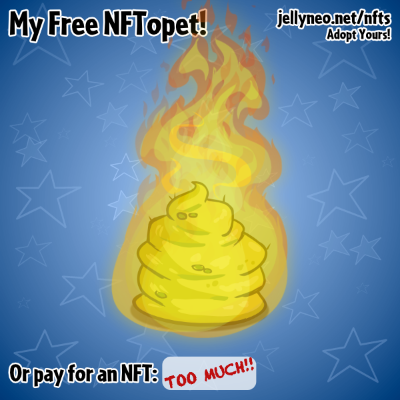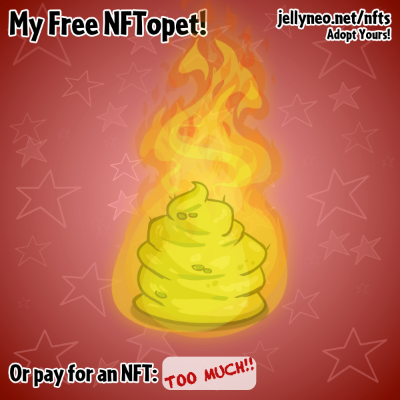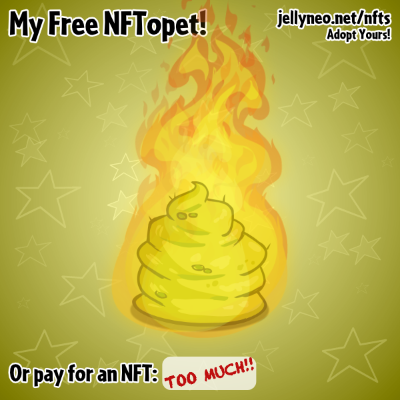 ---
It's been almost two months since the Neopets Metaverse Collection (NMC) was first announced, and at long last, we can officially call this sales endeavour "done," as the minting process for claiming your NFT Neopets ended yesterday at 2:00 AM NST.
Here's a highlight of what we've endured during this project—a mess from beginning to end:
Unredeemed Tokens Now Worthless
In case you didn't know, the NFT Neopets were not actually being sold during the purchase period. Instead, separate tokens called "NMCs" were sold, which
later
could be redeemed for an actual NFT Neopet. The redemption period for NMCs lasted for only 3 days, and if you missed this redemption period, you cannot obtain an NFT. (Effectively spending hundreds of dollars on nothing.)
Of the 4,533 NMC tokens either sold or given away, only 4,224 were ultimately turned into NFTs during the 3-day redemption period. 309 of the purchased tokens were left unredeemed, and can now no longer be turned into NFTs, rendering them useless.
This (significant) financial loss is upsetting to those unlucky folks who didn't redeem:
Here are those who
did
get to mint ragging on those unlucky folks who lost hundreds of dollars. Just so we're clear—letting a gallon of milk spoil is nowhere remotely close to having $500 turned into $0. (Just another of countless examples of how toxic the NFT community is.)
Here is Metaverse leader, HappyMist, talking about not giving into blackmail since they've effectively stolen thousands of dollars without providing a product:
And lastly, here is community moderator j0hn—quite frankly the least professional, the most unhelpful, and the most snarky of the moderators—offering no condolences for the rug pull:
The Secondary Market
A secondary market was opened up on
Solanart
, where users can sell NFTs among themselves (think a Trading Post for NFTs).
Since the marketplace opened 4 days ago, the secondary market has been unexciting: the "floor price" (cheapest available NFT price) is securely below 1 SOL, which is a loss to anyone who paid for an NMC. The average resale price is a bit below the average purchase price as well, meaning anyone attempting to sell to another user is likely losing money.
Here's a graph showing the secondary market sales volume and average price over the past few days:
Thanks to JN staffer Pasqui for preparing this and monitoring sales!
Parent Company NetDragon Declares Success
In what was probably the most disappointing update in the past day, Neopets' parent company NetDragon put out a press release declaring the sale "successful."
The release ignores the fact that only 4,233 of the initially promised 20,000 NFTs sold. We're not sure how they did the math, but by our count, selling only 21% of the announced product is a complete and
abject
failure. If the Metaverse team was creating a physical product, they'd be in dire financial straits.
More concerning, the press release goes on to say:
Importantly, the NFT sale garnered very strong interest from both the existing Neopets community as well as the vibrant blockchain enthusiasts' community, with more than 32,000 followers of our NFT project registered over the last two months on social media channels dedicated to this project.

The strong following signals significant demand for digital memorabilia and future developments behind the Neopets brand, which launched its online, virtual world of Neopia and its beloved Neopets characters more than 20 years ago, becoming one of the most popular online games in history.
There's a lot to unpack there, so let's do so:
(1) The "very strong interest from the existing Neopets community"... well, uh, we can't say that's wrong. There was
very
strong interest in the project. But the interest was in seeing the project fail, not in actually making purchases. You can, however, argue that the "very strong" interest from the "blockchain enthusiasts' community" is a lie, considering they couldn't even sell half of what was eventually put up for purchase.
(2) The alleged "32,000" followers is a blatant lie by NetDragon. They simply added up the number of Twitter followers (24.7k) and the number of verified Discord members (7.89k) to get 32,000. Followers are likely being double counted to inflate the quoted number.
(3) Third, they follow-up by indicating this falsely represented demand shows demand for more digital collectible and NFT projects in the future. Hoo boy... we'll let the rest of our post speak for what we think of this one.
What's Next?
Currently, we are waiting to hear more about the alleged development of the overly-ambitious
Metaverse roadmap
. Since creating a new game from the ground up can take months, if not years, we don't expect to see or hear anything for quite some time. So until then, this will be Jellyneo's last update about the Neopets Metaverse project for quite some time. (We hope.)
We will continue to watch for the
Quidd project
that's in the works, but even its own community is doubtful that anything new will launch as Quidd has slowed down significantly on development.
While our
#NoNeoNFTs informational page
will remain up indefinitely, we look forward to putting the Metaverse to bed and moving on.
We still encourage you to light up Neopets on social media by telling them: #NoNeoNFTs—especially now that NetDragon seems to think there's "strong interest" for more!
In the meantime, Neopia chugs along. In the same timespan as all the nonsense above, we've welcomed 10 new Neopet colours, Jellyneo put on its
13th annual costume contest
, our pets went
trick-or-treating
, and we even got a new
site beta update
that included updated maps and three converted games.
Oh, and Neopets celebrated its
22nd birthday
! A reminder that the Neopets site—and its players—have been through so much over all of these years, and the community stands strong. We at Jellyneo continue to be inspired by your support for Neopets (and for us!). Thank you!