Your jnAccount:
Log In
or
Register
| New to Jellyneo?
Click here!
Welcome to Jellyneo.net!
Welcome to Jellyneo, the #1 ad-free Neopets help site! We offer news and tips for the popular online game Neopets. Here's what you can find on the site:
You can also register a jnAccount; it's free and lets you access special features! (Find out more!)
Pick your news: Neopets News
| Crossword | JN Updates | Daily Puzzle
TNT to Allow #NoNeoNFTs Beauty Contest Entries
Posted by Dave
Posted on October 11, 2021, 3:07 pm NST
For the past week, a number of
Beauty Contest
entries in support of #NoNeoNFTs were being rejected by TNT due to NFTs being too "controversial."
Luckily, TNT has reversed this stance and entries that support the #NoNeoNFTs protest will be accepted into the weekly contest (assuming they follow all the other rules):
You can find that message here on the
Art board
.
Any entries submitted (and accepted) will appear in the next round, which begins Friday, October 15th. If you had your entry rejected, it's encouraged for you to re-submit it to it can be reviewed again.
Thank You
Posted by Dave
Posted on October 11, 2021, 10:47 am NST
UPDATE:
See TNT's response
here
.
---
It's been quite a weekend.
All of us here at Jellyneo would like to say one thing: thank you.
Thank you for the outpouring of support we saw from all Neopians who came together to say #NoNeoNFTs with us. Our blackout was only initially planned as a splash page across Jellyneo, but y'all took it to the next level and we
loved
to see it. 💚
In particular, we'd like to give a shout out to the following Neopets fan communities that joined in to say #NoNeoNFTs with us:
Dress to Impress
Neopian Times Writers' Forum
/r/Neopets
Neostalgia Podcast
Pet Simmer Julie
Magnetismo Times
Royalneo
Sketched Neo
The Daily Neopets
Lost and Pound
Metaneo
S2BookWorld
Castleneo
NeoMerch
Neostocks.info
Neofood.club
The Old Battledome
Omneo
Truth: it is what it is
And that's only what we came across this past weekend! The list above represents a massive chunk (if not all) of the Neopets community—the only thing you might find as much consensus on is about bringing Key Quest back!
What's Next?
With a fresh week upon us, we will continue to press Neopets to cancel the Metaverse project and say #NoNeoNFTs. We'll also continue to call out the Neopets Metaverse team for their unprofessional behaviors that continue to drag the Neopets brand down. (We know there will be more!) We encourage you all to keep sending your feedback to Neopets, whether it be on social media or the Neoboards.
Our landing page,
jellyneo.net/nfts
, will remain online for the foreseeable future, and you can always get there by clicking the banner at the top of most Jellyneo pages.
We will continue to update the page above with new developments, along with sharing those updates right here on the front page of Jellyneo.
Thank you again to everyone who took a stand this weekend—now go feed your Neopets.
---
🚨 WARNING 🚨:
Due to
unprecedented
demand for our free adoptable NFTopets (blockchain and crypto free!) we need to take extreme measures. Over 140,000 NFTopets have been "minted" so far, and unfortunately our NFTopets server is going out of business. We're pulling a
Neopets CryptoQuest
, as it were! All NFTopets will be deleted on October 31, 2021. Sorry!
If you have one you particularly like, make sure to "right click and save as"—which you can do for free to keep your NFTopet forever.
In the meantime, make sure to mint one and slap it on your lookup or in your shop!
Didn't get an NFTopet? Never fear, you can "mint" yours at
jellyneo.net/nfts
:
Neopets Metaverse Team Calls Neopians a Bunch of "Hateoooors"
Posted by Dave
Posted on October 10, 2021, 10:11 am NST
UPDATE, 4:45 PM NST:
An
apology has been posted
by the Neopets Metaverse team. In it, they apologize for their earlier tweet that used "imagery generally known by net users to be hateful."
Kudos to that. But notably absent was an apology for calling the Neopets community dumb and in need of education.
(As of writing, there also hasn't been any apologies for the other scandals from their team, which you can read about at
jellyneo.net/nfts
.)
---
UPDATE, 11:30 AM NST:
The tweet below has been deleted! The sentiment by the Neopets Metaverse team, sadly, has not.
You can read the full Twitter thread on the WayBackMachine—the internet does not forget!
Turns out the internet does forget, as the WayBackMachine link above was somehow removed. Never fear, you can read the original
here on Jellyneo
(1.6 MB screenshot).
---
A Twitter thread (17 individual tweets) posted this morning to the
@NeopetsMeta
Twitter feed is attempting to educate all of the "hateoooors" who do not understand NFTs.
Pictured: Us Neopians
We won't mince words here: this sort of trash is downright patronizing and is taking the Neopets brand straight into the rubbish dump. It alienates the existing user base by belittling us—we know exactly what NFTs are, and we don't want them. This is not how you build support for a project facing uphill adversity.
One of the continuing themes we've seen in the Neopets Metaverse community is that all of us Neopians are just "dumb haters" that don't understand NFTs and how NFTs will
save
the Neopets brand. The official tweet above from the Neopets Metaverse team reinforces these ideas. Here's a sampling of what the NFT community thinks about Neopets users from the Neopets Metaverse Discord community:
... Yes, we are a "culprit," and we're proud to be doing it!
---
UPDATE:
Moderator J0hn (who works for the Neopets Metaverse team), had some sassy remarks for Jellyneo's very own Herdy after it was pointed out that the tweet above wasn't building any bridges:
Very professional, J0hn! When another Neopian asked for answers on the roadmap (read about the roadmap
here
), the sass came back out again:
---
Are you a hateoooor that needs education? Let us know in the comments? (Also let us know how closely you resemble that portrait of the Neopian NFT hateoooor!)
And if you haven't already, read all about the Neopets Metaverse project at
jellyneo.net/nfts
. You'll see even more unnerving history about this project, along with several ways you can voice your opinion to Neopets and JumpStart! (We even have adoptable "NFTopets" that you can generate for
free
—no blockchain involved!)
Neopets Metaverse Roadmap Released: Pay-to-Win + User Generated Content + More
Posted by Dave
Posted on October 7, 2021, 2:17 pm NST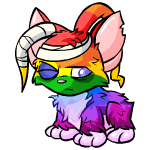 A
roadmap
for the much maligned Neopets Metaverse NFT project has been released—and boy is it a lot of words saying nothing in particular. Even with the generic terms used ("There's gonna be PvP! And PvE! And progression! And it'll all be NFTs!"), the roadmap is extremely aspirational. No specific features mentioned, but there are some good nuggets that we think you should be aware of.
To start:
This update is brought to you by the Neopets team, project owner and lead of the Neopets Metaverse Collection NFT.
The first line out of the gate seems to walk back what was said
earlier this week
that the NFT project would not be impacting the Neopets.com team's ability to develop Neopets.com. With the Metaverse team members continuing to be obtuse about development organization, either the Neopets Metaverse team is
intentionally
misleading the community again that TNT is involved, or TNT's earlier statement that it was entirely run by a third party was a lie. (As you'll see, the roadmap is signed off as "Neopets, Inc." as well.)
Continuing on:
Our long term vision is to create a single application which players can use to interact with the entire Neopets Metaverse.
An entirely new version of Neopia is coming soon to a device near you—in three different stages. What's included? Let's break it down for you.
So-called "Stage 1" of the roadmap includes:
* player assets represented by a combination of fungible tokens and NFTs;
* compatibility and interaction with other fungible tokens and NFTs;
* progression of Neopets (gaining experience points, leveling up, achievements etc.);
* PvP gameplay and mechanisms;
* PvE gameplay and mechanisms;
* development and sale of parcels of in-game land;
* in-game social interaction with other players; and
* user generated content where developers and creators can make games on the Neopian Metaverse assets and host them on virtual land plots.
In other words, this new version of Neopia will be pay-to-win (all assets "represented by a combination of fungible tokens and NFTs"—pay for the Giant Omelette!) It will be able to interact with "other fungible tokens and NFTs", including the possibility of the R-rated NFT project the Metaverse team was congratulating last month. (Yay, porn in Neopia!) You'll somehow train your Neopet—but oddly, core gameplay actions like feeding it, caring for it, and customising it seem to be absent. And most interestingly, it will also have user-generated content—but more on that with "Stage 3".
The second stage of the project involves implementing a "pay-to-earn" economy, meaning if you play the game, you'll be awarded with NFTs.
This is what we want to create with the Neopian Metaverse — a universe where any player can earn tokens through skilled gameplay and contributions to the ecosystem. The construction and implementation for this Stage 2 will occur after the completion and finalization of Stage 1.
So, once they've grabbed all your cash during stage 1's heavy pay-to-win version,
then
they'll toss in the freebies!
"Stage 3" of the roadmap involves decentralizing the game and taking it out of the hands of JumpStart and The Neopets Team:
In addition, we see that the Neopian Metaverse could gradually evolve into a community-powered initiative (and potentially over time a decentralized autonomous organization).

...

This will also coincide with the project team's ownership becoming less concentrated and therefore adding to the pace of decentralization.

...

Our ideal outcome is for the players and participants to organically grow and bloom into a vibrant and self-sustaining community that will be able to submit development proposals and vote on the direction of the Neopian Metaverse without our team's intervention.
In other words, the Neopets Metaverse team wants to build a game, step away from it, and allow
anyone
to develop content for it. We can only imagine what kinds of fun content random internet users will come up with! Consistent lore? What's that? Family-friendly brand content? Maybe, but also likely no.
Lastly:
This article is issued by Neopets Inc. It is intended for informational purposes only regarding our future plans. It is not intended to be legally binding, nor is it intended to be an offer, solicitation or advice of any kind. Any forward-looking statements or information involve known and unknown risks and uncertainties, which may cause actual events to differ materially. No reliance should be placed on any such forward-looking statements or information.

The initiatives in this article, if they proceed, may not be available to all persons in all jurisdictions, and are subject to change. No regulatory authority in any jurisdiction has examined or approved of this article or any part thereof.

Please always read any applicable terms and conditions carefully and seek trusted advice as needed.
Aka none of this may even happen? (If we're lucky!)
---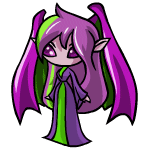 The entire team here at Jellyneo is firmly against this project. In protest of the Neopets Metaverse project marching onward, Jellyneo will be hosting a sitewide blackout from Friday, October 8th at 9:00 AM NST through Sunday, October 10th at 11:59 PM NST. During this time, you will be presented with an interstitial page explaining why we believe the Metaverse NFT project is bad for Neopets. We will also have several actions that you can take to make sure that JumpStart hears its community—something it clearly hasn't done in awhile. We hope you'll join the protest with us!
Grarrl Day Roundup
Posted by Dave
Posted on October 4, 2021, 3:17 pm NST
To celebrate Grarrl Day, a new colour is now available:
Marble
A new outfit themed to
Galem Darkhand
, former head of the Thieves Guild, is available—perfect for thieving your money when buying NFTs!