Your jnAccount:
Log In
or
Register
| New to Jellyneo?
Click here!
Welcome to Jellyneo.net!
Welcome to Jellyneo, the #1 ad-free Neopets help site! We offer news and tips for the popular online game Neopets. Here's what you can find on the site:
You can also register a jnAccount; it's free and lets you access special features! (Find out more!)
Pick your news: Neopets News
| Crossword | JN Updates | Daily Puzzle
Jetsam Day Roundup
Posted by Herdy
Posted on October 18, 2021, 2:27 pm NST
In celebration of Jetsam Day, a new colour is available:
Maraquan
As with the recent Maraquan Kiko, this design has been influenced by the Neopets user Chanty.
A Jetsam Ace themed clothing set is also now active:




Haunted Mansion
Posted by Herdy
Posted on October 16, 2021, 6:57 am NST
This year's
Haunted Mansion
has returned at the NC Mall. It will last through until October 31st.

New Details on Coming Site Updates
Posted by Zelda
Posted on October 15, 2021, 7:44 pm NST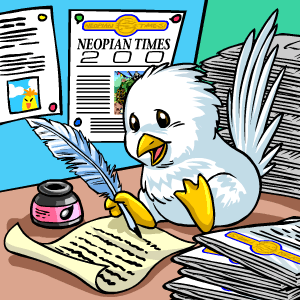 TNT has announced several exciting updates in this week's
Neopian Times Editorial
. Here's a quick overview:
Beta Updates
The next round of beta updates is due next week and will include conversions of flash game favourites
Faerie Bubbles
,
Ultimate Bullseye II
, and
Destruct-o-Match III
. Beware those faerie bubbles, though:
Faerie Bubbles does have a known issue in that it's very, very, very, very, very difficult right now but we will be patching that fix soon! ~~Gutterfoot

Pet Slots and Unconversions
No official release date yet, but TNT are planning to release Pet Slots in the NC Mall by the holiday season. They'll be permitted on main and side accounts alike, so feel free to dream as big as your real-world wallet will allow! Prices are still unannounced.
TNT is focusing on Pet Slots for the moment, but the return of UCs is in the works. Big news there:
you will be able to unconvert existing pets so no need to make brand new ones!
That means you can go ahead and start saving up to paint your dream pets right now while we await the UC re-release. Head over to Dr. Sloth's Image Emporium to plot your choices:
TNT will also be fixing UC customization in the beta site so that all your new UCs can be properly background-ed.
On a related note, another name purge is in the works, but it likely won't happen before Pet Slots arrive and UCs return. Gutterfoot reports that back-end dev tasks like purges can be complicated, and they're trying to balance such tasks with content and events for users.
Miscellaneous
A few other updates from this week's Editorial:
Despite fears arising after the release of the Metaverse roadmap, TNT assures users that they have no intention of letting the main site ever become pay-to-play beyond current Premium and NC Mall options.
Now that this year's Usukicon brought cell phones and cars to Neopia, technology restrictions on Neopian Times submissions have been lifted—your characters are now welcome to drive to Altador and beyond!
Legends & Letters items, including collectibles such as a stamp and book, will be made tradeable at last!
You can read the rest here:
Let us know in the comments if you have plans to unconvert any of your pets or collect a whole army of Darigan warriors with the coming Pet Slots!
Bori Day Roundup
Posted by Herdy
Posted on October 13, 2021, 1:31 pm NST
In celebration of Bori Day, a new colour is available:
Toy
A new Armin inspired clothing set is also now active:
Metaverse Moderator Encourages Doxxing Alleged "Raider"
Posted by Dave
Posted on October 12, 2021, 2:41 pm NST
UPDATE, October 14th:
As of today, xBunny has been completely removed from the server. In addition, moderator Sake (responsible for refusing to take action on complaints of misgendering a few weeks ago) has also been removed from the team.
---
UPDATE, 7:42 PM NST:
An announcement has been posted regarding the situation with Neopets Metaverse moderator xBunny, responsible for what we shared earlier:
Even though the screenshot contains Discord profile information that is public, we acknowledge that sharing their details may result in them being targeted by others where were not made aware of that information, we apologize for this behaviour and as a result of this @xBunny will be removed from the moderation team.
At time of writing, xBunny has not been removed from the server or had their "Team" role (which give them server admin abilities) removed.
As a reminder, that's now the second moderator that has been fired for inappropriate behavior. But who's counting?
---
It's been 0 days since the last set of Metaverse nonsense, and here we are again with more unprofessional behavior—this time from recent addition to the team, moderator xBunny.
Earlier this afternoon, a group of users allegedly "raided" the Neopets Metaverse Discord server to spam messages and generally be an annoyance. No one here at Jellyneo was able to personally witness it, but as a result, the entire server was put into read-only mode, and the following announcement was made:
xBunny, [12:38 PM NST]
Hey @everyone

Sorry to announce that most of the channels are currently on lockdown due to the raid and spams by some irresponsible group of people. I've cleaned up the spams so don't worry, we'll have it back up soon as soon. Some channels are still open at the moment. [pepe the frog emoji]
About an hour later, the server was re-opened. And this is where the scandal comes in. Moderator xBunny saw fit to post a screenshot of one of the alleged spammers with their Discord profile open and Instagram handle visible. We're unsure as to what value this post brought, other than slyly encouraging the community to dox this individual.
Here's a screenshot of the post—the blurry redactions are courtesy of Jellyneo. These screenshots were originally posted unblurred.
xBunny's post
And the original image file xBunny posted
Only when Jellyneo's own Herdy pointed out the
obvious
poor behavior from a moderator was the message removed:
This represents yet
another
situation in a pattern of unprofessional and poor behavior by the Neopets Metaverse team. And, gleefully, xBunny is
getting paid to dox users
:
Yesterday, unrelated to today's events, xBunny also claimed to be "professionally" doing this since 2017:
Call up Webster's dictionary, because apparently we have a new definition of "professional" that needs adding!
Once again: Jellyneo is calling for the immediate removal and disbanding of the entire Neopets Metaverse team. From homophobia, to posting R-rated content, to calling the entire Neopets community dumb, and to using alt-right dogwhistles in social media posts—phew, let me catch my breath here—this team needs to go. Is this who you want representing Neopets?
We hate to say it, but we will continue to bring you updates on the misfortunes of the Neopets Metaverse project.