Your jnAccount:
Log In
or
Register
| New to Jellyneo?
Click here!
Wishing Well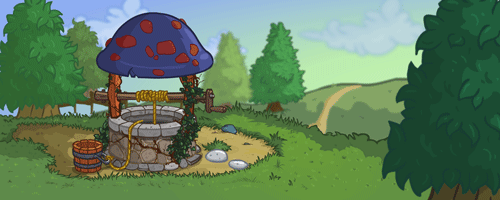 Plunk!
The Wishing Well, located in the northwest corner of the Neopian Plaza in Neopia Central, grants wishes daily to Neopians who choose to deposit some Neopoints into the well.
Wish Granting Periods
Wishes are granted twice daily (despite the Well advertising four times daily), and these occur 12 hours apart. The exact time changes each day. (Originally it was at 4:30 AM and 4:30 PM NST before the 2014 server transition.)
Each period will see 10 users receive a prize, which means 20 wishes are granted daily.
Once wishes are granted, all ungranted wishes are wiped out from the prior 12 hours and the Wishing Well starts with a clean slate well.
Making a Wish
To donate, you simply specify the amount of Neopoints you would like to donate, and the name of the item you would like.
Wishing Limits
You must donate a minimum of 21 Neopoints in order for your wish to be considered. If you donate less, your wish will not be considered during the daily prize draws. There is no known correlation between donating more than 21 NP and having a higher chance of having a wish granted.
You can make up to 14 wishes a day, but you may only submit 7 wishes during each of the wish granting periods (which are 12 hours apart, see "Wish Granting Periods" above). To be eligible to have a wish granted in both periods, you should make your 14 wishes in two chunks of 7 wishes, 12 hours apart.
A new "Wish Counter" was added to the Wishing Well in June 2019. This counter will increment each time you submit an eligible wish (21 NP or more and under your 7 wish limit). The counter will disappear once you reach your 7 wish limit for the wish granting period.
The 2019 Charity Corner Perk Shop included the perk, "Wish Upon a Wishing Well", which allowed you to make 5 extra wishes, allowing you up to 12 wishes during each wish granting period.
Prizes
You can specify what item you would like to receive when donating. The list of possible items is limited to items rarity 89 and below:
Beginning in June 2019, a few r90 items began showing up as granted wishes. Previously, only r89 and below items were available to be wished for, but a bug caused the well to grant r90 items as well (the Wishing Well page still stated r89 as the limit). This bug was fixed in August 2019.
If your wish is selected, the Wishing Well will grant a random valid item from the Neopets.com search function that contains the word(s) you wished for. For example:
Say you are unspecific and just wish for "gummy slorg". If you win, you may get a Banana Gummy Slorg or a Lime Gummy Slorg because they are in the right rarity range, but you won't get an Orange Gummy Slorg because that one is too high of a rarity.
Even if you enter a valid item, you may get a different item! For example, if you wish for Wuzzle and win, you might instead receive Flaming Wuzzle because it shows up in the search for "Wuzzle".
If you're a winner, you will receive a Neomail from theneopetsteam congratulating you for your win, and your prize will be placed directly into your inventory. No need to revisit the Well in order to collect.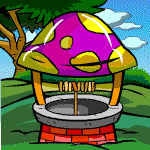 "It's the thought that counts!"
Avatar
The solution to the avatar was shrouded in mystery for approximately a year and a half! The biggest hint came from a Neopian Times editorial:
Hey, TNT! *hands cookie* So, I was reading The Lord of the Rings and I found that one chapter is named "Flotsam and Jetsam"... curious. I then realized that "Ring of the Lost" (RotL) has the same letters as "Lord of the Rings" (LotR). Therefore I was wondering, as it seems you guys like reading... will I be able to find some hint about the Wishing Well avatar in a book, or am I just overthinking? ~blackie1407
You're overthinking. No one on The Neopets Team can read. In fact, we're not even sure how we're typi33o47k thwls68es.
Wishing Well / Guide
Donate 48673 NP at the Wishing Well with one of your daily 7 wishes. What you wish for doesn't matter.
Released: June 10, 2010
Help us improve!
Did you find what you were looking for on this page?
This article was written by: Zador