Your jnAccount:
Log In
or
Register
| New to Jellyneo?
Click here!
Site Updates
Pick your news: Neopets News
| Crossword | JN Updates | Daily Puzzle | Altador Cup
(Re)Introducing Our Top Pets List!
Posted by macosten
Posted on April 16, 2021, 9:37 am NST
Attention all battlers!
After a few years of hiatus, I'm pleased to announce the official return of regular updates to our
Top 250 Pets List
! As before, our list is calculated using "HSD", a combination of your Neopets' health, strength, and defence points. (With caps of 750 on both strength and defence to match the Battledome's boost caps.)
Every pet on our Top 250 List is eligible for
a self-updating Top Pet Trophy
to place on their lookup and remind anybody brave enough to visit about their position atop the battlers of Neopia. Currently, a pet with about
2,500 HP
2800 HP and at least 750 Strength and Defence will be strong enough to find themselves on our list; how does your Neopet stack up?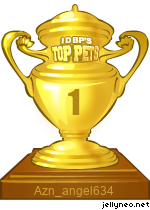 Does your pet make the cut?
If you notice a Neopet missing from our list, even if it's not your pet, please
let us know with a report
so we can give them the recognition they deserve.
Finally, congratulations to all of the Neopets on our list and their owners on their achievements! It's not always easy, but I believe this will make the struggle a bit more fun.
There are 11 comments below. Add yours!
---
My lab pet Sp1unge should definitely qualify! 5603 hit points, and over 750 strength and defense.
The only thing neopets related that gives me any joy, is jellyneo. Everything you all do is just wonderful. Thank you
Cool! None of my pets are anywhere near these stats, but I'm excited to see this return!
Wow my pwetty wittle Baby Kougra is #26
swevin
, April 17, 2021 3:44 AM NST
Is there a way to gain HP other than train and lab?
debgil
, April 17, 2021 4:33 AM NST
swevin: While you are hear, check out JN for that answer. They have a list of items that can raise your pets' stats. Also, keep track of your pet's birthday as if you go to their look up on that day you can not only pop balloons (wheee!) but you can claim a birthday cupcake to raise a specific stat by 5 (check out item data base for more info on each cupcake.
Thank you Jellyneo!

*ooos and ahhhhs at pets and trophies*
I thought the trophy was supposed to update automatically when the rank changed? Sp1unge started out at 75 yesterday but went down to 77 today as more pets were added, but the trophy is still at 75.
@purplebin: We do have some caching built in. We anticipate updating the list at least once per month, so there's ~3 weeks of cached trophy time built in. We just didn't code the trophies to respond quickly to the rapid changes we've been making over the past day of release (lots of new pets coming out of the woodwork!) since this'll only happen once.
I've gone ahead and forced an update on your trophy.
@swevin: Check out our Beginners' Guide to Training article over in the Battlepedia:

http://battlepedia.jellyneo.net/?go=beginners_guide_to_training

You'll find some good info in the "Alternate Training Methods" section. (But you'll need to go make some big withdrawals from the National Neopian.)
So good to be finally in the top 20
Add Your Comment
Want to add your thoughts? You just need to log into your jnAccount!