Your jnAccount:
Log In
or
Register
| New to Jellyneo?
Click here!
Site Updates
Pick your news: Neopets News | Crossword | JN Updates | Daily Puzzle | Advent
Feature Friday: Advent Calendar Animations
Posted by Kenny
Posted on December 1, 2023, 1:44 pm NST
This weekend, we're shining the spotlight on a seasonally apropos feature: our archive of
Advent Calendar Animations
!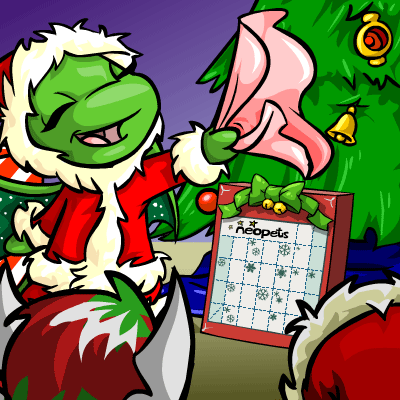 Starting in the year 2000, one of the most beloved Neopian traditions has been the
Advent Calendar
. Each day throughout December, Neopians are treated to a themed animation and some prizes to go alongside of it. Animations typically featured events or characters from the past year, along with completely random vignettes.
From 2000 through 2016, these animations were created using Flash, which
(in)famously retired
in early 2021. Jellyneo has converted and archived all of the Flash-based animations in a modern movie format so that you may continue to enjoy them each holiday season:
Do you have a favorite animation from years past? Let us know in the comments! Here's one of mine, from December 18, 2011:
Some other staff favourites include
December 11, 2012
(featuring an ice skating Aisha on Kiko Lake);
December 12, 2004
(featuring some dancing Wockies); and
December 12, 2011
(featuring a festive wipeout by
Matt
, from Sewage Surfer).
---
And don't forget to start claiming your daily Advent Prize
today
! Bonus: make sure to click on Reina the Christmas Aisha when she pops out from the side of the screen to get a bonus item—possibly even a
Seasonal Attack Pea
!
Happy Thanksgiving!
Posted by Dave
Posted on November 23, 2023, 12:00 am NST
If you're in the USA, all of us at Jellyneo hope that you have a happy, healthy, and safe Thanksgiving!
Feature Friday: Magma Pool Checklist
Posted by Kenny
Posted on November 17, 2023, 7:30 pm NST
This weekend, we're shining the spotlight on one of our hottest features: the
Magma Pool Time Checklist
!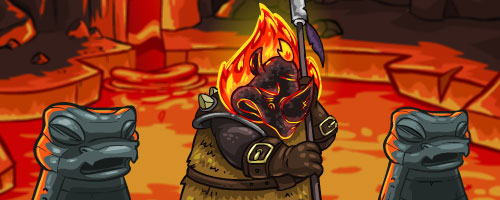 For those who don't know, the
Magma Pool
is where you can paint your pets
Magma
!
For most players, there is just one
10 minute
interval out of the entire day where you can catch the guard asleep and use the pool. It's random, and different for every player. (A very small number of players who qualify for an absurd list of requirements—see our
Magma Pool guide
for more on that—are able to use it any time they want.)
Tracking that time can be difficult. "Did I check this minute yet?" "I remember I caught him asleep once before...when was that exactly?" Fortunately, Jellyneo has a tool to make it easier!
Simply visit the pool and mark off the outcome on our tracker! If you check off two time slots within 10 minutes of each other, it's even smart enough to block off the minutes in between them!
Happy hunting!
Feature Friday: Yearlies
Posted by Kenny
Posted on November 10, 2023, 5:30 pm NST
This weekend, we're shining the spotlight on one of our newer articles:
Annual Freebies and Discounts a.k.a. Yearlies
!




We're all familiar with the
dailies
available every day for years, but are you familiar with the "yearlies" (Jellyneo's own neologism) available every year for decades?
We're talking about more than just the annual pet days for your favourite species. For a run-down of all the only-once-a-year avatars, dailies prizes, site themes, events, and more, check out our guide below. With the holidays looming, including the birthday of Neopets, many of them are coming up soon!
Let us know
!
Happy Halloween!
Posted by Dave
Posted on October 31, 2023, 12:00 am NST
From all of us at Jellyneo...
---
Costume Contest Winners!
The winners of this year's
Costume Contest
are now live! Congratulations goes to
zelda2727
for their Aisha
Miyazaki
dressed as
Hayao Miyazaki working on new ideas for the next Studio Ghibli film
! Make sure to check out all of the winners below, along with the prizes awarded to all those who entered and voted! (Trophies will be awarded later today.)
---
Site Theme Alert!
On October 31st at 11:59:00pm through 11:59:59pm NST (only a minute!), refreshing anywhere on the Neopets site will get you the elusive
Haunted Woods site theme
. This is the only time of year you can obtain it, so don't forget to stay up! This should be available on any Classic site page and redesign page, but if you want to be safe, the homepage is confirmed to award it.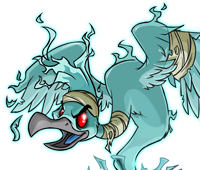 ---
Haunted Mansion Reminder
You have until the end of TODAY, October 31st to activate your Crystal Balls for the
Haunted Mansion
Neocash prizes.
---
Trick-or-Treating Reminder
Don't forget to go
trick-or-treating
around Neopia. You have the opportunity to pick up some free goodie bags until October 31st at 11:59 PM NST. (This year, trick-or-treating was available from October 24th through the 31st!)
---
Visit Count Von Roo
To celebrate,
Count Von Roo is awake
all day long on October 31st, allowing Neopets to play Deadly Dice with him. If you'd like to gamble for a few levels, go for a visit!