Your jnAccount:
Log In
or
Register
| New to Jellyneo?
Click here!
Tyranu Evavu
Tyranu Evavu Information
World:

Trophies:

Neopoint Ratio:

1.00 Points =
1 NP

Our Difficulty Rating:

10%

[Send in a Game Tip] - [Return to the Game Guide Index]
It's not every day that you get to go back in Neopian history. Fortunately, Tyranu Evavu gives you the chance of doing so. To reassure you, no, it's not a hard or confusing game to play. If ancient Neopets can play it, you can too!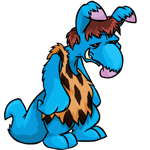 I'm not THAT ancient!
Gameplay
Every game costs 30 Neopoints. On each turn, you have to guess if the card that's placed face down, is Tyranu (higher) or Evavu (lower) than the card displayed. You have to pay attention to which button you're pressing though, as the Tyranu and Evavu buttons switch out sometimes for a bit of added difficulty. The Ace is the highest card, which means the 2 is the lowest. The more correct guesses you make, the more Neopoints you earn.
Payout Table
| | |
| --- | --- |
| Guesses | Payout |
| 5 | 18 NPs |
| 10 | 156 NPs |
| 15 | 408 NPs |
| 20 | 1,116 NPs |
| 30 | 2,388 NPs |
| 40 | 4,800 NPs |
| 50 | 7,200 NPs |
| 52 | 12,000 NPs |
Strategy
It's a simple game of luck, and though sometimes there's just no way to win, there are some likelihoods you should always keep in mind to increase your chances of victory:
Whenever you get a 2, 3, 4 or 5, you should pick Tyranu.
Whenever you get a 6, 7, 8, 9 or 10, you just guess. Those numbers are the hardest.
Whenever you get a Jack, Queen, King or Ace, you should pick Evavu.
The rest of this game is luck. You almost never know if the card will be higher or lower, even if you've got a 3 or King. There are two exceptions though: the 2 and the Ace. The next card will ALWAYS be higher than a 2 and ALWAYS lower than an Ace.
Card Counting
A helpful tip whilst playing is to write down which cards you've seen so far in the game, or use a real deck of cards to help you keep track. This way you have a better idea of knowing which cards could possibly be next. For example, if you know you have already turned over three Aces during your game then you also know there is only one Ace left in the deck. So if you turn over a 3 then you can better judge the likelihood of your next card being either higher or lower (in this case there is a considerably higher chance of the next card being higher). As the game goes on, probabilities change and you can choose Tyranu or Evavu based on the new ratio for a better chance at being right.
This game also gives more than monetary rewards: yes, an avatar! You can only play a maximum of 20 times per day though, so you may need to be patient.
Tyranu Evavu / Guide
Get at least 15 correct guesses in a row while playing Tyranu Evavu.
Released: May 12, 2004
Help us improve!
Did you find what you were looking for on this page?
This game guide was written by: Emily