Your jnAccount:
Log In
or
Register
| New to Jellyneo?
Click here!
The Turmaculus
In one corner, weighing in at... *cough* Uh, what was it again?
We don't know for sure, just keep going!
Okay okay, um, really really heavy, we have the Turmulcus. Er, Tumacalacus. No, that wasn't it... Turbo Cactus? Ah, Turmaculus!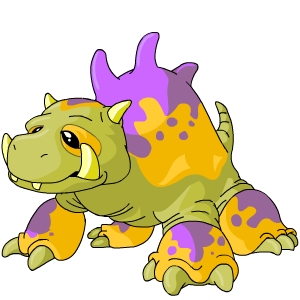 In the other corner, weighing in at two pounds, we have... your petpet.


*MEEEEEEP*
Your task? You have to wake Turmaculus (affectionately referred to as Turmy). He is awake for a random hour every day. Yup, random. There is a petpage that predicts when Turmy will be awake and you can find it here. Remember, they are predictions and Turmy may wake up earlier/later than the predicted time. Another way to find out is to monitor the Avatar Chat or the Battledome Chat on the Neoboards; if Turmy is awake, there will probably be a topic alerting you. Lastly, we (the Jellyneo staff) will alert our visitors if Turmy is awake via the new main site layout, or through Twitter.
Let's say you were lucky and happened to be online when Turmy was awake. What now? Well, you just mosey on up to him.
You can choose to wake Turmy with any method that you deem fit, any of them will work. Of course, there are times when Turmy just won't wake up for you, even though everyone else can wake him. Rest assured that this is quite rare, though, so you'll most likely get a prize! If you do manage to wake him up, he will reward you (not-so) greatly with one of the following:
Turmaculus Prizes

Axe Shrub

Beef Jerky

Book of Swords

Bullseye Candy

Giant Turmac Omelette

Guide to Knighthood

Lucky Green Boots

Medieval Shirt

Meridell Toy Shield

Poets Hat


(wearable)


Potato,Potato and Potato Salad

Robot Turmac

Round Table Poker Coins

Sausages

Sword Bush

The Tournament Handbook

Toy Sword

Turkey and Potato Dinner

Turmaculus Claw Keychain

Turmaculus Mug

Turmaculus Plushie

Wind Up Turmaculus
Other prizes would include 100 NP, 350 NP, a full pet heal, an increase in strength for your pet, or an increase in level for your petpet. However, if he wakes up a bit grouchy, he can also eat your petpet. Yes, you heard me right, he will gobble them up and they will disappear forever. This can happen even when your petpet is in Grave Danger, so don't count on that to protect your petpet!
Believe it or not though, you actually want him to eat your petpet. When he does this, you receive him as a Battledome Challenger! Ain't that great? And you will also be rewarded with his rather spiffy and elusive avatar.
Turmaculus / Guide
Get your petpet eaten by Turmaculus.
Released: June 10, 2004
Help us improve!
Did you find what you were looking for on this page?
This article was written by: Ruby