Your jnAccount:
Log In
or
Register
| New to Jellyneo?
Click here!
Neopian Trophies
Trophies are little graphical goodies displayed on your user lookup that reflect particular accomplishments on the site. While many trophies available in Neopia require a great amount of skill (or luck), some simply...don't. The best part of trophies is that once you earn one it will stay on your lookup forever—it cannot expire or be taken away. Below is a survey of the different types of trophies you can earn.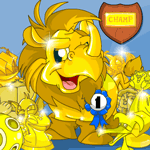 Actual photo of your pet after you read this guide
High Scores Trophies
High scores trophies are the most common and generally most sought-after trophies on the site. These trophies are earned by sending a score that is among the best among all users over a given time period, earning you a spot on that game's high score table (HST).
Specifically, you must score within the top 17 high scores so far in a given month, and remain in the top 17 until the high score trophy script next runs around the end of the day. Starting in late 2014, the time that trophies are awarded began drifting a few seconds later each day—previous to 2014, it was always at 12:10 AM NST. To find out the current time, we recommend asking around the Site Games Neoboard.
Gold: 1st through 3rd
Silver: 4th through 8th
Bronze: 9th through 17th
The high scores tables are completely cleared on the 1st day of each month around 12:10am NST; this makes the first day of the month the easiest time to get a trophy, especially in luck/chance games and games with a maximum possible score.
Although all high score tables themselves function the same, they differ in how your score can get added to the table.
Standard Game HSTs
The "standard" high scores table trophies require you to outperform other players in an individual score submission of one of the site's games. This is the most common type of trophy on the site. The scores on the high scores tables of these games are from score submissions of a single play of a game.



The "Exceptional Eight"
There are eight games whose high scores table works differently than normal. These games have a feasibly attainable maximum possible score from playing a "perfect" game. Because of this, the top of their high scores tables clog up with people who have attained this maximum score.
To make this a bit more fair, any player who has attained the maximum possible score for that game will receive a gold trophy, regardless of their apparent spot on the high scores table. Further, these maximum scores collectively take up only the gold trophy spots. What that means is that the next 5 scores below the maximum score actually receive a Silver Trophy, and the next 9 scores after those receive Bronze! You don't have to be in the top 17 to get a trophy; in fact, you don't even necessarily have to be close. Pretty nifty!
As an example, the maximum possible score for Faerie Caves II is 1,520. Below is a snapshot of the high scores table; you can see that seven players have achieved this maximum possible score. All seven will receive the gold trophy (even though four of them are listed in the silver area). The next five highest scores appear in positions 8 through 12, and will all receive a silver trophy. The next nine highest scores after those appear in positions 13 through 21, and will all receive a bronze trophy. The users in positions 22 and lower will not receive a trophy.
These are the "Exceptional Eight" and their maximum possible scores:
Cumulative HSTs
Cumulative high score trophies are won by accumulating points over any number of games, not a top score from a single game. These high scores tables work differently because they never truly reset. Although the table is cleared at the start of every month like all others, each user's cumulative score is maintained. All a user has to do to reenter the high score table is complete another game. A user's cumulative score only resets after either 30 or 90 days (depending on the game) without adding to their score.



View All Cumulative HST Trophies »
Non-Game HSTs
Some trophies are earned from a high scores table, but the site feature that awards them is not quite what we think of as a "game," such as Random Events or Dailies.



View All Non-Game HST Trophies »
Player-vs-Player
This set of trophies, also sometimes called "multiplayer" trophies, is earned by winning monthly tournaments where you'll have to face off against of a variety of different players. This will require quite a bit of dedication over the course of a month. There are only three games that participate in these kinds of monthly tournaments: Armada, Geos, and Kacheekers.



Non-Competitive
Non-competitive trophies require you to achieve certain feats in a game, but with no competition with other players. Although not always easy, you can earn these with patience, skill, and a little luck. These games are often HTML/PHP-based (played in the browser).




View All Non-Competitive Trophies »
Retired Games
Technically these fit into one of the above categories, except it is no longer possible to earn these trophies. However, you may still see these on some older users' userlookups; these users earned them before they were discontinued. Most of the time, the trophies are unavailable because the games have been sent to the Game Graveyard. Sometimes, they are replaced by an updated version of the same game with a new game ID number; this is how some players may appear to have duplicate trophies for the same game.



View All Retired Game Trophies »
Spotlight/Contest Trophies
There are a number of different contests on Neopets that require either artistic talent, smarts, or good perception. They each have their own trophy, and you can get multiples of each trophy. (This would show up as a x2, x3, etc on your profile.) Unfortunately, several of these spotlights or competitions have been permanently retired, and the trophies are no longer earnable.

A section of the trophy cabinet of one particularly accomplished Jellyneo staffer...
View All Spotlight/Contest Trophies »
Site Event Trophies
These trophies can only be obtained through Neopets plots or events. While plots are one-off events with a strong story component and unique participation methods, events are smaller and usually annual (or otherwise recurring) such as the Charity Corner. Despite this distinction, the trophies from both of these live in the same part of your userlookup called "Site Event Trophies", though some of the very oldest actually appear among game trophies before TNT created this space.
These trophies can only be given out through participation while that plot or event is ongoing; once it is finished, there is no way to earn the trophy. There is just one exception to this: the Altador Plot remains open for completion indefinitely! Our Altador Plot guide details all the steps you need to take to complete the plot and earn this trophy.
Some of these trophies are hyperlinked and can be clicked to open a new page or a pop-up that show's the players specific achievements within that plot/event.




View All Site Event Trophies »
Miscellaneous Trophies
These trophies actually do not quite fit the definition of a "trophy" within the Neopets context, but are close enough to be worth mentioning here.
Site Feature Trophies
These miscellaneous trophies appear in a special row on your lookup.
Pet Trophies
Unlike all of the other trophies listed above, which are associated with your account and appear on your userlookup, there is a set of trophies that can be won by an individual pet. These trophies appear on the pet's lookup, and stay with the pet forever, even if it is transferred or abandoned.
Other Pet Trophies
These trophies are so obsolete or obscure that we have separated them from the other trophies above.
Other Pet Trophies

Faerie League
This trophy was awarded to pets that defeated all of the faeries in a very early Battledome event in February 2001. The trophy would display in a row above other trophies, and it is unknown if it still displays on current pet pages. If you know a pet that has this trophy, please let us know!

Heaviest Pet
This trophy is ostensibly awarded to pets with the heaviest weight statistic. However, it is not known if it was ever awarded to any pets, and even if so, if the script that would award them is still functional. If you know any pet that has this trophy, or anything about its history, please let us know! (If you're interested in exploring this, the only way to increase your pet's weight is with a Pumpkin Negg.)

Most Travelled
The requirements for this trophy are unknown. The only known pet to have one of these is a bronze one on Thyassa, a Chia on the defunct staff account of Neopets co-founder Donna. If you know any other pet that has this trophy, or anything about its history, please let us know!

Oldest Pet
This trophy was ostensibly awarded to pets of a certain age. The only two known pets to have one of these is HollyNoel, who has the gold, and Thyassa, a Chia on the defunct staff account of Neopets co-founder Donna. Curiously, Thyassa has both silver and bronze. The history of HollyNoel can be seen seen on ~MowYaGras, where some other old defunct trophies can also be seen in an old screenshot!

Attack

Most Brainy

Most Skilled
These trophies were ostensibly awarded to pets with the highest intelligence, attack, and level, respectively. It does not appear any are still active; if you are aware of any pets with these trophies, please let us know! These trophies appear among other defunct pet trophies in a old screenshot of the pet HollyNoel, which can be seen on ~MowYaGras.
Help us improve!
Did you find what you were looking for on this page?
This article was written by: Kenny