Your jnAccount:
Log In
or
Register
| New to Jellyneo?
Click here!
Test Your Strength
Test Your Strength Information
World:

Trophies:

Neopoint Ratio:

1.00 Points =
1 NP

Our Difficulty Rating:

10%

[Send in a Game Tip] - [Return to the Game Guide Index]
We're collecting prize data!
We still need more data points for any tier above "Useless" and "Pathetic." If you reach "Weakling" or above, please let us know your prize result:
Submit Now »
If you've ever been itching to test your own strength, there's no worse better place to go than Test Your Strength, Haunted Wood's very own strength test game. The game is completely random, unfortunately, meaning you will never know just how strong you actually are by simply clicking a mouse.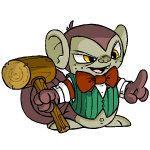 "Swing the mallet and see how strong you really are!"
How to Play
If you'd like to try it, Arnold, the owner, will kindly lighten your pocket by 100 NP. Once you have pressed Click to Start!, aim your cursor at the giant red button and left click. It doesn't matter where you click it, or how hard you click, or the speed you click, as it's all random from here on out.
You can score from 1-100, and receive Neopoint or item prizes based on where the red meter ends on the game board.

It's a long way to the top...
The game can be played once every 6 hours.
Instant Play Link
After Flash was officially discontinued in January 2021, a Flash-free version of Test Your Strength was not released until December 2022. During that time, the game could still be played without Flash by clicking an "instant play" link.
However, with the HTML5 conversion the link has changed and is no longer able to be used as before.
Prizes
Here's the breakdown of the possible rewards for your superior random strength measurement.
---
Useless
If you score 10 points or less, you'll receive the strength title of Useless. You can win between 1-50 NP, or one of the following item prizes (all Spooky Foods through r60.)
---
Pathetic
For a score from 11 to 20 points, you'll be labeled Pathetic. You can pocket a profit from winning between 200-300 NP.
---
Weakling
Weakling is the moniker for scoring from 21 to 30 points. You will receive one of the following item prizes of miscellaneous Spooky Foods.
---
Puny
A score of 31 to 40 points yields a Puny name, yet an exclusive prize!
---
Average
Metering from 41 to 50 points, you'll find yourself just Average. You will, however, walk away with one of the following exclusive prizes.
---
Strong
You'll have to score from 51 to 60 points for the game to finally recognize you as Strong. For this tier, you'll win one of the following assorted Spooky Foods up to r99.
---
Mighty
Climbing from 61 to 80 points shows how the Mighty don't fall. A score in this range wins of the following exclusive Spooky Petpets or the coveted customising device.
---
Impressive
This tier is elusive and may inadvertently be inactive. If you land by the adorable Mutant Blumaroo, please let us know your Score and any NP or Item received.
---
Amazing
By scoring from 81 to 90, you'll see how Amazing you really are. At this level, you'll walk away with one of the following exclusive Spooky Foods.
---
Jackpot
The odds are not in your favor to score from 91 to 100. As the elite amongst the strongest luckiest Neopians, hitting the jackpot wins a cool 1,000,000 NP!
After the Jackpot has been won, it takes some time before the pot resets to the 1,000,000 NP max, as it increments back up by 100 NP for each Neopian who takes a swing (or after a collective 10,000 plays.) If you win the Jackpot after it has been recently won, you may end up with only pocket change of not very many Neopoints. Double check the Jackpot amount before clicking for your turn if NPs are your priority - although if that is the case, we recommend steering clear of the crooked Arnold altogether!
Help us improve!
Did you find what you were looking for on this page?
This game guide was written by: Zador & JN Forum Members