Your jnAccount:
Log In
or
Register
| New to Jellyneo?
Click here!
Super Hasee Bounce
Super Hasee Bounce Information
World:

Trophies:

Neopoint Ratio:

1.22 Points =
1 NP

Our Difficulty Rating:

20%

[Send in a Game Tip] - [Return to the Game Guide Index]
Jimmi and Woogy have decided to take a trip to Meridell Castle to show off their bouncing skills! In this Super installment the two will seesaw their way through 15 balloon-filled levels, the finale being an audience with the great King Skarl himself!

Whee!
How To Play
Much like the original Hasee Bounce, Jimmi and Woogy take turns springing themselves off of their seesaw to collect as many goodies from the air as they can. To complete a level, you must collect each of the five letters trapped in the balloons to spell "HASEE". The level automatically finishes when the last letter is collected. The seesaw can be moved left and right with the mouse, but where the duo end up bouncing is mostly up to fate. To complete the game, you must clear all 15 levels before losing all 5 of your lives (technically 6, your last life is "0").
Super Hasee Bounce has two game modes - regular and hard. Hard mode has more hazardous obstacles, negative power-ups, and wind to be dealt with, while the point values and amount of levels are exactly the same. Unless you want the extra challenge, you should choose regular mode!
Collectables, Power-ups and Multipliers
There's more to grab besides just letters! Also within the balloons are multipliers, power-ups and doughnutfruits to collect for extra bonus points - yum! You can see which power-ups are in effect on the top of the screen and what multiplier is in effect on the bottom. Multiple power-ups can be in effect at any given time, but there can only be one active multiplier - they don't stack! Both power-ups and multipliers last six seconds. You are only awarded points for collecting doughnutfruits and letters, the empty balloons aren't worth anything.

Collectables, Power-ups and Multipliers

Doughnutfruit

Worth 10 points.


Letter

Worth 6 points, five letters are collected per level.


Multiplier

Multiplies points given by doughnutfruits and letters by the number shown (x2, x3 or x5).


Bullseye

Hasees will destroy obstacles on contact. In hard mode, it gives immunity to obstacles with spikes and destroys them.


Shield

Summons two Draik guardsmen with a giant trampoline. While they are active, you don't need to worry about the Hasees hitting the ground.


Super Bounce

Makes the Hasees super bouncy!


Less Bounce

Hasees will be much less bouncy.


Stun

Stuns a Hasee. While stunned, Hasees cannot pick things up.


Change Wind

Changes the direction of the wind. Hard mode only.


Cancel Wind

Cancels the effect of the wind. Hard mode only.


Double Wind

Doubles the wind speed. Hard mode only.
Strategy
Where the Hasees go is mostly up to chance, but you do have some control. To make a Hasee fly farther away, catch the other Hasee on the very edge of the seesaw. If you want it to bounce upwards, catch it more towards the center. Make sure not to catch the Hasee in the middle of the seesaw, it will become stunned and you won't be able to move!
When you first begin a level, look for any multipliers - you'll want to grab those first before you start collecting anything else. If you are going for a high score, you should start the first level over until you get one that has a lot of them. If there is more than one multiplier per level, try to collect them separately so you don't waste their effect. Make sure to collect all of the doughnutfruits on a level before you collect the letters!
Be careful and take your time, there is no time limit and you are restricted to the amount of lives you start with. There is no way to earn more.
Quick Tips
If you are going for a high score, start the game over until the first level has lots of multipliers and doughnutfruits.
Collect multipliers first before you collect the letters and doughnutfruits, and make sure you've collected everything before you finish the level.
If a Hasee becomes stuck bouncing between two obstacles, wait it out. After some time, it will eventually become unstuck.
The Hasees tend to pass through the seesaw even though they shouldn't if you are trying to catch them on the edges. If you are low on lives, try not to do this.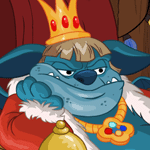 Do you think he was impressed...?
Help us improve!
Did you find what you were looking for on this page?
This game guide was written by: Mac