Your jnAccount:
Log In
or
Register
| New to Jellyneo?
Click here!
The Storytelling Contest
The Storytelling Contest Information
World:

Trophies:

Neopoint Ratio:

1.00 Points =
1 NP

Our Difficulty Rating:

50%

[Send in a Game Tip] - [Return to the Game Guide Index]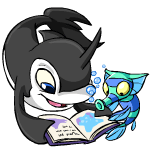 Ah yes, the Story Telling Contest! It's pretty much a Neopian version of the game you play when everyone sits down in a circle and makes a story by getting everyone to add a part to it! If you really want to write a story all by yourself, then you should consider entering into the Neopian Times instead.
Storytelling 101
So, how does the Neopian counterpart of random sentence combining differ from the original game? Every Monday, a user types up the beginning of a Neopets story. It is then up to other Neopians to provide the rest of the story, a few paragraphs at a time. So the Story Contest is basically a longer, more formal version of the party game.
The contest usually starts on Monday every week and usually ends on the next Friday. Usually, one winner is selected each day to add to the story, for a total of five winners selected. That gives you about four days to come up with a contribution to that week's story. However, the contest has not been too consistent as of late: some contests have 6, 7, or many more, stretch over two or more weeks, and accept entries with several-day gaps rather than each day. (In the past, the start of the story was written by a TNT staff member on a Monday, and nine user-submitted entries were posted up, two per day (except Friday). Sometimes, when there were holidays, milestone Storytelling contests, or the judge simply felt like it, stories extended for two weeks.)
Simply think of a few paragraphs that would progress the story and type them into the "What Happens Next?" box on the Story Competition page and see if your entry gets picked! If you're wondering how long entries usually are, when your scroll bar shrinks to the size of your cursor, that's an average length, but many accepted parts can either be quite short or on the opposite extreme.
Of course, even if you aren't able to win this week, you can still enter next week's contest!
Story Contest Tips
Alright, so now that you've decided to give this Story Telling thing a go, how can you get yourself in? Well, in the official (and very thorough) FAQ the judge gives this list of criteria, and I'll expound on each:
Do the characters stay true to their personality?
Self-explanatory. You must be able to keep the characters as they are, but don't make them so consistent that they're...flat. They must be dynamic, and at the same time not deviate so much from their thoughts and actions in previous entries. That's one reason for you to read through everything else first—do the characters have any particular quirks that may either be useful in the story later on or just provide good inside jokes? Would they really do or think what you want them to do or think?
The initial entry usually gives one or more characters in the beginning of the story, but you are more than welcome to add your own, as long as they do help the plot along to some extent and aren't just there for the ride. Introducing characters becomes kind of a long shot toward the end, when things are supposed to be wrapping up, but of course, it all depends on the context of the plot. If you want to put in a character or two, they must be able to stand out from the main ones and be as dynamic while at the same time leaving some room for the successive Storytellers to develop them further.
Does it progress the story?
Your piece must contribute some development to the plot, usually in the form of a twist or an answer provided to a question raised in the previous part(s). You don't have to write so much to put out a creative entry; many seasoned Storytellers can introduce a new plot development in even short entries. The point is...well, get your point across and try not to drag the story, like lengthening a conversation that has been going on since the last part unless there's something like an epic revelation or a long-sought answer in it.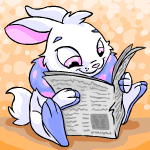 Plots without development are very, very boring plots.
Does it make sense?
In my opinion, some beginning Storytellers easily fall into this trap when they read through the previous parts too quickly and miss certain aspects of the story that lead to them writing an entry that doesn't quite agree with the theme and mood. This is why I'm stressing the importance of reading and even rereading, so you don't wind up contradicting your fellow Storytellers. Even if you have the greatest, most unexpected twist all ready in your head for typing, it won't be chosen if it ends up deviating so much from the story that it can be compared to a wrong piece in a jigsaw puzzle. Yes, you are more than welcome to be creative, but try to stay within the parameters already specified in the story.
Is it interesting?
This one's self-explanatory as well. Because many people—including those more well-versed in the Storytelling universe—are vying for spots every week, you must make your part stand out. Why should the judge choose yours over so many others? A good way to make things interesting is to write something unexpected, like a sharp turn in the story that will keep readers hooked, or a new development. If you're doing an ending, how will you tie everything up? Basically it all boils down to your creativity, how you can make the current story more intriguing than it already is.
Logistical Details
Obviously, your entries should also follow the general Neopets Rules and Contest Rules. You do not need to add the HTML yourself, although some authors insist on adding italic tags on their own, but it does help if you break your entry into paragraphs and remember to check your spelling and grammar. Submit as early as you can after the most recent entry is posted. Otherwise, you may have submitted too late for TNT to read!
Prizes

If you do win, you'll be notified by an automated Neomail and receive a trophy, 2,000 NP, and a random rare item! Every 100th competition also receives an exclusive Collectable Card: The Storyteller.
You are allowed to win multiple times, but the unofficial limit is twice in one week (so you can shoot for three or even four in a two-week competition if you can!). This is to allow other Neopians a chance to add to the story too!
Help us improve!
Did you find what you were looking for on this page?
This game guide was written by: DragonBeak & Kat