Your jnAccount:
Log In
or
Register
| New to Jellyneo?
Click here!
Contests and Spotlights
Talented? Bored? Feel like sharing your gifts with Neopia? Fortunately, you're in luck! There are a huge variety of spotlights and contests on the site that focus on lots of different areas, and the winners take home a trophy!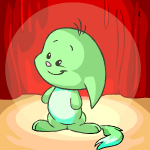 That's me in the corner, that's me in the spotlight...
Spotlights
Neopian Spotlights are a series of features that highlight a different user-customisable area of the site each week. Winners get their name in the New Features and a trophy (awarded either to the user or their pet).
User Lookup Spotlight

A spotlight for web and graphic designers everywhere, the User Lookup Spotlight is a chance to show off users' coding and graphic skills. Successful entrants use HTML and CSS, often in collaboration with a graphics program like Photoshop, to make their user lookups come to life! Users submit a short (ideally under 200 words) description of their lookup; the code is submitted automatically.
Submit Your Entry »
Gallery Spotlight

Neopians everywhere love to collect all sorts of things in their galleries. Why not show them off in the Gallery Spotlight? A good spotlightable gallery sticks to one central theme (it can be mainstream, it can be quirky) and showcases a wide range of themed goods. For this spotlight, users submit a name and description (around 200 words) for their gallery. It can be as big or as small as you like!
Submit Your Entry »
Customisation Spotlight
This is where stylish pets get to strut their stuff. Unlike nearly every other Neopian spotlight or contest, the winners of the Customisation Spotlight are chosen by users themselves and not by TNT. There are two categories; one for strictly Neopoint wearables only and another for outfits featuring Neocash wearables. Users simply submit their most fashion-conscious pet.
Submit Your Entry »



Contests
Neopets also features a wide range of more traditional contests, where users can show off their skills in many different areas.
Art Gallery

While not termed a contest as such, the Art Gallery takes its place with the others by virtue of its selective acceptance of exceptional Neopets-themed artwork. Often submissions will be chosen as part of a theme, for example a pet day or other Neopian holiday. Art can take many forms, whether it be traditional media or computer-crafted creations. Users submit their artwork, along with a title and a subject.
Submit Your Entry »
Poetry Contest

Like the Art Gallery, the Poetry Contest accepts submissions based around Neopian theme days as well as general Neopian verse. There are poems of all sorts in the gallery, from acrostics to haiku to blank verse to even sestinas! Poems can be as long or as short as you like, but the recommended length is 25 to 75 lines. Users submit their poem with a title and subject, and if their poem is chosen, they will receive a trophy.
Submit Your Entry »
Beauty Contest
Like the Art Gallery, the Beauty Contest accepts stunning artwork of Neopets everywhere. Unlike the Art Gallery, the winners are chosen by you, not by TNT. You may have noticed the Beauty Contest board for this purpose - so entrants can advertise their pets in the hope of attracting votes. Users submit their artwork, along with a short blurb (8 lines) about their Neopet.
Submit Your Entry »



Random Contest
The title pretty much says it all - the Random Contest is a place to show off zany and out-of-the-ordinary skills in all sorts of bizarre and amusing contests. It could be anything from Neopets-themed jack-o-lanterns to a Faeries' Ruin film poster to a crocheted Neopet! Users submit... well, whatever the contest asks for.
While it originally occurred roughly monthly, the Random Contest happens... randomly, nowadays. It all depends on when TNT wants to run a round of the contest.
Submit Your Entry »



Storytelling

For those with a yearning for lore, the Storytelling contest is for you. Here, a story beginning is posted (either by TNT or a user) and other users complete the story, one part at a time. No funny business permitted here, though - the whole story must still make sense! New parts are posted daily or twice-daily, so the whole story is told within a week. Users submit their story parts.
Submit Your Entry »
Neopian Times

The Neopian Times is Neopets' weekly newspaper, contributed to by users and edited by TNT. Every week, users are treated to a feast of user-written articles, comics, short stories and series, as well as an Editorial written by TNT about the site. To find out more, see Jellyneo's Neopian Times guide. Users submit their content in either written or pictorial form.
Submit Your Entry »
Caption Contest
Feel your sharp-as-a-thumbtack wit is lost on your fellow players? Why not try out the Caption Contest? Three times a week, a new caption is posted for you to describe as amusingly as you can. Caption images are often posted early on Jellyneo's news, so you have extra time to polish your joke! Finalist captions are selected by TNT and winners are voted on by the Neopian public. Users submit their captions. To find out more, see Jellyneo's Caption Contest article.
Submit Your Entry »



Mystery Pic
Got an eye for detail? The Mystery Pic needs you! Every week, part of an image from somewhere in Neopia is posted. The hard part? It's a blown-up bunch of pixels - literally! Mystery Pics are fiendishly difficult and only a few manage to figure out the answer each week. Users submit their answer in the format specified.
Submit Your Entry »



Gourmet Club and Book Awards
These two contests (well, three, really) are identical in aims and structure, but very different in items! The aim is to eat or read as many Gourmet Foods or books as possible to your pet. A third subcontest involves Booktastic Books only. If your pet can eat or read with the best of them, they'll reach the high score lists! Users don't need to submit anything, their pet does all the work :P












PPL
The Petpet Protection League like to honour petpets that have remained attached to their pets for long periods of time, through thick and thin. Every week, a different petpet is honoured through the PPL; the longest-attached petpets win! No petpet species-colour combo can be selected more than once (though if a pet is repainted, it can win multiple times) and zapped petpets are ineligible for the honour. Users don't need to submit anything.




Spotlights and Contests on Side Accounts
Some spotlights and contests have been deemed safe by TNT (through editorials) for entry on your side account. These include Site Spotlight, Gallery Spotlight, Pet Spotlight, Petpet Spotlight, and Beauty Contest. Contests such as Art Gallery, Poetry Contest and the Storytelling contest require you to enter using your main account because of the prizes awarded to winners. Unfortunately not all spotlights and contests are clarified in the editorials, so we suggest that you avoid entering with your side for any contest that awards a prize other than a trophy. For entries that allow you to leave comments for the judge, it is usually preferred that you let TNT know when you are entering from your side account, and what your main account is. That way they can award your trophy to the appropriate account. If you have any experience with this and know something we don't, please let us know so we can update this section.
Defunct Spotlights and Contests
In addition to the active spotlights listed above, TNT have discontinued several older spotlights. Many were for games that simply weren't being played as often and had very low submission numbers. Here are the spotlights no longer being actively judged:
Spotlights and contests come and go, but Neopian creativity lives on!
Help us improve!
Did you find what you were looking for on this page?
This article was written by: Torratz