Your jnAccount:
Log In
or
Register
| New to Jellyneo?
Click here!
Spacerocked!
Spacerocked! Information
World:

Trophies:

Neopoint Ratio:

33.33 Points =
1 NP

Our Difficulty Rating:

30%

[Send in a Game Tip] - [Return to the Game Guide Index]
Get those slingshots ready, Dr. Sloth has mobilized his fleet of giant spaceships to take over our homeland of Kreludor! Luckily, he made a teensy error when he designed them, and we know their biggest weakness... rocks?

Don't worry, I know what I'm doing.
How to Play
For three levels, you must sling your arsenal of rocks, books, and Neocola products across the moonscape into the invading spaceships. You are allowed three tries per level, and if you fail to hit the ship after using all three, the game is over. Each level is littered with different types of obstacles that may either help or hinder you, and some of them give points and extra lives!
Controls
Use the up and down arrow keys to tilt the slingshot and aim it. The angle of the slingshot determines the trajectory of the projectile while the color determines the strength of the sling. When you are happy with both, press the space bar to send it flying! Make sure to launch your projectile when your slingshot is glowing bright green, it will fly the farthest!
Once airborne, your projectile will whiz through the air to its target, slowly losing momentum. If it falls to the ground or bumps into a pipe or a crater, you can prevent it from stopping completely by pressing the B key! A helpful Purple Grundo with a jetpack will send your projectile back into the air. You are given three chances to do this per level.
Projectiles
Your slingshot increases in size for each level, and so do the rocks! There is no difference between these rocks besides their size; they all behave the same in the air.
Rock Projectiles
Small Rock
Level 1 projectile
Medium Rock
Level 2 projectile
Large Rock
Level 3 projectile
Occasionally you will load your slingshot with other things, as shown below. They are much lighter than the rocks and will not fly as far or as fast. Unlike the rocks which only show up for certain levels, these can appear on any level.
There is also a sixth item, Big Gulp Neocola, but it does not appear to be available in the game. Thanks Rippy for the tip!
Obstacles and Scoring
Standing (or soaring) between you and your target are lots of obstacles; each one will effect your projectile differently when hit. Some of them add to your score and give your projectile a speed boost, while others will cause you to lose it and end your current turn.
Obstacles
Green Meteor
(Grundo optional)

200 points + boost

Red Meteor

Projectile is lost

Purple Grundo

500 points + boost

Patch of Dirt

1,000 points + an extra life OR boost

Crack

Projectile is lost

Large Crater

100 points

Small Crater

Projectile is lost

Pipe

Immediate loss of momentum; use a boost!
At the end of each turn, you are awarded bonus points for the distance your projectile traveled. At the end of each level, you are awarded a bonus for destroying the ship as well: 2,000 points for level 1, 3,500 points for level 2, and a whopping 5,000 points for level 3!
Strategy
Since both the location of the obstacles and the distance to the ship are random every time you play, luck plays the biggest role in obtaining an avatar or trophy score. There are, however, a few things you can do to help your success. You should always use all three tries per level to maximize your score. If you lose a projectile, you will still keep all of the points you earned - it does not have to hit the ship. If you are not aiming to complete a level and want to collect points, don't angle the slingshot too high - your projectile will sail over the obstacles! When the projectile is about to hit the ground, wait and let it skip a few times before using your boost - it may hit a dirt patch, which is worth the most points!
Quick Tips
Make sure to use all three tries per level to maximize your score.
For an ideal trajectory for hitting meteors, try angling the slingshot up as far as it will go, and then press the down key 5-6 times.
If you are aiming for a high score, aim low to hit the dirt patches - they are worth the most points!
If you are on your last try for the level, angle the slingshot higher so you are at less risk for hitting red meteors and pipes.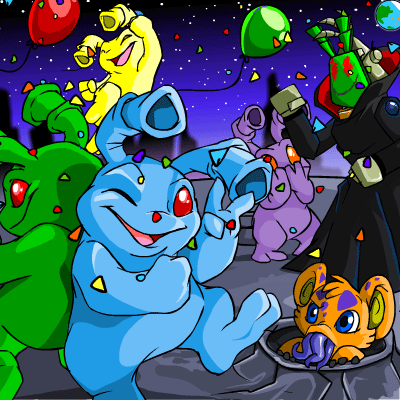 Kreludor is saved...?
Spacerocked! / Guide
Send a score of 13,500+ points in Spacerocked!.
When activated, the 2019 Charity Corner perk, More for Less, decreased the score needed to 10,800+ points.
Released: July 17, 2013
Help us improve!
Did you find what you were looking for on this page?
This game guide was written by: Mac