Your jnAccount:
Log In
or
Register
| New to Jellyneo?
Click here!
The Smuggler's Cove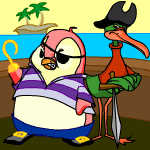 Ahoy, ye landlubbers! If ye be seeking to buy treasure and weapons, then the Smuggler's Cove be the perfect place to do so! Here, some smugglers are selling valuables like Super Attack Peas and Earwax Chias. They sell other stuff, too, but when you can get Earwax Chias, what point is there to getting anything else?
Just like almost every other place on Krawk Island, the Cove only lets people buy its stock with Dubloons. That means all of the millions and billions of Neopoints you've saved up just for that Earwax Chia are all useless when it comes to purchasing the Cove's wares (but if you have that many Neopoints, you would probably be better off buying your dream items from other users, anyway). Almost all of the good items sold there cost between one hundred and six hundred Dubloons, though, so be wary of refreshing too often if you have that amount of Dubloons in your inventory, as the Pant Devil is never far away!
Unfortunately, only 100 of each item are released (although at one point several years ago TNT released twenty more of some of the earlier cove items). That means almost every item on this list will never be found in the cove again. Very few items have been added to the cove in recent years, meaning that the cove is almost always empty - and then when one is released, the cove is obsessively stalked, so don't get your hopes up too high about snagging an item!
For more information on each item, check out the Smuggler's Cove section of the Item Database here.
A Little Advice
If you're worried about having exact change for the Cove, don't worry - the pirates are known to give change!
*Begs* please answer this! I don't want my Draik to blow up from disgust while waiting for the answer. Can you please tell me if you have to have the exact Dubloon denomination to buy anything out of the Smugglers Cove, or will a Dubloon of a higher denomination automatically break down so that you receive change back in Dubloons? ~giladriel37

You don't have to have exact change, thank goodness. It's already hard to be quick enough to get something from there without having to worry about having the exact number of dubloons at the ready. The pirates do give change, though keep in mind that they are pirates and will, in all likelihood, try to stiff you a little.
So, to be able to buy any item listed above with a known price, just carry 600 Dubloons with you. That equals six One Hundred Dubloon Coins. However, there are only five items that cost 400 Dubloons or above, so if you're not interested in them, that's two Hundred Dubloon Coins you don't have to worry about.
Be Patient
Of course, there's just one catch to all of this: time. When you go to the Smuggler's Cove, you're probably expecting to be able to refresh constantly in the hopes of having enough Dubloons to be able to snatch up the first item that appears there, huh? Well, you can't. The Smugglers themselves don't like anyone staying around their hideout for too long because the authorities might notice and get them in trouble, meaning that unless you grab an item in the very first few seconds that you visit there, you won't be going home with anything. You can visit again in about an hour, I believe, so if they throw you out once then you can just come back later. And later. And later...
Other Notes
You might be wondering why there aren't more of these items floating around. The standard is that only one hundred of a particular Cove item is released; for some of the very old Cove items, this was boosted to one hundred and twenty. Thus, there are barely any of them available and the market prices are astronomical. Once an item has stocked in the Cove, that's it - it will never restock. So you'd better get in while you can!
I wish you luck in getting as many Dubloons as you can to buy as many Earwax Chias as you can, and any other miscellaneous items you might want. Be patient, be safe and have fun!
Help us improve!
Did you find what you were looking for on this page?
This article was written by: Daniel