Your jnAccount:
Log In
or
Register
| New to Jellyneo?
Click here!
S.M.E.L.T.
S.M.E.L.T. Information
World:

Trophies:

Neopoint Ratio:

9.09 Points =
1 NP

Our Difficulty Rating:

50%

[Send in a Game Tip] - [Return to the Game Guide Index]
The land of Moltara is known for its sturdy, high quality machinery, and nobody prides themselves on customer service more than Tangor, whose workshop is practically a revolving door of clients looking for custom, made-to-order machine parts.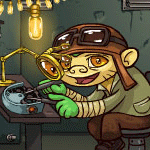 I can make a chronometrograph in 15 seconds flat!
How to Play
S.M.E.L.T. (hereafter referred to as Smelt) is played primarily with the mouse. In each level you will be presented with a random customer who requests a certain number of random machine parts, which you must make by stamping them out of a freshly-smelted sheet of metal. Your goal is to get as many parts out of a single sheet as possible, by considering the shape of the current part before choosing where on the sheet to stamp. It you run out of free space, you can press the Smelt button near the bottom of the screen to make a new (albeit smaller) sheet from the remaining metal, though this will take several seconds. You're also able to use the X and Z keys to rotate the currently-selected stamp, to try getting more perfect, non-overlapping cuts.

Is it a good idea to make gears and springs out of such thin metal...?
Each level features a time limit and a number of "free smelts", which allow you to smelt the metal sheet much more quickly than normal, which takes two seconds. While the time remaining on the clock when you finish a level factors into your score for the level, there is no negative effect to running out of time. When time runs out (or you press the Reset button in the lower-right corner) you will immediately be able to restart the current level. Smelt has no lives or any other means of failure, so you can continue playing for as long as you'd like. Bear in mind, however, that once you've been presented with a customer you will have to fill out their order, even if you restart the level.
Scoring
Each successful cut you make is worth about 20 points, with the exact number varying slightly with the pieces you're stamping out and whether or not you made a perfect cut. With so little difference between a good cut and a perfect cut, it is almost always preferrable to get through the levels as quickly as possible to maximize your time bonus.
Quick Tips
You'll earn more points for time bonuses than for perfect cuts, so prioritize playing quickly
While the stamps can be rotated, it's much faster just to fit them in with their default orientation
You can replay a level as many times as you want, so if you've done poorly, feel free to start over
You can play through a level to learn the parts required, then restart knowing how you should play
Video
Help us improve!
Did you find what you were looking for on this page?
This game guide was written by: Chesu