Your jnAccount:
Log In
or
Register
| New to Jellyneo?
Click here!
The Shop Wizard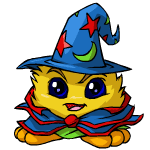 Alakazam!!! It's the Shop Wizard!
The Shop Wizard allows you to search the Neopian marketplace for a particular item you may be interested in buying. He searches other Neopians' shops and returns a list of the prices they are selling that item for, which is useful if you'd like to buy it or sell it yourself in your shop.
Finding the Shop Wizard
A link to the Shop Wizard can be found in the dropdown menu under the "shops" heading at the top of Neopets. He can also be found in the top set of shop links on various market pages, such as your inventory or shop.
Clickable links are also located both on Neopia Central's Marketplace map (the central building shaped like his wizard's hat) and Mystery Island's Island Marketplace map (the blue central hut).
Buyable vs. Unbuyable
The Shop Wizard has his limits. Neopians are not allowed to sell items in their shops priced over 999,999 NP. Any item that sells from 1 NP through 999,999 NP is considered buyable. An item that is worth over 999,999 NP is considered to be unbuyable. In order to purchase unbuyables, you'll need to visit either the Trading Post or Auction House.
Up until March 27, 2018, the shop price limit was 99,999 NP, meaning an "unbuyable" item was anything that sold for 100,000 NP or over. Since the limit was raised to 999,999 NP, the definition of "unbuyable" changed to be items selling for 1,000,000 NP or over.
How to Use
Upon visiting the Shop Wizard, you simply need to type in an item name (or part of its name) to find it.
To refine further, you can select either "Containing my phrase" or "Identical to", which means that it'll either search for items containing what you typed in, or exactly what you typed in. Only use the identical option when you're typing in the exact item name. If you type in a partial name and use the containing option, you may get another item that you're not looking for; resubmitting will alternate between different partial matches.
Make sure that you select "In Shops" unless you'd like to browse galleries!
You may also refine by price range as well, to have the Shop Wizard only display items for sale above the minimum you specify and/or below the maximum you specify. The maximum search comes into use when you saw a cheap item for sale and would like to continue searching, but only displaying shops cheaper than what you previously saw.
After you have started a search, you can resubmit the search using the button below the search results. Refreshing the page will completely clear the search and you will need to start over.
Marketplace Sections
Since the Shop Wizard has limited powers, he can only search through one marketplace section at a time. The sections are divided up by the first letter of a Neopian shop owner's username. So, for example, if your username was "dr_sloth", you would be in the "D" section.
Here are each of the marketplace sections, by first letter of username:
A, N, 0 (zero)
B, O, 1
C, P, 2
D, Q, 3
E, R, 4
F, S, 5
G, T, 6
H, U, 7
I, V, 8
J, W, 9
K, X, _
L, Y
M, Z
Each time you resubmit the results, you will potentially see a different marketplace section display results. In order to see the full results, you will need to resubmit at least 13 times to even have a chance of seeing all of the different sections.
Search Bans
If you make more than 360 searches in a given hour, you will be "banned" from using the Shop Wizard for that hour. This has no negative effect whatsoever on your account, but rather is just a limit in place to make sure the marketplace isn't brought to its knees by excessive searching.
Bans are lifted at the top of the next hour. So, for example, if you were banned at 2:23pm, you would be unbanned at 3:00pm.
If you are Shop Wiz banned, you should not use a side account to continue searching. Although TNT has been quite vague on this point in the past, we're erring on the side of caution to say it's a bad idea.
Searching During Faerie Quests
If you receive a random faerie quest, your access to the Shop Wizard will be shut off until you either complete the quest, or abandon it. You may use a side account to search for the item in question, but purchasing it should be done on your main account. Alternatively, ask a Neofriend or the kind folks on the Neoboards to do a search for you.
The Super Shop Wizard
The Super Shop Wiz (or "SSW" for short) is a Neopets Premium perk that returns results from all 13 marketplace sections at once. You can easily find the cheapest item in the marketplace with one single search.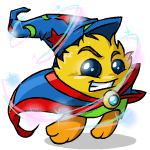 You may become banned from using the Super Shop Wizard as well. The SSW ban is lifted on the next hour just as the regular ban is, but the maximum number of searches per hour is significantly less than 360 (and varies). Just like with the regular Shop Wizard, you may also not search for items while you are on a faerie quest.
Unsearchable Items
There are some items that the Super Shop Wizard will not allow you to search for. The following items are not allowed to be searched for:
Nerkmids
Paint Brushes
Petpet Paint Brushes
Lab Map Pieces
Petpet Lab Map Pieces
Transmogrification Potions
You may, however, search for these using the "Price Only" search option that the Super Shop Wizard provides. Instead of showing you other Neopians selling the items, it will calculate an average price based on those for sale.
Some Paint Brush and Transmogrification Potion items released since June 2012 do not have the Super Shop Wizard restriction to Price Only searches. You may search the following items like any other item and see shop owner results.
Help us improve!
Did you find what you were looking for on this page?
This article was written by: Daniel