Your jnAccount:
Log In
or
Register
| New to Jellyneo?
Click here!
The Shop Directory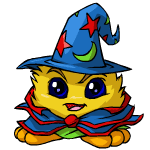 Welcome to the Shop Directory version 3.0 with me, your host, The Shop Wizard! Here you can find a complete listing of every single shop in Neopia, including some of the more obscure ones such as the Hidden Tower and the Igloo Garage Sale.

We've organized the list of shops into categories based on the type of items each shop sells and included a link to the Item DB (
) to show you all of the items each shop stocks! If we have a guide for the shop in question, you can visit it by clicking the fancy Jelly Kacheek head (
). We hope this serves as an amazing resource for those users wanting to learn the ropes of restocking.

Remember, every 3rd day of the month is Half Price Day where all the Offical Neopian Shopkeepers cut their prices in HALF! (This excludes the General Store, Hidden Tower, Igloo Garage Sale, Little Nippers, Neohomes Superstore, Neopian Neggery, Shop of Mystery and the Smuggler's Cove). You can use this shop directory to locate the best deals during Half Price day!

Battledome | Books | Clothing & Wearables | Collectables | Food
Furniture & Gardening | Medicine | Petpets | Toys | Misc Shops | Special Shops

| Back To Top |

| Back To Top |

Clothing & Wearables Shops
| Back To Top |

| Back To Top |

| Back To Top |

| Back To Top |

| Back To Top |

| Back To Top |

| Back To Top |

| Back To Top |

| Back To Top |
Help us improve!
Did you find what you were looking for on this page?
This article was written by: Jawsch