Your jnAccount:
Log In
or
Register
| New to Jellyneo?
Click here!
Shootout Showdown
« Return to our Altador Cup Coverage!
This game has known glitches!
TNT is aware of many issues with Shootout Showdown, but you can submit any bugs you notice in a
official support ticket
(choose category "Altador Cup").
This guide has been updated where possible to reflect the HTML5 version, and we are in the process of working on tips specific to mobile gameplay. The game is still being updated, so if you notice anything incorrect or out-of-date (that isn't a glitch), please
let us know
!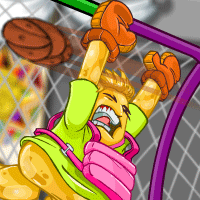 Shootout Showdown is the newest side game in the Altador Cup. The goal of the game is to get the Yooyuball past the goalie five times in under sixty seconds. The final score is based on both accuracy and the amount of time it took for you to score all of the goals. Score at least 35 points (1 goal) in a game, and your score will contribute to increasing your rank!
» Click here to play Shootout Showdown! «
You can play a total of 401 games of Shootout Showdown each day.
Controls and Gameplay
On desktop, the arrow keys make the ball move back and forth. Holding the spacebar charges the Power Meter, while releasing it shoots the ball.
On mobile, you can move the ball by sliding it with your finger. Pressing down on the ball charges the Power Meter, while releasing it shoots the ball.
The Power Meter determines how quickly the Yooyuball moves towards the goal. A full Power Meter will have the ball at the goal almost instantly, while a nearly empty one will have the Yooyuball taking as long as 2-3 seconds. There is a cooldown of ~1 second after each shot you take, regardless of if you make a goal or not.
If you hold the Power Meter at full for longer than about 1 second, it will restart from empty.
The time you have left is displayed prominently above the goal, as well as the goals you've made so far and how many attempts you've made.
Scoring
"Invalid Session"? You must wait at least 10 seconds from clicking "Start Game" to clicking "Send Score" for your score to count as valid. (It does not matter whether you spend this time actually playing the game or waiting on the send score screen.)
Your score is broken up into three different categories:
Goals Scored: Each goal you make is worth 35 points, so you'll have a total of 175 points if you make all five goals. You get these points even if you end the game early.
Time Bonus: The time remaining on the clock (including hidden fractions of a second) multiplied by 14. You do not receive these points if you end the game early.
Accuracy: 300 points for finishing in 5 shots (no misses), 100 points for finishing within 9 shots (as many as 4 misses), and 0 points for finishing with 10 or shots (5+ misses). You do not receive these points if you end the game early.
This makes the theoretical maximum score 35*5 + 60*14 + 300 = 1,375.
In order for your score to count towards your Altador Cup rank, you must send a score of at least 35 points, which is 1 goal.
Strategies
These strategies are useful regardless of whether you are playing on desktop or mobile.
Corner Pocket
The goalie moves around randomly; he does not react to your placement of the ball or your Power Meter. Because of this, the corner pocket is probably the most accurate strategy. To set this shot up, simply move the ball to the side (left or right, doesn't matter) until you reach the corner of the goal. Wait until the goalie is far to the other side, then make your shot with as close to maximum power as you can.
Center
This strategy is generally ineffective, but will work well if you're trying to play the game mindlessly. Just shoot into the goal from your starting position. You don't even need to worry about power; since the goalie moves randomly, there's no telling whether or not he'll be in the center when you ball makes it to the net, no matter if the ball got there quickly or slowly. It will probably make it in less than half the time, but at least you don't have to think!
Help us improve!
Did you find what you were looking for on this page?
This game guide was written by: Sirius