Your jnAccount:
Log In
or
Register
| New to Jellyneo?
Click here!
Shapeshifter
Shapeshifter Information
World:

Trophies:

Neopoint Ratio:

5.00 Points =
1 NP

Our Difficulty Rating:

30%

[Send in a Game Tip] - [Return to the Game Guide Index]
Welcome to Shapeshifter, where you have an unlimited time to shift shapes around until the shapes are shifted the way the shapes are supposed to be shifted...if that makes sense. Before you begin, Sinsi recommends you to read the rules here. Basically, you must place shapes (they have to fit completely!) on the board, and any symbol below the shape shifts to another shape. Your goal is to have all the shapes turn into the goal shape.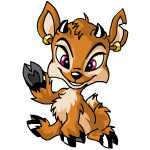 "Do you like puzzles? Well if you do, you should like this game..."
The Levels
All the levels have a cycle of puzzles to go through. Every time you lose or restart a level, it goes to the next puzzle in the cycle. Here is a sample of Level One:
The only thing to change is the top left and top right symbols, right? However, let's look at the available pieces.
Don't be discouraged! First of all, it never matters what order you put the shapes down. So, if it helps, you can switch the order of the shapes around. Your long bar-piece can only go in three places on the board: the top, middle or bottom. Because the shorter piece can go in any of the 9 squares, you may want to try placing the long bar first. If it was in the middle, it would look like this afterwards:
That won't work—there's no single spot that can be changed to make everything turn into a sword. Let's try the top row now.
Now, you could place the single square over the glove to complete it. Once you've thought it out, act it out. Place the single square at the middle-top square and the long bar across the top. The level is solved!
There are 100 total levels. The levels have additional complications as you progress. After level 10, the board grid becomes 4x3. After level 20, the board becomes 4x4. After level 25, you must rotate through three different shapes per round. From levels 71-80 the active piece is not visible when placing it. This ends after level 80 and is visible on level 81.
Scoring
Every time you complete a level, you earn 25 NP plus 25 NP times the level number. For example, completing Level 12 earns you 25 + 12*25 = 325 NP.
There is a limit of 5000 Neopoints per day you can win by playing Shapeshifter! As soon as your total Neopoints won for the day exceeds 5000, you won't be able to finish another level. Your actual winnings can still go over this limit as long as your total winnings for the day is below 5000 NP before you finish the level (for example, if you're at 4700 NP won and you win another 600 NP, you'd have won 5300 NP for the day). You may wish to keep this in mind if you are playing for a trophy.
Your score for trophy purposes is simply the number of the highest level you have completed that month. For example, if the highest level you completed so far that month is 12, your score on the High Scores would be 12.
Hints and Tips
It isn't cheating to use paper and pencil. In fact, any material will do; from nickels and pennies to CDs and floppy discs.
Like stated before, you can work it out in any order you like. Sometimes the pieces even cancel each other out.
If you are completely stuck, take a break or ask a friend. Remember that if you fail to reach the goal, you lose nothing. You simply restart the level with a new puzzle.
Remember that the puzzles get harder every round. You'll have to cope with smaller and more pieces each level.
If the avatar isn't showing up after level 5, try going back to the main Shapeshifter page via the Explore and Meridell maps. If that still doesn't work, check your avatar list in your chat preferences to be sure you don't already have it.
Practice makes perfect. If you continuously practice shifting shapes, you might make the high-score table!
Prizes
Enter a level to see your prize!
Sinsi - Shapeshifter / Guide
Beat level 5 of Shapeshifter and click the option to start level 6, then view the main page.
Released: July 9, 2004
Help us improve!
Did you find what you were looking for on this page?
This game guide was written by: Gisterre