Your jnAccount:
Log In
or
Register
| New to Jellyneo?
Click here!
Scratchcard Prizes
As of January 12, 2021, Lost Desert Scratchcards are not available.
Although they can still be purchased, in order to scratch a card Adobe Flash is needed which was
discontinued on January 12th
by Adobe. We anticipate TNT will be converting this feature to be Flash-free at some point.
Lost Desert
The Lost Desert Scratchcard Kiosk is located in Sakhmet within the Lost Desert and is run by the Lost Desert Scratchcard Cybunny. Here are the basics for the Kiosk:
Cost: 500 NP
Purchase Cooldown: 4 hours
Max Cards Scratched Per Day: unlimited!
Closed Times: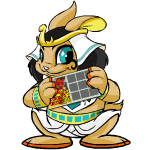 Lost Desert Kiosk Scratchcards
The prizes for scratchcards bought in the Lost Desert work a little differently from those purchased in the previous two locations. There are 15 possible symbols, and you can see all of them on every scratchcard. However, you can only ever win certain prizes from certain levels of scratchcards.
As a note, all of the symbols you will scratch off are actually loaded as part of the page. When you scratch, you are just choosing which squares each symbol will appear in. So you can rest assured that it would not have mattered if you scratched different squares; you would have gotten the same six symbols, in the same order!
Lost Desert Prizes and Symbols

Behind the Booth

---

Symbol:



Cheops Shield

---

Symbol:



Earthen Peophin Urn

---

Symbol:



Geb Bean Bag

---

Symbol:



Hand Painted Scarab Plushie

---

Symbol:



King Coltzan Lunch Box

---

Symbol:



Kiosk Foreground


(wearable)

---

Symbol:



Lost Desert Kougra Plushie

---

Symbol:



Lost Desert Paint Brush

---

Symbol:

none (just a black square)

Osiris Pottery Catalogue

---

Symbol:



Sand Snowball

---

Symbol:



Sandstone Boots

---

Symbol:



Scarab Ring

---

Symbol:


500, 1,500, or 5,000 NPs

---

Symbol:


Jackpot!

---

Symbol:


Unlike the Terror Mountain and Deserted Fairground scratchcards, there are not sharp boundaries between which scratchcards get which prizes. The known prizes available from each scratchcard are shown in the table below. We have also labelled the relative likelihood of each prize within each card based on data collected by a Jellyneo staffer with about 1,500 scrathcards at all levels. The probabilities very roughly associated with each label are:
Very Common: ~20-30% chance
Common: ~10-15% chance
Rare: ~1-3% chance
Very Rare: ~<1% chance
Lost Desert Scratchcard Symbols
Scratchcard Boon
Certain factions give the opportunity of activating the Scratch Master boon if you side with them and they emerge victorious from the Battleground of the Obelisk.
The Scratch Master boon allows you to ignore the usual waiting period and purchase two scratchcards at a time (from any of the kiosks) before the time restrictions come into effect.
Help us improve!
Did you find what you were looking for on this page?
This article was written by: Kenny