Your jnAccount:
Log In
or
Register
| New to Jellyneo?
Click here!
Removing Neopets Ads
There are many ads on Neopets, and heck, the entire Internet. However, it doesn't have to be that way! Below are some guides for blocking advertisements on a variety of browsers. You'll most likely need the most current version of your browser first, so make sure you upgrade. (This will help protect you from security holes, too!)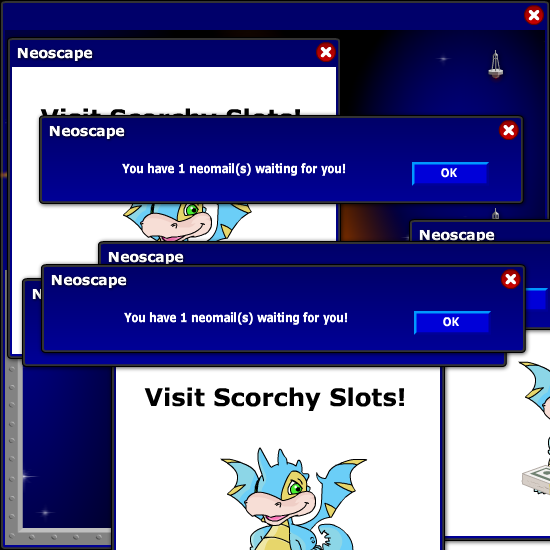 We Recommend: uBlock Origin
To get straight to the point, we currently recommend the extension uBlock Origin for any browser it is currently available for. It's free software, it's fast, and it also blocks more than just advertisements. (It can also block web malware, Javascript, pop-ups, media and more.)
Most importantly, it also works for Neopets ads!
If you're interested in reading more, we'd recommend perusing uBlock Origin's Wikpedia article, or if you're technically inclined, it's source code is available.
uBlock Origin is currently available to install in the following browsers:
After installing uBlock Origin in one of the browsers above, you should be good to go! It works well out of the box and should not need any additional configuration to make the ads on Neopets.com disappear.
Here's what the extension looks like in action (for Firefox specifically):
If you ever wish to temporarily disable uBlock Origin for a specific website, just hit the big blue power icon and then refresh the page. For some sites, you may also wish to disable Javascript completely, which you can do by clicking the </> icon (with the "10" attached, in this screenshot above).
As an aside... We do not recommend the commonly used extension "AdBlock Plus"—so much so that if you currently use it, we highly recommend uninstalling it and switching to uBlock Origin. The reason we cannot in good faith recommend AdBlock Plus is because it takes money from advertisers to let certain ads slip through. uBlock Origin doesn't participate in that sort of business, so you'll get a more thorough ad-blocking experience.
We also want to add one more warning: beware of the extension named "uBlock" (without the Origin). This is an old version of uBlock Origin that was run by a different creator back in 2015. It has since been purchased by the AdBlock Plus people and we do not recommend installing it if you come across it. (It also no longer receives updates!)
Going Further
If you wish to go even further, we'd also recommend considering the extension NoScript. This extension blocks all Javascript from executing on websites unless you choose to allow it. The downside is that you will need to whitelist a site the first time you visit it, and blacklisting a site can cause it not to work.
We only recommend this extension if you want extra privacy and don't mind working a little extra to keep website loads down. You can read more about it on its website, NoScript.net.
You can install it for the following browsers:
As of writing, NoScript is currently not officially supported for any other major browsers.
Other Browsers
You may find the following browsers missing from our recommendations above:
Safari (macOS)
As of Safari 13+ (initially released in September 2019 with macOS Mojave), browser "extensions" as you may typically expect are not supported. And thus, uBlock Origin is not available for Safari 13 or later.
If you do wish to use a content blocking app, we recommend checking out AdGuard for Safari in the Mac App Store. It is currently recommended as a substitution for uBlock Origin by the creators of uBlock Origin.
Internet Explorer
At this point in time, you should no longer be using Internet Explorer for your day-to-day web browsing activities. To get ad-blocking abilities, we recommend upgrading to Microsoft Edge (the official successor to Internet Explorer), or switching to Firefox.
After Blocking Ads
Ads are icky for sure—but they do help to pay the bills at Neopets and allow The Neopets Team to continue bringing us Neopians new content. If you want to support the game that has given you many hours of entertainment, consider purchasing a Premium subscription to replace the lost income from the ads you would have been viewing. (And get ad-blocking as a feature!)

The logos in this guide are courtesy of Wikipedia.
Help us improve!
Did you find what you were looking for on this page?
This article was written by: JN Staff