Your jnAccount:
Log In
or
Register
| New to Jellyneo?
Click here!
Random Contests
The Random Contest was discontinued on November 3, 2014. This was due to low participation. It returned for three rounds at the start of 2018, and again for one round at the end of 2019, but is not currently active.
Bored of conventional art and writing competitions? Are you not only creative and talented, but adaptable too? Does the thought of a completely unique and bizarre challenge thrill you? Then Neopia's Random Contest might just be the venue you've been looking for. It's time to open your mind to some unusual forms of self-expression...
So Just What Is "Random"?
Be warned: just because the name of this contest is "Random", that doesn't mean you can simply send TNT anything you feel like sending! Unlike the Art Gallery and Poetry Contest, where entries on all sorts of subjects are welcome, the Random Contest is always strictly themed. To enter, you'll need to create a work of art, writing, programming, craftwork, cookery or music that qualifies for the current contest's challenge. Here are some examples of what Random Contestants have been asked to do in the past:
The wide range of talents and skills called for in the Random Contest means that all sorts of Neopians have a chance at winning. So why not read up on the current challenge and give it a try?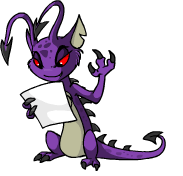 Entering the Contest
Originally intended to be updated "every week or so," the Random Contest generally begins on a Friday. However, in the case of particularly challenging contests (or when TNT simply have a lot of other things on their minds), the deadline may be extended for longer than a week. Your best bet is to keep an eye on New Features for announcements about the latest contest.
Be sure to read the directions for each contest carefully, and only send in what TNT ask for. If this week's challenge is to make a papier-mache Petpet, TNT won't be impressed with your Lawyerbot sculpture made out of marshmallows and cocktail sticks, no matter how well-made it is. Where the contest involves creating a physical object, such as a cake or a statue, you'll normally have to photograph the result and submit the photo—please don't try to mail your work to TNT.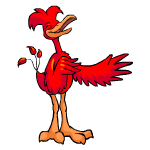 "Ode to a Hat of Coconut", take #37...
You can only enter each Random Contest once. Once your entry has been submitted, TNT won't accept another for the same challenge, even if you send them a very nice letter explaining how Dr. Sloth forced you to send in the first one. So before you hit Submit, be sure to polish your spelling, double-check your measurements, play back any audio files, and make sure the camera hasn't captured a lovely picture of your thumb. Having a single entry per person makes the contest fairer for everyone. (Needless to say, you also shouldn't be submitting from a side account for this reason.).
Prizes
Of course, working on a Neopets-related fan project is always fun in and of itself, but every contest is better with prizes—and the Random Contest doesn't fail to oblige. There's both a trophy and an avatar associated with this contest, both featuring the odd, apparently sentient bundle of assorted objects that's become something of a contest mascot.
Random Contest Winner / Guide
Win the Random Contest. (The contest was on hiatus from November 3, 2014 through January 23, 2018. It is again on hiatus from July 7, 2018 to present.)
Released: November 2, 2004
The entries that most impress TNT will be displayed on the Random Contest's winners page, and rewarded with a mysterious (and probably rare) "Item of Doom." There are also Neopoint prizes (10 or 15k NP for the winners, and usually 2 to 5k NP for highly commended runners-up).
Good luck, and happy creating!
Help us improve!
Did you find what you were looking for on this page?
This article was written by: Dream