Your jnAccount:
Log In
or
Register
| New to Jellyneo?
Click here!
Potato Counter
Potato Counter Information
World:

Trophies:

Neopoint Ratio:

5.00 Points =
1 NP

Our Difficulty Rating:

10%

[Send in a Game Tip] - [Return to the Game Guide Index]
If counting sheep to fall asleep just won't cut it for you anymore, Alton has a solution. If you hop on over to Meri Acres Farm, you can help him count potatoes. Why would you want to count potatoes? Why not! And, if you just can't get enough, check out Extreme Potato Counter - same potatoes, twice as dangerous!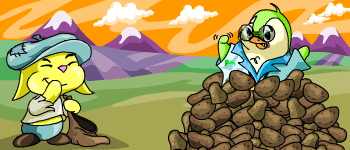 I never said you could bury me in potatoes!!
How to Play
It costs nothing to play, so step right on up and get counting. Alton will show you a randomly generated number of potatoes and, you guessed it, ask you how many there are. Yes, it's that simple! And, if you get more potatoes than you can (or want) to handle, you can refresh the page for another selection. In fact, people have reported receiving upwards of 2,000 potatoes!
Once you think you've found the answer, simply type it into the box beneath the potatoes and click 'guess'. You can play this game up to 3 times per day.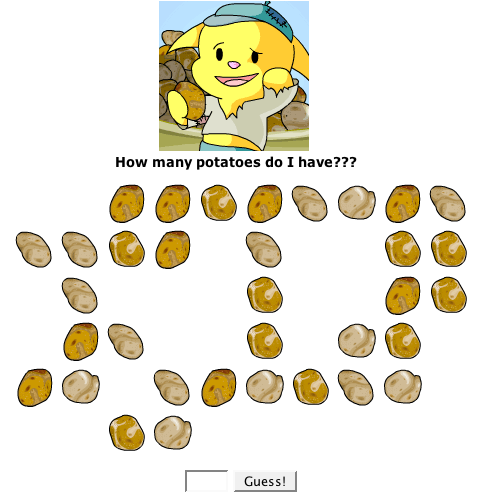 Scoring
The number of Neopoints you will receive depends on two things: one, if you submitted the correct answer and two, how fast you worked. Assuming that you entered the answer correctly, your NP reward is as follows:
Less than 30 seconds: 75 NP
Greater than 30 seconds: 50 NP
Help us improve!
Did you find what you were looking for on this page?
This game guide was written by: noileh