Your jnAccount:
Log In
or
Register
| New to Jellyneo?
Click here!
The Poetry Contest
The Poetry Contest Information
World:

Trophies:

Neopoint Ratio:

1.00 Points =
1 NP

Our Difficulty Rating:

50%

[Send in a Game Tip] - [Return to the Game Guide Index]
So you're into poetry eh? Perhaps you just want to relax, grab something to drink from the nearby coffee shop and read some poems written by your fellow Neopians. Or maybe you're interested in getting yourself a chance to share your poems in the poetry gallery! Well if you've ever considered yourself a creative writer, why not give it a shot?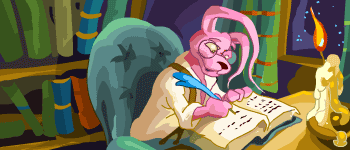 "Once upon a midnight dreary..."
Does it matter what kind of poetry I submit?

Not at all! You can submit sonnets, vignettes, haikus, you don't even have to rhyme! (Though longer poems appear to have better chances at winning.) The important part is creativity...and spelling. Typos and chatspeak definitely do not come off as impressive...and smilies o_O Honestly, how can you take someone who's constantly using smilies seriously? :O
Okay, sounds great! How do I enter?
You can now conveniently submit entries through a spiffy on-site submission page located here! You are allowed to enter as many poems as you want—they won't overwrite each other!
A word of advice though, if you have written a Neopets poem and you're planning to enter it to the Poetry Contest do not submit your poem anywhere else on the Internet first. Why not? Because then you're basically leaving it up for grabs for plagiarizers, especially on forums.
Most poems entered will receive a neomail reply, either telling you it has been rejected, held over, or accepted. It may take several weeks to receive this reply. Those that are accepted typically receive the notice within 24 hours after the poem's publication; it coincides with the distribution of prizes. As you can see in the following image, however, the neomail rarely notes which poem has been held over or rejected.
Drat! I want to enter, but I have NO IDEA WHAT TO WRITE ABOUT!
Why don't you take a look at past poetry winners? Surely you can find some inspiration from there! If you're working for a specific day, you may want to check out our Book of Ages to learn about some more unique characters from that species—the Poetry Contest Judges seldom choose two poems about the same character for one day, unless it's a day just for that character. If you're trying to get your poem selected for a specific day, we recommend submitting a few weeks in advance.
Prizes
Well, if you do happen to become a Poetry Contest winner you'll receive 1,000 neopoints, a rare item, and a spiffy trophy for your lookup! Materialistic gratification is always a good reason to take part in things right? Plus there's also the fact that now Neopia can read your poetry, wouldn't you love that?
Of course, since it's a Neopets contest that does mean that your poems need to be Neopets themed. They should also be 100% your work: parodies of famous works are not encouraged and outright plagiarism is bound to get you frozen.
Special Editions
Nearly every holiday and pet day will have a special edition of the poetry gallery devoted to it—that can be a great way to get inspiration! The prizes for those editions are the same as always, however...
The most special of editions occur every 100 galleries. The editors of the poetry contest go through all the poems published in the last 100 issues, and choose about 20 of the ones they think are the best. Those lucky enough to be published in one of those editions receive an exclusive collectable card in addition to the regular prizes: Alstaf Poogle. Those who were lucky enough to be selected for the 1000th Edition also received an exclusive, shining Millennial Pen.
Conclusion
Hopefully this short Q & A session has helped you with your Poetry Contest problems! But if you still have more questions perhaps the Official FAQ can help you out better. Good luck and hope you avoid writer's block!
Help us improve!
Did you find what you were looking for on this page?
This game guide was written by: DragonBeak & Suzuka