Your jnAccount:
Log In
or
Register
| New to Jellyneo?
Click here!
Petpetsitter
Petpetsitter Information
World:

Trophies:

Neopoint Ratio:

2.00 Points =
1 NP

Our Difficulty Rating:

70%

[Send in a Game Tip] - [Return to the Game Guide Index]
Watching an old woman's Petpets while she's away isn't the most glamorous of jobs, but the pay is decent, and it's an easy way to earn a little extra pocket money, right? They're just Petpets, how bad could it be?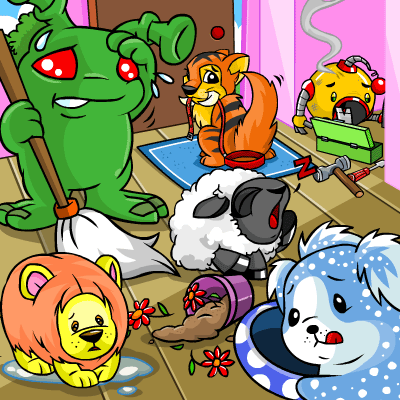 I met a traveller from an antique land...
How to Play
Petpetsitter is played entirely with your mouse, which is used to drag Petpets from room to room and to drag a mop onto areas that need cleaning. Best described as a stress management game, your goal is to tend to the needs of an increasing number of Petpets by placing them in the proper rooms. If you take too long to address a Petpet's needs (as indicated by a timer directly under them), you'll lose a life, and in some cases may have a mess that needs to be cleaned up. You can gain one extra life by typing the code oscillabot at any point during gameplay. If you lose all of your lives, it will be game over.

The Feepits are hungry... Oh... Oh no...
Over the course of the game, Petpets will wander around the house, occasionally knocking over items and causing a mess. There's no way to prevent this, and you'll lose points (referred to in-game as pocket money) every time it happens, but you can earn twice as many points as you lost for cleaning up the mess by dragging the mop found at the bottom of the screen onto it. When a Petpet stops moving, its needs must be addressed, as detailed in the table below.
Petpet Needs
| | |
| --- | --- |
| Symptoms | Instructions |
| | Petpets licking their lips are hungry, and should be placed in the kitchen on the left |
| | Fidgeting Petpets are bored, and should be placed outside in the top left |
| | Robot Petpets will malfunction, and should be placed in the garage in the top middle |
| | Snoring Petpets are tired, and should be placed in the bedroom in the top right |
| | Petpets holding their legs together need to use the toilet, and should be placed in the bathroom on the right |
Scoring
The main means of scoring points in Petpetsitter is by addressing the needs of the Petpets, but be aware that if you're not paying attention and place one in the wrong room, you'll lose points instead. You can also earn points by cleaning up the messes they make. As the game progresses and you have your hands full just taking care of the Petpets, however, you'll likely find that you no longer have time to clean up. As each of the objects in the room must be cleaned before it can be messed up again, you'll lose no further points if you leave the messes as they are.
Scoring
| | |
| --- | --- |
| Points | Action |
| +10 pts | Place a Petpet in the correct room |
| -5 pts | Place a Petpet in the incorrect room |
| -5 pts | Allow a Petpet to make a mess |
| +10 pts | Clean up a mess a Petpet has made |
Quick Tips
Type the code oscillabot once per game for an extra life
Play with the game set at a smaller size to maximize mouse travel speed
Despite the curtain being drawn, multiple Petpets can use the bathroom at once
Remember that robot Petpets will only ever need to be taken to the garage
When dealing with a large number of Petpets, messes can be ignored
Avatar
Petpetsitter / Guide
Send a score of 2,500+ points in Petpetsitter.
When activated, the 2019 Charity Corner perk, More for Less, decreased the score needed to 2,000+ points.
Released: October 1, 2004
Help us improve!
Did you find what you were looking for on this page?
This game guide was written by: Chesu