Your jnAccount:
Log In
or
Register
| New to Jellyneo?
Click here!
The Petpet Puddle
So you finally have the pet of your dreams, but their little Mazzew side-kick they are so fond of now looks a bit plain tagging along by its side. You can't help but think they would make a better match if only your Mazzew was green and had webbed feet. It looks like a trip to the Petpet Puddle is in store for you and your pets!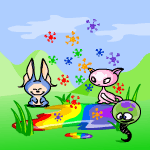 The Puddle
The Petpet Puddle is basically a scaled-down version of The Rainbow Pool where you can paint your Petpets. If you want to see what colours are available for each species of Petpet then you can check the All Petpet Colours page, although it can be cumbersome to navigate. You might be better off looking through the Jellyneo Item Database for a more navigable experience.
The Paint Brushes
To paint your Petpet you will need a special Petpet Paint Brush. You can be awarded these brushes through random events and occasionally from the Alien Vending Machine, although both are rare; the most common method of acquiring one is to buy them off other users through the Shop Wizard or via the Trading Post.




We're travel size for your convenience (:
Paying a Visit
Once you arrive at the Petpet Puddle, you will be presented with images of each of your Petpets and a drop-down menu of the Petpet Paint Brushes you have in your inventory that are compatible to be used on each species. You can see what options you might have in the screenie below.
Any Petpet that has been zapped using the Petpet Lab Ray cannot be painted, though this is only if they have had a change of colour or species. Say for example you zapped an Altachuck with the ray and it was morphed into a Kadoatie; you couldn't then paint the Kadoatie a different colour.
To paint your Petpet, select the colour you want to paint it in the menu underneath it and then click on "Paint The Petpet"! This color change is permanent, even if removed (unless you decide to paint another color).
Unpainting Your Petpet
If, for whatever reason, you decide that you want your pet to revert back to its default colour then there is a way of doing this. First you will need to determine what TNT considers to be the closest match to your Petpet's original colour. Jellyneo has labeled this on each unpainted (but paintable) Petpet's page in the Item Database. You can also determine this manually at the All Petpet Colours page by choosing a colour and seeing which unpainted Petpets get included. For example, below are all of the purple Petpets, which includes some unpainted Petpets such as Hasee and Pinceron.
For example, pretend you have a Blue Meowclops, but you want it to be unpainted to a regular Meowclops. By using our Item Database you can see that the default colour for a Meowclops is black, so you would have to paint it with a Black Petpet Paint Brush.
It is always worth checking what colour TNT consider to be the closest match to a Petpet's natural colour before you buy the Petpet Paint Brush. For example, they have listed a Huggy's default colour as being purple, whereas I personally would have guessed blue or green, and they have also listed a Pikis as being white when it is more of a lilac colour.


But I am naturally red, really I am...
Help us improve!
Did you find what you were looking for on this page?
This article was written by: Weepit