Your jnAccount:
Log In
or
Register
| New to Jellyneo?
Click here!
Previous AAA Challenges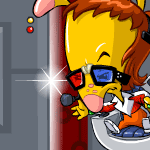 Aristotle A. Avinroo has been challenging the gamers of Neopia ever since the Games Room got an update in November of 2006. He is in charge of the annual Games Master Challenges in November, the Daily Dare (usually) in the spring, and previously, the New Game Challenge.
He's also had a little help over the years from his sister Abigail and their cousin Lulu.
JN has provided coverage on all of AAA's appearances. For more information on these events, check out the links below!
November 2006 Challenges
With a radical redesign of the Games Room, TNT conveniently started a little event with prizes for playing games. Worked like a charm.
March 2007 Daily Dare
The next big event from AAA was his Daily Dare, where he and his sister Abigail challenged Neopians to 31 different game challenges, one each day during the month of March. Unique prizes were given out for each challenge completed!
November 2007 Challenges
Challenges once again returned from AAA himself. Five were released each day during a seven day span and trophies were awarded to the ultimate gamers!
March 2008 Daily Dare
Once again, AAA and his sister returned for the Daily Dare, but this time, they were kidnapped by a shadowy figure who was forcing them to play games in a horrid dungeon.
November 2008 Challenges
AAA once again emerges from his room to challenge the best gamers in Neopia to... well, a seven day gaming duel. (You should probably put some tape around your fingers.)
March 2009 Daily Dare
Aristotle and Abigail's cousin Lulu came for a visit in this year's Daily Dare!
November 2009 Challenges
Hmm, another week of AAA's challenges... Has he not learned his lesson yet?
February - March 2010 Daily Dare
How well does TNT stand up to the challenges of AAA and Abigail?
November 2010 Challenges
AAA has brought a new round of challenges based on his favourite classic games, while Neopians join forces to reach a goal of 45 million gameplays!
March 2011 Daily Dare
Team up this year for another exciting Daily Dare Challenge!
November 2011 Challenges
Team Brains (led by AAA) versus Team Brawn (led by Abigail)... Who will win the week-long gaming battle?
March 2012 Daily Dare
A brand new Games Room machine, mysterious bugs invading Roo Island, and King Roo has gone missing. Save the Daily Dare before it is too late!
November 2012 Challenges
Team Pirates (led by Captain Threelegs) versus Team Ninjas (led by the Techo Master)... Who will win the week-long gaming battle?
July 2013 Daily Dare
This year, AAA is at summercamp with Lulu, and Chadley stepped in to up the challenges!
November 2013 Challenges
Team Sun (led by Siyana) versus Team Moon (led by Princess Lunara)... Who will win the week-long gaming battle?
November 2014 Challenges
A return to classic GMC challenges, this set of challenges was based on previous years.
November 2015 Challenges
This year's GMC is divvied up into teams again. Team Fire, represented by Ember, and Team Snow, represented by Taelia.
April 2016 Daily Dare
AAA, Abigail, and Lulu made a triumphant return after nearly 3 years of hiatus from the Daily Dare. However, AAA was not so keen on playing games this time around...
November 2016 Challenges
This year's GMC is divvied up into teams again. Team Heroes, represented by Jazan, and Team Villains, represented by Razul.
April 2017 Daily Dare
Chadley returns as he and Abigail and Lulu get competitive for this year's Daily Dare.
November 2017 Challenges
This year's GMC is divvied up into teams again. Team Living, represented by Magax, and Team Dead, represented by Hubrid Nox.
April/May 2018 Daily Dare
AAA finally returns to host the Daily Dare, as he, Abigail and Lulu get competitive for another year of games.
November 2018 Challenges
This year's GMC is divvied up into teams again. Team Knights, represented by Brynn, and Team Raiders, represented by Hanso.
August 2019 Daily Dare
AAA and Abigail spend some vacation time on the Virtupets Space Station playing games—and hosting the Daily Dare!