Your jnAccount:
Log In
or
Register
| New to Jellyneo?
Click here!
New Game Challenge
Past AAA Challenges | Challenges & Prizes | F.A.Q.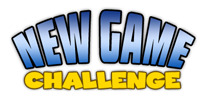 Aristotle and Abigail return again, this time with a new challenge every time a new game is released. Their cousin Lulu will host a special NC Challenge.
The Basics
The basic concept is the same as the Daily Dare challenges: Both AAA and Abigail have achieved a certain score in the selected game; Abigail's will always be the lower of the two. You play the newly-released game and try to beat both their scores. Unlike the Daily Dare, however, you can receive prizes from both Avinroo siblings - you just need to beat both their scores! The challenge is open until the next new game is released, which could be at any point - you may have weeks, or you may have mere days!
The NC Challenge
The NC Challenge requires you to purchase a special game ticket from the NC Mall. There are no multi-ticket packs at the moment. Tickets cost 200 NC in the NC Mall Specialty Shop.

You can apply/use past tickets for current and future New Game Challenges. For example, a Series 2 Ticket, even though it is no longer being sold in the Mall, would still work today, for the current game.
The Prizes
Successfully beating either Abigail or AAA's score with each new game release will award you with a prize. These are unique to the New Game Challenge and can be seen below. Also, there are additional prizes for the NC challenge. It is currently unknown if the challenge will eventually end, with any cumulative prizes, but it seems unlikely.
Day
Game
Abigail's
Score
AAA's
Score
Lulu's
Score
Abigail's
Prize
AAA's
Prize
Lulu's
Prize
September 15th, 2011

Invasion: Blastoids
7500
50000
15000
May 5th, 2011

S.M.E.L.T.
500
3000
800
February 4th, 2011

Shenkuu Warrior II
40000
100000
60000
December 20th, 2010

Wrath of the Snowager
12000
650000
20000
September 16th, 2010

Hannah and the Kreludor Caves
2000
30250
4000
July 13th, 2010

Kookia
20000
300000
75000
May 13th, 2010

Hannah and the Wardrobe of Adventure
350
9000
500
April 29th, 2010

Ugga Drop
22000
37000
27000
April 22nd, 2010

Island Chef Academy
300
850
400
April 15th, 2010

Sorcerers Skirmish
5000
7000
5750
April 8th, 2010

Nova Defender
50000
700000
70000
Jan 21st, 2010

Jumpin' Gem Heist
20000
45000
25000
Dec 22nd, 2009

Nova Battle


(Changed to Nova Defender)

40000
300000
75000
Dec 3rd, 2009

Dueling Decks
3000
25000
5000
Nov 3rd, 2009

Spellseeker
20000
99000
40000
Oct 1st, 2009

Extreme Herder 2
40
400
70
Sept 18th, 2009

Extreme Faerie Cloud Racers
80
750
160
Sept 3rd, 2009

Chariot Chase
100
2000
250
Aug 20th, 2009

Slorgs in Space
3500
16500
4000
Aug 5th, 2009

Darigan Dodgeball
400
1700
650
July 28th, 2009

Spinacles
250
3500
350
July 15th, 2009

Legends of Pinball
250
1100
350
July 8th, 2009

Dice of Destiny
100
500
200
Extra Prizes
Special prizes have been given out for completing a number of Lulu Challenges. Below is a list of the first date any additional items could be earned this way.
Help us improve!
Did you find what you were looking for on this page?
This article was written by: JN Staff