Your jnAccount:
Log In
or
Register
| New to Jellyneo?
Click here!
Restrictions for New Accounts
The world of Neopia has many exciting things to do, but not all of them are immediately available to new players. If you've just joined the site, or you're a long-time player using a new account, here's a list of activities that you'll have to wait a while to try.
Note that your account age might not be the only thing stopping you from playing the game normally. No matter how old your account is, you'll need to create or adopt your first Neopet before you can access a lot of the site's basic features. 55 species is a lot to choose from, but you can always change your mind later, so take the plunge and pick a favourite!
You'll also need to activate your new account by linking it to a valid email address before you can enjoy the site to its fullest. If you don't have an email address already, create a free one online—all that matters is that The Neopets Team can use it to contact you.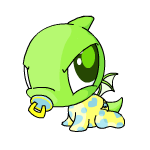 What do you MEAN, I'm too young?
Communication
If your account is younger than one day, you cannot post on the Neoboards, join a guild, or use Neomail. This stops players who have broken the rules and been frozen or silenced from simply creating another account and doing the exact same thing.
Creativity
If your account is younger than one day, you cannot create a shop, gallery, or guild, or edit your userlookup, your pet's lookup, or your pet's homepage.

Shopping
There are two kinds of shops on Neopets: user shops run by players, and main shops run by NPCs. If you have enough Neopoints, you can buy as many items as you like from user shops as soon as you start playing Neopets. However, some items in the main shops can only be bought by players with older accounts. This is based on items' Rarity Value.
If your account is younger than 10 days, you can buy items whose rarity is lower than 84.
If your account is younger than 16 days, you can buy items whose rarity is lower than 89.
If your account is younger than one month, you can buy items whose rarity is lower than 94.
If your account is younger than three months, you can buy items whose rarity is lower than 99.
If your account is four months or older, you can buy anything in the main shops (if you're fast enough to buy it before it sells out!)
You can look up an item's Rarity Value in the Item Database, and read more about buying and selling items in our Neopian Economics 101 article.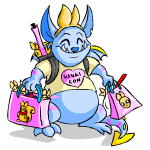 The Hidden Tower
The Hidden Tower is a very special shop, with unusual items always in stock at fixed prices. The tower is completely invisible to passers-by, but if you're new to the site, it may also be unusable.
If your account is younger than one week, you cannot visit the Hidden Tower at all.
If your account is younger than four months, you can visit, but you cannot buy any items.
Regular Activities
You can take part in many activities every week or every day—but probably not on your first day.
If there are any other activities you find your young account blocked out from that we don't have listed here, please let us know!

Adoption and Transfers
As of December 20, 2021, there are no account age restrictions on which pets you can adopt or receive from a transfer. Prior to this, accounts less than 4 months old were restricted with what types of pets they could adopt. Rarer colours, most limited edition species, and high-level pets were off-limits.
Want Even More?
Once your account is more than a few months old, you'll be a full-fledged Neopets player, able to take advantage of almost everything Neopia has to offer. But the fun doesn't stop there! As your account gets older, Neopets just keeps getting better. If you can't wait to find out what the future has in store, check out the loyal user perks that can be earned as a long-term player.
Help us improve!
Did you find what you were looking for on this page?
This article was written by: Dream