Your jnAccount:
Log In
or
Register
| New to Jellyneo?
Click here!
The Neopies Awards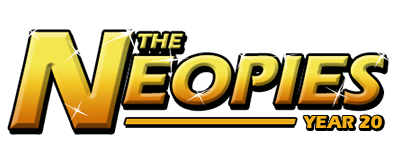 The Seventh Annual(ish) Neopies - 2019
The Neopies are voted on each January by Neopians to determine the best (and worst) from the previous Neopian year. Select categories are presented by TNT, and the Neopies Host will present you with the finalists in each category.
You have 3 days to vote in each category before the winner is announced, and there are 22 categories in total. Visit the official Neopies FAQ for the voting rules. Voting on the first day of each category being available will qualify you for a bonus final prize, with 'Day One' being the 15th and the 16th of January.
To close out the Neopies celebration, the first-ever VIP Raffle for NC items was held starting on February 4th.
The Finalists and Winners
Here is a list of the finalists in each category, with the winner highlighted in yellow. The winners will be highlighted in yellow, and this year's loser is highlighted in grey.
Day One - Best New Neopet Colour
Steampunk

Once exclusive to the citizens of Moltara, the Steampunk style became more accessible once this paint brush was released.

The smooth plastic finish, the bright colours and the strategically placed screws come together to make Neopets look like life-sized toys when painted with this brush.

Characterized by colored paper skillfully folded in the likeness of Neopets, this paint brush style has its fair share of fans.
Day Two - Best Site Event
Lyra and the Lost Heirloom

Amidst political turmoil in the Lost Desert, a corrupt official was given a chance to redeem himself - however, the situation soon spins wildly out of control.

Dragoyle Hunting

Visitors that arrived for the Discovery of Meridell celebrations were given a chance to participate in the local tradition of Dragoyle Hunting, and win fun prizes for doing so.

Trouble in Brightvale

A wizard working on a confidential research project was caught unawares when one of his spells backfired with damning consequences. Passers-by were then recruited to help him wrap up his research.

The Wraith Resurgence

When wraiths unexpectedly attacked Neopia, the faeries banded together to fight back, unaware of the larger threat within their ranks.
Day Three - Best News Day
Eliv Thade Takeover

31 May - Eliv Thade's ghost found out about the New Features bulletin and decided to take over, presenting readers with a sprinkling of anagrams throughout the updates. Coincidentally, three new Eliv Thade items made their debut in stores across Neopia the same day. How unnerving...

Discovery of Meridell Day

31 July - The annual celebrations were particularly memorable this year with the debut of the new Meridell map and the launch of Dragoyle Hunting, where outsiders were invited to take part in the local tradition.

King Roo Day

22 September - This day saw the announcement of four King Roo-themed items, including a Quiguki, a crown just like the one worn by this fun-loving monarch and a Baby Blu that looks uncannily like the king.

Darigan Day

29 September - Darigan Day made its mark on Neopia with the release of a new colour for Vandagyres and Flossets, and two adorable Darigan toys.
Day Four - Species Specific Wearable
Desert Princess Kyrii

Featuring a golden shimmering silk cape and skirt, a black embroidered blouse, pale gold jewelery and a diamond circlet, this outfit can only belong to Lost Desert royalty.

Heroic Blumaroo

Every hero needs a good superhero outfit, and this one is particularly impressive. With reinforced metal plates, wings and a specialized helmet, this outfit is said to protect the wearer while also granting the ability to fly through the air and breathe underwater.

Bling Gnorbu

With a glittering sequined dress, a large golden belt and an ostentatious feathered headpiece, this outfit proves you've got the moola AND the spunk to carry it off.

Combatant Elephante

Who says warriors can't be stylish? The electric blue fur cape is both practical and eye-catching, and speaks volumes about the personality of the warrior that dons it. The pretty pigtails and the ornamental metal embellishments show that this fighter does not believe in dress-codes.
Day Five - Best New Petpet Colour
King Skarl Erisim

After the Snowbunny, this is the second Petpet to be dressed up like King Skarl. Clearly the King of Meridell has a strange sense of humour...

Handsome Horus

This Petpet belongs to the daughter of the Warden of the Lost Desert, and the jeweled gold collar speaks for the riches of its owner.

King Roo Baby Blu

While Baby Blus are notable for their resemblance to Blumaroos, this one stands out for its resemblence to the king of Roo Island!

Princess Terrana Kookith

Why a Kookith would want to dress up like a Shenkuu princess remains a mystery to all!
Day Six - Best New Avatar
Trudy Avatar

Everyone dreams of getting sacks full of Neopoints, but only a few turn that dream into a reality. Surely you'd want to show off, if you did manage such a feat?

Brain Tree Quest

The Brain Tree often seems harmless, but those who have ruffled its leaves know otherwise. The terror of coming face to face with an angry Brain Tree is captured in this avatar.

AC Team Avatars

Fans looking for new ways to show their support for their favorite Altador Cup teams were pleasantly surprised by the release of these avatars.

Fiendish Formations

Repeated requests for simple avatars was the motivation behind the design for this one. But did it please? We're here to find out.
Day Seven - Best Site Theme
Tis the Season

This site theme went all out in its attempt to get everyone in the mood for the Month of Celebrating. Animations, sound clips and themed cursors included

The Lost Heirloom

Featuring the two iconic cities of the Lost Desert, this site theme is perfect for those who like the desert landscape, or simply find the tones of beige pleasing to the eye.

Brightvale

The high bookshelves covering the walls in the header are likely to appeal to the bookish kinds, while the Brightvale castle and its surroundings do wonders for the footer.

Meridell

Nearly every shade of emerald was used in this site theme, making it particularly easy on the eyes. Fans of Meridell were delighted with this release.
Day Eight - Best NC Feature
Legends of Altador

A special exhibition during the Altador Cup tournament focused on the Legends of Altador, and how simple acts of goodness changed the course of history. Themed souvenirs were available from each room.

Kaia Quests

Kaia has recently begun asking Neopians for help with NC items she needs. In return, she gives fabulous NC items you cannot get anywhere else.

Desert Jewel

A mysterious merchant set up a stall in a quiet corner of Sakhmet. His most popular ware was a magical chest that gave out a different object every time.

Haunted Mansion

Few dare to spend a night in a Haunted Mansion. However, that's exactly what you had to do if you wanted to prove yourself (or just win fancy prizes) during the month of Collecting.
Day Nine - Best Neopoint Item
Fish Filet Sandwich

What an odd choice of fish! Is this bread and fish or bread and bread… fish? For that matter, is the breadfish bread or fish? This dish was responsible for many dark circles and puffy eyes in Neopia.

Dr. Sloth Lamp

When night falls, this lamp provides both light and comfort.

Mutant Wocky Rattle

The cute curved handle is perfect for tiny baby hands, while the big grin and glittering eyes makes this the rattle of choice for tired mothers who want to persuade their kids to settle down - IMMEDIATELY!

Bowling Ball of Lost Cities

This rogue bowling ball is as mean as it looks. If you see one heading in your direction, RUN!
Day Ten - Best Prize Pool Update
Trudy's Surprise

Trudy's Surprise Slot Machine started rewarding users with exclusive item prizes for playing for seven consecutive days. What's more, the prize pool is updated regularly to avoid depreciation.

Apple Bobbing

A fresh bushel of 'apples' was dropped off by Bart's cart, and soon enough players were winning the most unusual apples from Apple Bobbing!

TDMBGPOP

The first of the dailies to get a prize pool update, this one caught players' attention when it started giving out faerie-coloured plushies in unique combinations.

King Skarl

In a moment of good-naturedness, the Grumpy Old King decided to give out new prizes to those who could make him laugh. While the elusive charm still didn't make its debut, players were able to receive win prizes nonetheless.
Day Eleven - Best Advent Prize
The Long Road Home

The tree-lined pathway covered with pristine white snow makes this lonely road look like a winter wonderland.

Green Gift Pouch

This pouch turned out to be the perfect gift for Neopets training at the Training School, for it gave one the chance to get some rather expensive codestones.

Wild Snowdrops Foreground

One of the few flowers that bloom before the snow has melted, snowdrops are perfect for adding life to a wintery landscape.

Mr. Sandman

Neopians rarely associate this guy with the month of Celebrating, but hey, Mr. Sandman is actually a big part of the holidays in certain Neopian lands.
Day Twelve - Best Art Revamp
Meridell

The lush medieval land of Meridell now comes to life with castle flags swaying in the wind and the smoke from the campfire rising in the air.

Brightvale

The updated art for Brightvale retains the charm of the original design, while enhancing the overall look with a larger map and greater attention to details.

Haunted Mansion

The annual Halloween NC event went through a makeover with a new theme and an updated hub page to go with it. Where players once bopped ghosts, they must now spend a night in a haunted mansion to earn prizes.

Stocking Stufftacular

The traditional fireplace by which users hung stockings for years was remodeled with a modern look and new colours. White and gold dominate, with hints of red and green for the holiday feel.
Day Thirteen - Best Neopet Colour
Robot Vandagyre

Have you ever seen a robot you'd like to cuddle? No? Oh. Never mind.

Steampunk Hissi

This Hissi looks like a rather learned and sophisticated citizen of Moltara.

Zombie Gnorbu

This undead Gnorbu makes you want to slowly back off until you feel safe enough to turn around and flee!

Marble Chia

The marble Chia comes with pretty colours that blend beautifully, and an epic hairdo to top it off.
Day Fourteen - Best Mystery Capsule
Retired MME Mystery Capsule

This fabulous capsule offered the chance to own items that were only available through previous Mysterious Morphing Experiments!

NC Mall 11th Birthday Gemstone Mystery Capsule

Neopians eagerly opened this capsule in the hope of receiving glittering crystals and gemstones that they could flaunt.

Baby Bottle Mystery Capsule

Baby Neopians were delighted with this capsule that had customized clothes in abundance.

Mummified Retired Mystery Capsule

Just in time for Halloween, this capsule promised plenty of spooky, dreadful, and downright terrifying wearables.
Day Fifteen - Best NC Wearable
Rainy Spring Day Background

Who knew a downpour in spring could look so delightful?

Luxe Bedroom

A tastefully decorated bedroom that whispers of its owner's deep pockets everywhere you look.

White Rose Arch

This beautiful arch has been carefully decorated with pretty white roses in full bloom.

Pretty in Pink Wig

Look no further than this delicate wig for a subtle way to show your love for Valentine's Day!
Day Sixteen - Best New Character
Aurrick

This young thief made his appearance in Lyra and the Lost Heirloom, where he befriended the daughter of the Warden of the Lost Desert, only to steal from her soon after!

Xendrik

Xendrik inherited the title of the Warden of the Lost Desert, and was known to be a fearsome warrior in his youth. Of late, rumours of corruption and ineffiency have marred his reputation.

Reizo

Hailing from Shenkuu, Reizo is a good friend of the faerie Kaia. He was cursed by the Darkest Faerie and forced to carry out her orders as the disfigured Malum, but was later released from her control. His appearance, however, has not been restored.

Lyra

Lyra is a fugitive on the run from her autocratic father. The proud, headstrong Xweetok is in for a few lessons when she finds herself alone and inexperienced in the ways of the world.
Day Seventeen - Best Caption Image
1415 - A Beauty or a Beast?

Voice belonging to skeletal hand- here let me, this angle will be so much more flattering! - By juggal3tt3j

1410 - A Magical Evening

Sloth: Tadaaa... Grundo 1: Nothing came ou...Grundo 2: Shhh! Just clap! - By cinnamon_girl

1406 - Let the Festivities Begin!

Candychan: *whispers* Why's it backwards? Snuffly: *whispers back* They're working converting the site to HTML5. - By neidrin

1407 - Bubble, Bubble...

Boween hides behind a potion. Miamouse scurries between a cauldron and the wall.. One Magaral camouflages with some purple berries. The Barbat flies away. Green Magaral: Awww shoot... - By freeread
Day Eighteen - Best Advent Animation
Day 2 - Sad Abominable Snowball

When your Abominable Snowball is down in the dumps, you've got to think creatively to cheer him up!

Day 7 - Snow Angels

Snow angels aren't real angels, silly! Or are they...?

Day 16 - Learning Something New

Just when you think you've got the hang of it...

Day 28 - The Unforgtunate Holiday Ogrin

Every dog has its day. Right?!
Day Nineteen - Let us Never Speak of This Again
Nonexistant NC Items

The Retired MME Mystery Capsule caused great excitement when it was released. However, delight gave way to despair when Neopians realized that it gave out glitched items!

Release of 11 Stamp Collector Avatars

The release of eleven stamp collector avatars at once led to a furore as the chances of making it to the top ranks of the Avatar Collector High Score Table became bleak for those without deep pockets.

The 'Plods'

Neopians could participate in not one, but two plots this past year. However, with delayed updates, bugs, storylines that didn't excite them, and limited user participation, players felt they were better termed 'plods'.

New Feechers

Neopians were less than happy with the Neopian news updates when misspelled words, grammatical errors and in a few instances, incorrect information were dished out along with the news.
Day Twenty - Best Premium Collectible Item
Dreamy Garden Patio Background

It is incredible how some fairy lights can transform your cosy garden patio.

Enchanted Pumpkin Patch Background

There are many surprises lying in store for unsuspecting wanderers in this pumpkin patch.

Doorway to the Ocean Background

What can be more delightful than opening your bedroom door to a breathtaking sunrise on the beach?

Mystically Guided Path Background

Proceed with caution on this mystic path, for the crystals have messages for those who pay attention.
Day Twenty-One - Best Neopoint Background
Grey Winter Evening Background

The soft light from the moon bathed the snowy landscape in hues of silver one grey winter evening.

Tree of Petals Background

Amidst bleak surroundings, the bright red leaves looked nothing less than rose petals floating to the ground.

Home of the Vandagyres Background

High up in the mountains, in a lush green rainforest hidden away from the rest of the world, is where the Vandagyres are most at home.

The Long Road Home Background

The tree-lined pathway covered with pristine white snow makes this lonely road look like a winter wonderland.
Day Twenty-Two - Best NP Wearable
Trudy's Head Wreath

This beautiful floral wreath is perfect for outdoor parties in spring, and will go with just about any dress.

Sparkler Dress

If you're looking to add some sparkle to a party, perhaps you can start with this glittering, gold-sequined dress.

Swanky Denim Jacket

The metal detailing on this denim jacket makes it look quite dressy!

Spoils of Victory

Now that's quite a haul!
Voting Rewards
For submitting your vote each day, you will be randomly awarded one of the following items.
Voting Prizes

Acnefruit Scone

Aisha Secrets

Alton Plushie

Ancient Repeating Crossbow

Banana Mynci Slippers


(wearable)


Black Osiris Vase

Blue Ruki Gnome

Blue Wooden Arbor

Blushing Birch Tree


(wearable)


Candy Corn Latte

Carrot Chia Pen

Carved Cantaloupe

Chomby Fruit Tart

Commander Flint Action Figure

Compass Bracelet


(wearable)


Deceptive Soup

Delfin

Deluxe Baby Quiggle Plushie

Dried Fruit Roll

Earth Faerie Bow

Earth Faerie Notepad

Elephante Eraser

Eventide Uni Plushie

Exotic Plant

Fancy Altadorian Mustard

Fancy Blue Teapot

Gardener Girl Usuki

Geraptiku Ink Frame


(wearable)


Gherkin Hot Dog

Gorix Usuki

Hanging Flower Basket


(wearable)


Hegelob Peanut Cookies

Interesting Dungeons

JubJub Hair Tie

Kelp Samosa

Kreludor Clock

Lemon Kiko Taffy

Maractite Pauldrons

Mazzew Yoyo

Meerca Gift Bag

Meerca Sushi

Nettle Tea

Orange Jelly Fish

Peanut Drum

Pirate Viola

Pumpkin Soup

Purple Invisihat

Raindorf Petpet Bed

Razumi

Sculpting with Molten Rock

Shell Comb

Silver Chia Souvenir Spoon

Spiky Kiko Ball

Stuffed Chokatos

Stuffed Custard Eclair

Tartan Snowball

The Happiest Air Faerie

Turtmid

Twirly Fruit Candy Cane

Velvet Black Lipstick


(wearable)


Wall Lamp

Weevil Coffee

Weltrude Wig


(wearable)


Wormy Slushie
Those who voted everyday of the Neopies received the following prize: