Your jnAccount:
Log In
or
Register
| New to Jellyneo?
Click here!
Creating Neopian Times Comics
A comic in the Neopian Times is usually an image with a single or multiple panels and text that together form a joke or story. There are many reasons to want to create a comic. Maybe you're an artist and want to enter the Times. Perhaps you're looking for less time commitment, or a good starting point for entering the NT. Could even be that you noticed there's a lot more publication slots reserved for comics in the Neopian Times, increasing your chances of getting in.
Whatever your reason, this guide will help, from conceptualizing your comic to submission. Let's get started!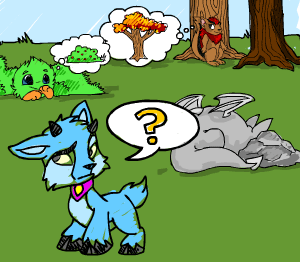 Look no further for help!
Conceptualizing
What kind of comic do you want to create? They can be funny, yes, but they can also be dramatic, neutral, or anything in between. They can be a single one-off comic, or an entire series of comics. You can use original characters, site characters, your Neopets, or any combination of these.
With so many options, how do you narrow it down? You need an idea for your comic, and that will lead the way. Ideas can be found everywhere, but Neopets ideas are found by interacting with the site and related products. Inspiration can come from:
Favorite lands, characters, and stories
Holidays and current Neopian events
Past events and plots
Random events and other site quirks
This list isn't exhaustive, but should give you a general idea of where to start.
Creating
You have an idea, and now you're ready to take the next step! You're ready to start creating your comic!
Scripting
Before you jump right into drawing, take a moment to jot down your idea before you forget it. This can be as simple as a sentence or two, or an entire script. They can be with or without simple sketches as well, whatever it takes to convey your idea to yourself, or others such as your collab partner.
A detailed script takes each panel and describes the action, dialogue, and characters. These are recommended if you're working with others on your comic, or if you're working on a complex, detailed comic.
Drawing
Ready to start drawing your comic? We presume you already have a drawing medium in mind, but if not, please check out tips from our Art Gallery Guide. You can also use image assets from the site, but we recommend creating original art, both for increased quality and overall chances of getting in.
While you can work larger while drawing your comic, the final submission must be 200kb (kilobytes) or less. The maximum width is 470 pixels while there is no limit on the height, other than the limit imposed by the 200kb file size. A typical comic runs three to five panels long, however, there is no hard limit on the number of panels you can put in.
The file formats allowed in the Neopian Times are GIF and JPEG. While you don't have to scan or draw your comic in those file formats, the final version you submit must be in one of those two formats.
While there's no rules about it, you'll want your panels and speech bubbles to read left to right, top to bottom, just like reading English text. This makes for the best reading experience and improves your chances of getting in. In general you'll want your panels to be vertical like a webcomic, as opposed to horizontal like a newspaper comic. This is because of the 470px limit on the width, in contrast to no limit on the height. You can put panels side by side for small panels, but overall they should be top to bottom.

See how these comics have vertical layouts, even when they have side-by-side panels?
(left is Dinner with the Scarlets: Best Neopian Ships by june_scarlet, right is a cropped version of Blossoms by twillieblossom)
And if you can't draw, try collaborating!
Collaborating
Two to three people can collaborate and create a submission for the Neopian Times together. Three is the maximum number allowed to be credited with a trophy. You can often find Neopians willing to work with you on the Neoboards, particularly the Writing and Art Neoboards. With comics, the work is usually divided between writing and drawing, however, it's up to you and your collaborators how to divide the work.
Only one person submits the comic; the others are credited by writing their usernames in the comments box on the submission form. The one who submitted gets the neomails regarding acceptance status, and gets their trophy the day it's published. The collaborators get their trophy early the next week. Contact the editor through neomail at tnt_stone or tnt_aesop as a backup for any trophy errors.
Submission
You've created your comic, but now you need to submit it! Here's what you need to know.
File Compression
Likely the comic you've created is over 200kb (kilobytes). Now you need to compress it. First thing you'll want to do is create a copy of your too-large image; that way you have the original to go back to should you mess up. Take the copy of your original and reduce the width to 470px using simple image-editing software such as MS Paint, image Preview in MacOS, or whatever software you're already comfortable using. You can also upload an image to a website such as Adobe Creative Cloud Express to resize your image for free.
Save as a JPEG and see if you're under 200kb. If not, try saving as a GIF. A JPEG image allows for more colour and detail, however, they make for a larger filesize than GIFs. A GIF makes for a smaller filesize, but can affect the quality of the final product. If you want animation in your comic, you must use the GIF format.
If your comic still isn't under 200kb, there's various other tips and tricks to reduce the filesize. Try taking it into image editing software or a website that supports image compression. You can also reduce the width slightly, or even the number of colours used in a GIF.
The biggest tip for image compression, though, is to not have to deal with it in the first place. Make sure to keep your writing tight, so that you have less panels to squeeze in there in the first place.

Captain K is in a tight place, and so should your writing.
Submission Form
You've got a comic, but now it's time to submit it through the submission form. There's a few more things to keep in mind before you get it published.
Title
Give your comic a spiffy title! Your title can be up to 52 characters long. This can also be a place to specify which special issue you want your comic to be published in. One such format can be, "Title (FOR SPECIAL ISSUE)." It's better to specify down in the comments that it's for a special issue, but if you run out of room down there, the title is the next best place to put it.
Comic
This is the part where you upload your comic. Be sure to save it in an easy-to-find place on your computer, and not to get the final version mixed up with the previous ones.
Thumbnail
BEFORE YOU SUBMIT: The thumbnail part of the comic submission form is currently broken. You'll need to link to your thumbnail in the comments box if there's a particular one you want to use.
A thumbnail is a 150 by 150 pixel image that's shown on the list of entries of a particular issue. If you submit your own thumbnail, it must be under 30kb. The same tips for file compression of your comic also apply here, except you can't change the width of your thumbnail.
Custom thumbnails are commonly a logo for a series, or an image taken directly from the comic itself. However, your custom thumbnail is ultimately up to you, so long as it meets the filesize requirements. If you don't submit a thumbnail, the editor will choose one for you.
Comments
This is where you'll want to put a link to your thumbnail, list any collaborators you might have worked with, note if there's a special issue you want your comic to appear in, and write the blurb that appears next to the thumbnail in the list of comics. Whew, that's a lot to fit into just 120 characters! If you choose not to write a blurb for your comic, the editor will choose a quote from your comic to feature on the preview page.
Submitting
If your comic submits successfully when you click the "Submit comic" button, it will redirect you to a page that says,
"Your comic, "Comic Title", has been submitted successfully."
If you do not reach this page and are instead redirected to the main submissions form page, your comic did not submit successfully. Check to make sure it's under 200kb and in GIF or JPEG format, and try again.
If you're unsure if a comic was submitted, you can try submitting it again using the same exact title, including spaces. If it was submitted correctly the first time, it will tell you that this title is already in the system.
And if all else fails, you can check your status by neomailing the editor at tnt_stone, or as a backup tnt_aesop.
Acceptance
Finally, it's time to wait for a neomail from theneopetsteam saying if your comic was accepted or rejected. For more details on this process, see the main Neopian Times Guide. If your comic was accepted, congratulations! It's quite exciting seeing your work in the Times, whether it's your first or fiftieth golden quill.


Can't stop at just one!
If you get ten submissions, you earn an avatar, as well as earning an avatar for issues ending in 00, 25, 50, and 75.
Neopian Times Star / Guide
Get into the Neopian Times 10+ times. (Editorial Questions do not count.)
Released: July 23, 2004
Neopian Times Writer / Guide
As of July 2021 (Issue #941), receive this avatar when published in a 25th, 50th, 75th, or 100th edition of the Neopian Times. Prior to issue #941, and since issue #200, you had to be published in a 50th or 100th edition.
Released: July 26, 2005
More Help
This guide gave you a basic run-down of comics, but there's so much more to this topic. For more help, try reaching out to your fellow comic creators, via the Neoboards or fan forums. And for more help with Neopian Times logistics, you can neomail the editor, done currently by neomailing tnt_stone, with tnt_aesop as a backup contact point.
Now that you're armed with all this knowledge, go forth! Create comics! Have fun!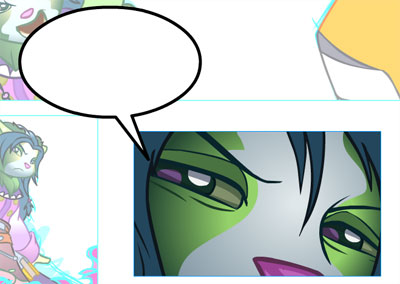 Take over Neopia! Whoops, didn't mean that last one...
Help us improve!
Did you find what you were looking for on this page?
This article was written by: Twillie Blossom and June