Your jnAccount:
Log In
or
Register
| New to Jellyneo?
Click here!
The Neolodge
The Neolodge, often simply called "the lodge", is a system of hotels in Neopia Central that will accommodate your pets for one to twenty-eight days at many price ranges. There are ten hotels available, ranging from the one-star economy hotel Cockroach Towers at 5 NP per night all the way to the five-star AstroVilla at 500 NP per night! There is also a variety of extra luxuries for an additional 5 NP per night.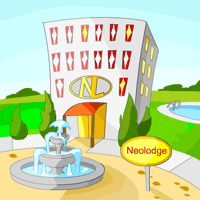 The lodge's staff will care for your pet and feed them until they are "bloated" during their stay.
Booking Your Stay
When you are booking your stay, you have a choice of ten different hotels, each with different nightly rates:
Cockroach Towers: 5 NP
Fleapit Motel: 10 NP
Cheap Hotel: 20 NP
Mountain Lodge: 30 NP
Ye Olde Ship Inn: 40 NP
Hotel Opera: 50 NP
The Royal Neopian: 80 NP
Faerie Castle: 100 NP
Presidential Palace: 200 NP
AstroVilla: 500 NP
In addition, you have option of adding as many as twelve extra upgrades at an extra cost of 5 NP per upgrade per night:
Restaurant
Burger Bar
Fitness Center
Neopian Times Delivery
Maid Service
En-suite Bathroom
Jacuzzi/Spa
Grooming
Swimming Pool
Tennis Courts
Sauna
Laundry Facilities
This makes the cheapest possible stay at Cockroach Towers with no extras at just 5 NP per day (that's 140 NP for a full 28-day stay), while the most expensive stay is at AstroVilla with all twelve extras at 560 NP per day (that's 15,680 NP for a full 28-day stay).
You may be tempted to book the nicest hotel you can afford with all the amenities as a treat for your pet, but do know that no matter where you book or what extras you add (if any!) your pet will still walk away equally happy (and bloated). The fancy hotels and extras are just for fun and a way to sink a little more NP out of you.
To reserve a room for your pet, simply follow the four-step directions on the main Neolodge page. When you click "Complete Booking", your pet will begin checking in!
While some players only book lodge stay when they know they won't be able to check in on their pets for a certain time, because of the low cost of the Cockroach Towers many players put their pets in the lodge to keep them fed even while they're actively playing. It's cheap and maintenance-free, and it's especially useful for species with voracious appetites such as Skeiths and Grarrls.
It is important to note that even if you do not supply a plan to keep your pets cared-for and fed (absolutely do not under any circumstances give your account to someone else for this purpose, or any purpose at all for that matter), they will not run away or die or hate you forever.
Checking Out
You can check how much time a pet has left in their stay on the Quick Ref page.
Your pet will check out automatically at the end of their stay at the same time the stay was booked. For example, if you book a 3-day stay, your pet will check out exactly 72 hours after you started the booking. When this happens, you will receive an email (not a Neomail) from your pet to let you know.
To check out of the lodge early, you can also do so via Quick Reference. Just click on "Check out early?" under the notices section!
Help us improve!
Did you find what you were looking for on this page?
This article was written by: Riley