Your jnAccount:
Log In
or
Register
| New to Jellyneo?
Click here!
Classic Neohomes
Classic Neohomes are retired!
With the discontinuation of Adobe Flash in January 2021, Classic Neohomes are officially retired. In late 2020, TNT expressed a desire to eventually debut a new "Neohomes 3.0" feature to replace both Classic and 2.0 Neohomes, but no further information is known.
If you still have any items in your Classic Neohome, you may remove the items by heading to the
Arrange Furniture page
, clicking on each room with items in it, and looking for the "Go to Remove Items from Room" link. You do not need Flash to do this.
After years of being neglected, TNT finally gave their Neohome feature a much needed renovation and released Neohomes v.2! However, a lot of users have invested countless hours and unknown quantities of Neopoints in searching for and obtaining the perfect items to deck out their original Neohome so that it looks just perfect. Fortunately TNT have acknowledged this and enabled users to maintain their old Neohome as well as having the option to create a newfangled one. You can also still create one of the old version ones, though they are now referred to as Classic Neohomes. This article is intended to guide you through the creation and maintenance of a classic Neohome; we are currently hard at work on one to cover new Neohomes, but rest assured it is under construction! (Sorry for the weak 'architecture' pun...).
Finding Classic Neohomes
Since the new site layout came into effect, all Neohome-related links can be found under the 'Customise' drop down menu at the top.
This will take you to the Neohome v.2 hub, but you can still access the Classic Neohome menu by clicking the button in the bottom right corner. Alternatively, you can just click here.
Reserving Land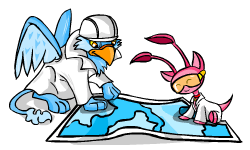 First, you will have to reserve a plot of land to build your Neohome on. There are many locations to choose from!
Plot Locations

Neopia Central
(1,000 NP)

Mystery Island
(2,500 NP)

Tyrannia
(3,500 NP)

Haunted Woods
(5,000 NP)

Lost Desert
(7,500 NP)

Meridell
(8,000 NP)

Roo Island
(9,000 NP)

Brightvale
(10,000 NP)

Maraqua
(11,000 NP)

Darigan Citadel
(12,000 NP)

Shenkuu
(13,000 NP)

Terror Mountain
(15,000 NP)

Faerieland
(25,000 NP)
After you have chosen your desired location, click on 'Apply for Land.' You must then wait for your application to be accepted. This could take up to 7 hours or so. After your application has been processed, you will be given a Neohome address and you will be able to start building! If you decide to sell your Classic Neohome back to the Neopian Bank, move to a different location, or upgrade to a new Neohome, you will receive some Neopoints back for rooms, extensions, and your property. You also don't need to demolish your rooms before the process, and any items currently in your Classic Neohome will be moved to your safe deposit box after the process is complete.
Building Your First Room

After land reservations have been made, you can begin construction of your first room. Click on 'Manage Rooms and Gardens', then click on an empty area where you want your room to go. You must build rooms on the ground floor before you can do so on the first and second floors.
NB. make sure you have Pop-Up Blockers turned off, or else the window may not pop up.
Once a window pops up, you should see a screen that has many different things on it. To start off you need to choose a material. You have a lot to choose from as materials range from cardboard to chocolate! After choosing a material, you can then choose how many exits you want on your room. You can have up to 4 exits (North, South, East and West). 'Extra Costs' only apply if you have extensions on your Neohome. If you don't have any extensions, then don't worry about this. (They will be discussed further into the article.)
Finally, click 'Build It!' to build your room. Building a room usually takes around 3 to 9 hours; you can check the Building Status page to see how construction is going. After your room has been built, you can go back to 'Manage Rooms and Gardens' and click on the room to name it.
Room Materials

Cardboard
(150 NP)

Straw
(250 NP)

Twigs
(300 NP)

Bamboo
(400 NP)

Wood
(500 NP)

Chocolate
(650 NP)

Jelly
(750 NP)

Stone
(800 NP)

Brick
(1,000 NP)

White Chocolate
(1,200 NP)

Marble
(1,500 NP)

Silver
(2,500 NP)

Cloud
(4,000 NP)

Gold
(7,500 NP)

Transparishield
(14,500 NP)

Iced
(30,000 NP)

Asparagus
(60,000 NP)

Sand
(65,000 NP)

Tatami
(70,000 NP)
Building A Garden

To build a garden, you need to click on 'Manage Rooms and Gardens' and choose a location to build it by clicking on a piece of land on the ground floor of your home. Then click the 'Build a Garden' button at the bottom to build it.
Building a garden costs 100NP and takes between 5 to 9 hours to complete.
Demolishing A Room Or Garden
Demolishing a room or garden takes about an hour or less and is completely free. However, you will not receive a refund on what you spent on the room or garden.
To start, go to 'Manage Rooms and Gardens' and click on the room or garden you want demolished, and then hit the 'Demolish Room' or 'Demolish Garden' button. Make sure you remove all furniture or gardening items before demolishing, or else they will be discarded!
Extension Options
Extension Options are things such as Insurance, Carpeting, Lighting, Heating, Security System, and Wallpaper. You need to have a certain number of rooms before you can purchase each extension option and each extension option comes in different levels, with each level having a different cost depending on the amount of rooms there are already in your Neohome.
Carpet - at least 1 room

Level 0: Bare Floor
Cost per room: 0NP

Level 1: Dirt & Weeds
Cost per room: 20NP

Level 2: Straw
Cost per room: 40NP

Level 3: Linoleum
Cost per room: 60NP

Level 4: Wood
Cost per room: 80NP

Level 5: A Nice Rug
Cost per room: 100NP

Level 6: Imitation Brick
Cost per room: 120NP

Level 7: Quality Carpet
Cost per room: 150NP

Level 8: Plush Carpet
Cost per room: 200NP

Level 9: Marble
Cost per room: 350NP
Lighting - at least 2 rooms

Level 0: Darkness
Cost per room: 0NP

Level 1: Candles
Cost per room: 25NP

Level 2: Torches
Cost per room: 50NP

Level 3: Gas Lamps
Cost per room: 100NP

Level 4: Electric Lamps
Cost per room: 150NP

Level 5: Fashion Lamps
Cost per room: 400NP

Level 6: Chandeliers
Cost per room: 850NP
Insurance - at least 3 rooms

Level 0: No Insurance
Cost per room: 0NP

Level 1: Basic Insurance
Cost per room: 20NP

Level 2: Sharky Insurance
Cost per room: 50NP

Level 3: Buzz-Extra Protection
Cost per room: 75NP

Level 4: Complete Chia Cover
Cost per room: 120NP

Level 5: Peophin Platinum
Cost per room: 180NP
Wallpaper - at least 4 rooms

Level 0: None
Cost per room: 0NP

Level 1: Nasty Ripped
Cost per room: 10NP

Level 2: Cheap Blue
Cost per room: 20NP

Level 3: Green Pattern
Cost per room: 30NP

Level 4: Retro
Cost per room: 40NP

Level 5: Nice Patterned
Cost per room: 50NP

Level 6: Stainproof
Cost per room: 60NP

Level 7: Royal
Cost per room: 80NP
Central Heating - at least 6 rooms

Level 0: None
Cost per room: 0NP

Level 1: Basic Heating
Cost per room: 10NP

Level 2: Heat Lamps
Cost per room: 20NP

Level 3: A Warm Fireplace
Cost per room: 50NP

Level 4: Immersion Heating
Cost per room: 100NP

Level 5: Electric Radiator
Cost per room: 300NP

Level 6: Neo Heating System
Cost per room: 450NP
Security - at least 8 rooms

Level 0: None
Cost per room: 0NP

Level 1: Clanking Cans
Cost per room: 100NP

Level 2: Barbed Wire
Cost per room: 250NP

Level 3: Iron Bars
Cost per room: 650NP

Level 4: Electro-Secure
Cost per room: 1000NP

Level 5: Satellite Security
Cost per room: 1500NP
When building new rooms, you will also have to pay for the extension options you've already bought. Extension options do not change the look of your room or your home in general; currently there are no advantages to purchasing these options. You can choose to remove them for free though, which is handy if your costs get out of hand.
Buying Furniture
Now that you have a Neohome, you need to buy some items to furnish your rooms and plant in your gardens! Furniture and plants can be bought at different shops throughout Neopia. Here is a list of all the shops you can buy furniture and plants for your garden at. In addition to these official shops, furniture can also be bought from the Shop Wizard, Auctions, and the Trading Post.
Brightvale Glaziers
Chesterdrawers' Antiques
Faerie Furniture
Fine Furniture
Kiko Lake Carpentry
Kreludan Homes
Neopian Garden Centre
Osiris' Pottery
PetPet Supplies
Spooky Furniture
Tyrannian Furniture
Furniture items in your Neohome are seen from an aerial or bird's eye view. To see what items would look like in your home before you buy them, you can check out Jellyneo's Item Database.
Adding/Removing Furniture or Garden Items
You have spent thousands of Neopoints on furniture and plants and now you need to know how to place it into your rooms or gardens. First, go to the Neohome page and click on 'Add Items' (this should take you back to your inventory). Then click on a piece of furniture or a plant and go to choose an action. Your screen should look like this:
Choose a room from the drop down menu to add the item to and click submit. (It's much easier if you name your rooms; as you can see here my Neohome only has one room so far but once you have several rooms it can get confusing if you don't label them.)
To remove furniture or garden items, go to your Neohome and click on 'Arrange Furniture', then click on the room or garden that you want to remove items from. Underneath your room or garden it should say 'Go To Remove Items From Room', click it to enter the next stage. Simply select the items you wish to remove and click the 'Remove' button.
Arranging Furniture
To begin decorating, click on 'Arrange Furniture' and select a room. Choose a furniture item and drag your mouse to move it. You can also increase or decrease the depth of the item in order to layer it on top of or beneath another piece of furniture. There are also buttons to rotate your item. You can press Shift + [ or Shift + ] to rotate items at a smaller angle.
Locking items means you will not be able to move it unless you unlock it again. This is a useful option if you have spent a long time positioning something fiddly and don't want to move it by accident whilst shuffling other items around.
If you have a lamp, speaker, robot or animated toy, you will be able to show or hide the animation by clicking on the 'Action' button.
Once you are pleased with the layout of the room, click on 'Save Room.'
Arranging Garden Items
As before, click on 'Arrange Furniture' and select a garden. Items you have added to the garden will appear on the left side. Simply hover over an item until you see a set of four arrows and then drag the item to move it. To flip items horizontally, hover over the bottom of an item until you see a circular shaped arrow and then click on it.
If you hover over the white triangle on the bottom left corner of the screen you will be able to change the color of the grass as well as save your garden.
And that's all folks! By now you should be able to build your own Classic Neohome. At present it appears that older Neohomes are no longer eligible for the Neohome Spotlight, which is a shame because there are a lot of very good ones out there. Here's hoping TNT rectifies this and makes them their own special little trophy. ;)
Help us improve!
Did you find what you were looking for on this page?
This article was written by: Jesse