Your jnAccount:
Log In
or
Register
| New to Jellyneo?
Click here!
NeoDeck Card Collecting
First released back on February 8, 2000, NeoDeck card collecting (not to be confused with the official TCG) is the original Neopets collecting activity, long before stamps and avatars entered the scene.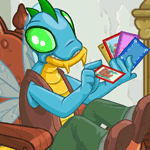 The NeoDeck
The foundation of card collecting is your NeoDeck. You can create a NeoDeck in two ways: either adding your first card (as described in the next section) or giving your empty deck a title or description on the My Deck page. Every account has a NeoDeck icon on their user lookup automatically, but you do not automatically start with a NeoDeck! You can view your own or any other user's deck via their user lookup.


Click the link under this image on a user lookup to go to the NeoDeck
Adding to your NeoDeck
Any collectable card can be added to your NeoDeck through your inventory. Simply select the "Put in your NeoDeck" option from the dropdown and submit!

How to add a card to your NeoDeck
You are able to add duplicates of a given card to your NeoDeck; there is no known maximum number cards for a single card or overall.
Unlike the Stamp Album, Collectable Cards can be removed from your NeoDeck at any time, though you are only able to remove one card a time.
Sections of the NeoDeck
The My Album page shows all of the released Collectable Cards in numerical order. If you have one or more of that card in your NeoDeck, it will be replaced by that card's picture; if you do not have any of that card, its coloured backing will be shown instead.

An example of the My Album page
The My Cards page shows pictures and quantities of all the cards in your NeoDeck. This is also the page where you can remove cards from your NeoDeck.

An example of the My Cards page
The My Deck page allows you to rename your NeoDeck and give it a "deck-scription". It also includes a button to "Destroy Deck", which can only be pressed if you have no cards left in your deck. Pressing it once will just reset your NeoDeck name and description; pressing it again will truly destroy your NeoDeck.

An example of the My Deck page
The All Cards section contains a listing of all collectable cards, including their ID number, species, and picture. Clicking the picture pulls up a larger version, along with the card's description.

The top of the All Cards page
The Premium section contains a fun image awarded to all active Premium users each month. These cards are not actually at all related to the collectable card items that this guide focuses on; they're just housed in the same part of the site, perhaps because they are both "cards" that are "collected." They cannot be bought, sold, traded, or removed, and have no impact on your NeoDeck or card collecting high score. If you are not a Premium member, you can still view all the images in Dr. Sloth's Image Emporium here on Jellyneo!

An example of the Premium page
Card Colours and Rarities
You have probably noticed that the item images for all the Collectable Cards are essentially the same, with just a few variations in colour. These colours actually correspond to the rarity of the cards, as described on the Rarity List in the NeoDeck. You can click on the rarity ranges to go to full item listings in our Item Database.
Card Collecting Tactics
So, how does one manage to amass a meaningful card collection?
Restockable Cards
The vast majority of collectable cards have a rarity of r100 or lower, meaning they restock in the official Collectable Card Shop. Lower rarity cards restock more commonly, in higher quantities, and cheaply, while higher rarity cards restock rarely, in smaller quantities, and for far more Neopoints. Because the shop can stock at any given time on any given day, the supply of these cards is theoretically infinite, though the infrequency of higher-rarity stocks throttles this reality.
The lowest rarity restockable cards are Doirn and Nereid the Water Faerie at a mere r30, while the highest rarity restockable cards are Little Timmy and The Hairy Tongue Beast at a whopping r100.


The Collectable Card Shopkeeper, tending his shop
Most (but not all!) cards are cheaper to buy from the shop than from other users; this is especially true for higher rarity (r90+) cards, where you can get them for tens of thousands of NPs instead of tens of millions! However, the shop tends to be extremely competitive due to the value & rarity of such cards, and the ease of identifying them from their colour.
You can get even better savings by visiting on Half Price Day, which occurs the 3rd of each month. For cards r89 and lower, you may get lucky at the Igloo Garage Sale, which randomly stocks items for a fraction of their price in the main shops.
There are several other miscellaneous ways to get restockable cards:
Special Cards
Any card with a rarity of r101 or higher is considered a "special" card. These cards do not stock in the Collectable Card Shop, nor are regularly generated in Neopia. This includes not only cards that are literally retired (r180), but also cards that were awarded for a one-time event or promotion. Because most of these cards have a finite, limited supply, they can only be purchased from other players and tend to be very expensive.
Special Card Walkthrough
There are just two special cards that are still re-released with any regularity:
There are five cards that were formerly restockable at r30, but were retired (along with 45 other randomly chosen items) on October 28, 2003, about 3.5 years after their original release:
Two cards were given out at the Advent Calendar:
Neopian Times 200th Anniversary Card was awarded to all users that were published in Issue 200 of the Neopian Times in July 2005.
The remaining 17 special cards have unclear origins. Throughout 2001, many of the cards were updated to have different characters, pictures, or descriptions; Jellyneo suspects that the rarity of these cards were changed at that time, effectively retiring them. If you have information on the origins of these cards, please let us know!
Special Cards with Unknown Origins
Booster Packs
Between February 28, 2001, and June 1st, 2001, players were able to earn Booster Packs by participating in sponsor activities. Each Booster Pack, when opened by playing with your pet, would provide 1 to 3 random cards from a certain rarity range. Green packs could provide cards up through r51, red packs up through r54, blue packs up through r70, and yellow packs up through r99. After ending the sponsor activity, red booster packs were allowed to continue stocking in the Toy Shop, while the other colours were discontinued.
Tracking Your Collection
The Jellyneo Item Database includes a checklist tool to check which cards you are missing from your NeoDeck, as well as their estimated costs. You can manage missing cards more continually by adding them to a wishlist.
We also provide a NeoDeck Collector counter that you can display anywhere, such as your user lookup, shop description, or pet page!
High Scores
The card collecting high score table is based simply on the number of cards you have added to your NeoDeck.
Like all high score tables, it is reset at the start of every month. However, unlike most other high score tables, progress is never lost. To reenter the table each month, a user simply needs to visit their My Cards page.
Because of this requirement to go out of your way to reenter the table each month, you don't necessarily have to be in the true top 17 of card collectors on the site to get a trophy—you just need to be in the top 17 that have checked in so far that month. If one of the top collectors doesn't check in during the first few days of the month, that opens up a temporary spot for somebody else!



We have tabulated the average trophy cutoff scores on the 1st, 15th, and 28th day of the month. The scores below represent the average number of cards you must have in your NeoDeck to receive a specific trophy. Notice how the scores tend to be slightly lower earlier in the month by a few cards.
Card Collector Average Trophy Cutoffs
Year
Gold
(3rd place)
Silver
(8th place)
Bronze
(17th place)
1st
15th
28th
1st
15th
28th
1st
15th
28th
2017*
365
365
365
363
365
365
352
361
362
2018
365
365
365
364
365
365
352
361
362
2019
365
365
365
365
365
365
352
361
362
2020*
365
365
365
364
365
365
355
364
364
* 2017 includes March through December; 2020 includes January through October
Indeed, the cutoff scores are not even necessarily strictly increasing from month to month. Here are the monthly cutoff scores for 2019 as an example.
Card Collector 2019 Trophy Cutoffs
Month
Gold
(3rd place)
Silver
(8th place)
Bronze
(17th place)
1st
15th
28th
1st
15th
28th
1st
15th
28th
January
365
365
365
365
365
365
355
357
362
February
365
365
365
365
365
365
362
362
362
March
365
365
365
365
365
365
351
361
363
April
365
365
365
365
365
365
353
358
363
May
365
365
365
363
365
365
344
362
362
June
365
365
365
365
365
365
362
363
363
July
365
365
365
365
365
365
357
362
362
August
365
365
365
365
365
365
357
362
362
September
365
365
365
365
365
365
347
359
359
October
365
365
365
365
365
365
354
362
363
November
365
365
365
365
365
365
348
358
363
December
365
365
365
363
365
365
342
359
362
Although there is remarkable stability in cutoff score at the very top of the high scores—gold and silver cutoffs are often at the same score even at the start of the month—the ordering of the top players varies: you can still nab the top spots by being one of the first to check in at the start of a month if you have a high enough score!
Avatars
There are a couple of avatars directly related to cards in your NeoDeck:
Fire Paw / Guide
Put the card "Fire Paw" into your Neodeck.
Released: April 22, 2004
There is also one avatar that is primarily a Battledome avatar, but the challenger can only be unlocked through a card:
Kasuki Lu - Heeyah! / Guide
Defeat Kasuki Lu in the Battledome.
Released: February 17, 2004
Character Lore
The characters featured in Collectable Cards include some of the most recognizable and well-known on Neopets, such as Dr. Sloth and Fyora. They also include some characters that have never been mentioned outside of their Collectable Card, such as Admiral Arvakis and Shoonee. For more information on all the characters, check out the Collectable Card category in the Book of Ages.
History of Card Collecting
As a very early feature of the site, card collecting has seen many significant changes over time.
Card Releases
The first mention of Collectable Cards was very early in the life of Neopets, only about two months after the start of the site:
We have added a great new Trading Card game, but we aren't launching it till we have over 100 cards - please send in your contributions!

From New Features, January 17, 2000
About a month later, the first set of cards was released:
Trading Cards are now in the shops :)

From New Features, February 8, 2000
Over the next six weeks, 292 different cards were released in several large bursts, a huge proportion of the eventual 366 total released. It was not until over a year later that the 293rd card, Alstaf Poogle, was released on May 8, 2001.
The most recent Collectable Card to be released was Jake the Explorer way back in April 2006. Because of this long gap, we do not anticipate that any further cards will be released.
Character Changes
As the news posts quoted above imply, the original card designs were submitted by regular Neopets users. Jellyneo has catalogued these original characters in our "Collectable Card (removed)" category in the Book of Ages.
Throughout 2001, as Neopets became an increasingly professional brand and corporate entity, many of these characters were gradually replaced with others more suited to the Neopets style and lore (and with intellectual property actually created in house). Some of these cards were even revised multiple times.
You can see the history of every card at the bottom of our Item Database entries. For example, the Punchbag Bob card started out as a card called Osceanio, which was later renamed to Aquaria, before finally settling in as Punchbag Bob.
Card Image Changes
The coloured item images for the cards changed a few times throughout Neopets history.
Card Colours
| | | |
| --- | --- | --- |
| Version 1 | Version 2 | Version 3 |
| | | |
| | | |
| | | |
| | | |
| | | |
| - | | |
| | | |
| - | | |
Competitive Card Collecting
The high scores table for Card Collecting was not introduced until relatively late, on July 23, 2011.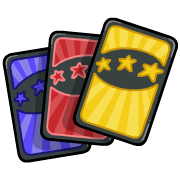 Help us improve!
Did you find what you were looking for on this page?
This article was written by: Kenny