Your jnAccount:
Log In
or
Register
| New to Jellyneo?
Click here!
The NC Mall Guide
NC Trading
If you've ever spotted an NC item that wasn't available in the NC Mall or you have some NC items you would like to exchange, trading provides an opportunity for you to obtain current and retired NC items from other users. According to Neopets rules, you can only trade NC items for other NC items; you are not allowed to offer or trade Neopoints or Neopoint items for any Neocash items. Most NC trading takes place on the NC Mall Neoboard (commonly referred to as NCC, which stands for "Neocash Chat").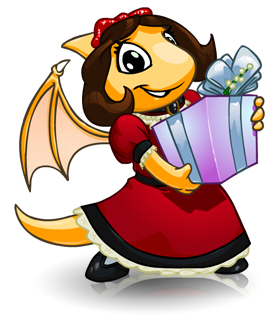 Let's trade!
The Basics
In order to send NC items, you must have NC Gift Boxes. Gift boxes are non-tradeable NC items obtained from redeeming Neocash Cards, Trudy's Surprise, or opening Gift Box Mystery Capsules (GBCs). Gift boxes are one-use items, and you can only send one NC item per gift box.
How to Use a NC Gift Box
In order to use a NC Gift Box, you must first head to the Neocash section of your inventory, which you can access by toggling the button circled in red in the screenshots below.
Place the NC items you want to send in your inventory, along with your gift boxes. Then click on a gift box and select the item you want to send in the drop down menu and select "Submit".
Select or enter the username you wish to send the NC item to (be sure to double check the username!) and click "Submit". You also have the option to select a message to include via the drop down menu.
Before the NC item sends, you will be prompted to enter your password (and possibly PIN, depending on your PIN preferences). To complete the process, select "Gift Item". Once the recipient receives the NC item, TNT will send you a Neomail notification.
It is
highly recommended
that you go to your
PIN preferences page
and enable a PIN for NC Gift Boxes. This gives your account and your hard-earned NC items an added layer of security.
Receiving an NC Item
When you're sent an NC item, it will show up in your Item Event Log. First, you need to open the box to see what is inside. You can choose to accept, return, or discard the NC item. If you choose to return, it will send the NC item back to the sender, along with the gift box that was used. You will also receive a Neomail notification from TNT when you've been sent an NC item.
Neocash items will stay in the Item Event Log indefinitely until the player choose an action. Prior to some time in 2019, if 48 hours passed without action, the item and gift box would be returned to the sender, but this no longer occurs. Because of this, the only way to resolve sending a NC item to the wrong account is by opening a support ticket.
Basic NC Terminology/Acronyms
The NCC has its own set of jargon. You can search our Neopian Dictionary for NC terminology and item abbreviations. Below are some common terminology/acronyms used on the NCC: (Double check with the Dictionary)
BG: Background
BFA: Bump For Awareness
Buyable: An item available for purchase in the Mall
Cap: Ostensibly refers to a Gift Box Mystery Capsule (GBC/GBcube), but used flexibly as a unit of value very roughly equivalent to ~200 NC, the price of a GBC.
Cap Sale: Users who put their NC items up for trade at a discounted cap value
Cookie(s): NC Fortune Cookies
Custom: When you (or a user) offers a specific amount of available NC to purchase requested item(s) in the Mall. The item(s) purchased from the Mall will be used to exchange NC items with another user to complete a NC trade. Before you complete a custom, make sure your trader has the NC item(s) you want and has agreed to trade them for the NC item(s) you will purchase from the Mall.
DW: Dyeworks
FF: Future Fashions
Exclusive: NC items awarded from specific NC prize pools. They are not sold separately in the Mall.
FG: Foreground
GL: Good Luck
GLT: Good luck Trading
HTPW/VHTPW: (Very) Hard To Part With (NC items a user considers personally valuable or unlikely to trade)
LE: Limited Edition
Lending: This refers to users who setup trades to lend out original Dyeworks items. Once you are finished dying a re-colored duplicate of the original NC item, you need to send the original item back to the lender (or follow their instructions for return).
MC: Mystery Capsule
NC: Neocash
NCC: Neocash Chat (NC Mall Neoboard)
NCer: A user who regularly visits or trades on the NC board
NTY: No Thank You
O: Offering
Over-offer: Offering a higher cap value than what the NC item is typically trading for
Pretrade: A trade set up in advance of an item actually being released
RR: Re-released (NC items that previously retired that and are available again, usually in a re-release capsule)
S: Seeking
TL: Tradelist
UFT: Up For Trade
Value: Represents how many caps an item is worth for trading
WL: Wishlist
1:1: Trading one NC item for another NC item
2:1: Receiving two items for one
NC Trading Values
Since you can't directly trade Neocash itself for NC items, users have developed an informal valuation system to use "caps" as the currency for determining NC values. A "cap" is very roughly valued to one GBC (1 GBC = 200 NC). For example, if you want to trade for an NC item worth 3 GBCs, then the item roughly has a 3*200=600 NC value.
The NCC eventually established NC value guides to display the estimated cap values for NC items based on recent NC trades submitted by users on the NCC. However, everyone can value their NC items differently, so no specific cap value is law. These guides are voluntarily created and maintained by experienced NCers for others to use as a reference.
Current NC Value Guides
As time goes on, these value guides may become outdated or no longer receive updates. Please let us know if new ones pop up.
Gift Box Mystery Capsules
Gift Box Mystery Capsules (GBCs) are highly sought-after on the NCC, since they help supply gift boxes. The standard price of a GBC is 200 NC (when they are not on sale).
GBCs released since June 2014 will award one item worth 150 NC (or more), along with two to four Basic Gift Boxes, with the chance to receive of a Limited Edition (LE) Gift Box themed to the capsule design.

If you have an older account, you may have some older GBCs from before June 2014. These older GBCs can be identified by their more rectangular shape, and vary in the number of items and gift boxes they can provide. They generally are not used for casual NC trading anymore, but are occasionally sought after as collectible items themselves; some rarer ones may be valued much more than a normal GBC!

Determining Cap Values
Below are some factors that can cause NC items to inflate and deflate in cap value:
Limited Availability: Limited edition and bonus items can sometimes have low chances of being awarded. As a general rule, these items tend to earn a higher value because of their rarity and the luck/difficulty required to obtain them otherwise.
Re-Releases: Items that are included in a recent re-release capsule may cause an item to become less valuable as more enter circulation and thus become easier to find.
Usefulness/Attractiveness: Items that are considered especially useful or pleasing to the eye as part of customisations tend to increase in value over time.
Future Fashions: Some items are not immediately available to all users on release, instead going into the Future Fashions shop for three days first. This can restrict the supply of the item available at first, causing some users without access to be willing to overoffer to get it early.
Buyables
Buyables are items for sale in the NC Mall that have no planned retirement date. They usually have a low cap value, because they are easily obtainable and always available in the Mall. Further, most become overly populated from users opening GBCs to obtain gift boxes. It is generally never worthwhile to purchase any buyables for the sole purpose of trading unless specifically requested by someone—see the next section.
Custom
A "custom" is when you or a user offers a specific amount of available NC to purchase requested item(s) in the Mall to complete a NC trade.
One of the best times to offer a custom is immediately after the release of a new, limited edition item in the NC Mall. Most often, you will find a trader that is willing to part their retired NC item for the new item(s). If you aren't familiar with NC values, be sure to read the "NC Trading Values" section below before you offer or accept a trade. Additionally, be aware of how many Gift Boxes you will require to be able to transfer the custom!
Valuable Buyables
Some buyables are highly sought-after when they are newly released into the Mall, especially those that will award exclusive and Limited Edition NC items. Below are some NC buyables most often purchased for NC trading:
Retired NC Items
Once an NC item retires from the Mall, it becomes more valuable than a buyable, because they can't be purchased anymore. Depending on the popularity of the NC item and the frequency it is re-released, the value may increase over the years.
Re-released NC Items
Re-released (RR) NC items are previously retired items that are temporarily available for purchase in the Mall again. When this happens, the NC item deflates in cap value since the item is being populated more on the NCC. Currently, RR NC items can be obtained from opening Retired Mystery Capsules.
Premium Collectibles
Premium Collectibles cannot be purchased from the Mall, but are awarded monthly to every active member of Neopets Premium. Each is released just once, and a new one is released every month.
Value Check Boards
NC value guides are not 100% reliable, since they are not always updated immediately when new NC items are released, or the owner is too busy to update often. You can always create a "Value Check" board to ask the NCC how many "caps" an NC item is currently trading for. You should wait until at least 3-4 people post a value that is the same or close.
Below are some examples of what you can put in the "Topic Title" when creating a value check board:
"Value check: [NC item name]?"
"How many GBCs is [NC item name] trading for?"
"How many caps is [NC item name] trading for?"
The "Topic Message" can include any questions you have about the item.
Common NC Trading Sales
Cap sales: Some NC traders discount the cap value of their NC items to trade for GBCs. Usually, the goal is to obtain more gift boxes for trading.
2:1 sales: These sales allow you to receive two NC items from your trader's designated list in exchange for one of yours. Users often seek GBCs for these sales, but other types of NC items can be used for these sales as well, so be sure to read the trader's instructions for their sale.
Creating a Wishlist and Tradelist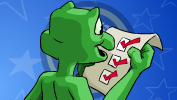 There's a broad range of NC items. You can browse our Item Database for a listing of all NC items. You can also preview NC wearable items on different Neopet species and colors in our Wardrobe. Once you have a general idea of the NC items you want and have to trade, creating a wishlist (WL) and tradelist (TL) will provide organization and easy reference for both you and your trader. There are many different ways you can create your WL and TL, below are some options:
Jellyneo's Item Database Wishlist
In order to use our Item Database Wishlist feature, you will need to register a free Jellyneo account first. After creating your account, you can create as many lists as you'd like. Make sure you mark them as either being a Neocash Wishlist or Tradelist from the Settings page. Once you do, you will be able to use the Trade Finder with other JN users.
Each NC item info page in the database also has a list of those Seeking the item and those who have the item Up For Trade. Marking your wishlists correctly in settings will have your name appear on those lists.
Your Gallery
If you don't have a gallery on Neopets, you can click here to create one. You can only have one gallery per account. Some NC traders use their gallery as a TL. You can add different categories to display your NC items up for trade. However, if you have a lot of NC items, this option can become pricey for upgrading gallery space. Also, be cautious not to mix Neopoint items in with your NC categories - you don't want any user to accidentally confuse them.
NC Mall Album
Though you can use your NC Album as a TL, it's not recommended as a first choice. Most NC traders avoid using them since it has some drawbacks. NC albums will display every NC item you've ever owned on your account, so you will need to make sure you keep it up to date for the NC items you are trading. It's also tedious to navigate through many pages if you a have a lot of items, and you can't create categories.
NC Tradelist Categories
Below are the most common categories you will see when browsing through NC TLs, here's what they stand for:
Buyables: This category will only list NC items that are buyable in the Mall.
Highlights: NC items in this category have a higher value to the owner. In most cases, the NC items are retired or popular.
Cap Values: Several TLs have NC items categorized by the item's cap value (e.g 1 Cap, 2 Caps, 3 Caps etc...). Values can range as you choose (e.g 1-2 Caps, 3-5 Caps etc...). This setup makes it easy for users to know what you value your NC items at before offering.
Closet: Some NC traders like to display NC items that are currently in their closet or being worn on their Neopets. NC items in this category usually aren't up for trade unless the user offers them.
(V)HTPW: Standing for "(Very) Hard to Part With", NC items in this category are usually considered favourites or NC items that are difficult to replace because of cap value, popularity, rarity, or personal affection. They're typically up for trade for specific NC items the user is seeking.
Wishlist Only: The trader is only willing to trade items on this list in exchange for items on their wishlist, rather than for caps, cookies, or other items. This condition is often but not always added to HTPW lists.
Gifts: Gift categories are created to display NC items users were generously gifted. These NC items usually are not up for trade, and it would be courteous not to offer on them.
Reserved: Items in this section are put aside to complete a trade with a specific user, or to complete a pre-trade. These items aren't up for trade, unless the owner states so.
NeoSignature
NC traders often like to put their TL or WL in their NeoSignature (siggy) for convenience when trading and posting on Neoboards. Having these lists in your siggy will increase your odds of finding other NC trades as you post on Neoboards.
The first step is going to the Neoboard preferences page. In the box after where it says "Enter your NeoSignature here:" you can put "TL or WL: ", then put a URL of your list. Putting the complete link will make it easier and faster for users to access.
NC Trading Etiquette/Guideline

Below are some recommended guidelines to help you have a successful NC trading experience:
When you are offering or accepting an NC trade, always ask the user which account they would like the NC item sent to. Don't assume that a user wants the NC item sent to the account they are communicating from.
During a NC trade, make sure you send the other person's item before you accept yours. This will prevent a user from feeling uneasy.
Cap values are subject to change! You should reference a current NC value guide or create a value check board on the NCC to make sure you will not over-offer or under-offer your NC items.
Don't list NC items as up for trade if you have no intentions on trading them.
If you agreed to a custom offer, and your trader has purchased requested NC items from the Mall, don't back out of the trade! This is rude, and no one wants to waste their NC.
If you have a lot of NC items up for trade (or that you are seeking), create a categorized TL/WL. This will make trading a lot more organized and easier for a user to search through.
Be polite. After finishing a NC trade, a nice gesture is to say "Thank you". When declining an offer, you can say "No thank you" or something similar.
Please don't bombard someone else's trading board saying you are seeking the same item too. If it is not a joint trading board, you should make your own trading board.
When making an offer, no one is obligated to accept your offer; understand that people may have various reasons for declining fair offers.
Be cautious when receiving Neomail offers, especially as a new trader. Some NC traders like to Neomail major under-offers to privately take advantage of users that might not be familiar with their NC values. If you aren't sure of any item value, ask the NCC what the estimated cap value is or reference a current NC value guide before accepting or making an offer.
Making a NC Trade
There are different ways you can approach NC trading, below are some options:
Creating a Trade Board
Step 1:
Go to the NCC and click "New Topic" at the top right corner of your page. When the page opens, make sure 'Board' is set to "NC Mall".
Step 2:
In the "Topic Title" section, state what you are seeking and/or trading. Try to be as clear and to the point as you can. If you are seeking and/or trading multiple NC items, you can use item abbreviations to save space. You also have the option to use some emoticons to make your title more fun and noticeable, just don't overdo them.
Step 3:
In the "Topic Message" section, you can list the NC items you are seeking and/or trading. Or, you can post your TL and/or WL (if you have one). Lastly, be sure to state if you want to receive offers and trades by post and/or mail.
Before creating your board, double check to make sure everything you listed is correct, then click "Create Topic" to officially create the board. Once created, you will be automatically reverted back to the NC Board. Your board will be bolded. The NC boards can move fast, so you will need to bump your board periodically.
Below is an example of a trade board:
Charter NC Mall Board
The Charter NC Mall Board is only available once you've been a Premium Member for around four months. This board is quieter and more secluded for NC trading.
Offering on Trade Boards/Neomails
Here are some guidelines for offering on trade boards:
Before you make an offer, make sure you read the trader's instructions for offers and trades.
Check the NC value of your items and the traders so you won't majorly under-offer or over-offer.
If they accept your offer, let them know which account(s) to send your NC items to, and ask them which account(s) they want their NC item(s) sent to.
Once confirmed, send the NC items in a timely manner. If you're going to step away, let your trader know.
Make sure you send their NC item(s) before you accept yours. Most NCers copy and paste the GBC confirmation message to their trader to confirm they've sent the items. It also assures the NC item went to the right account before the other person sends their NC item.
When the trade is complete, thank the user for the trade to be courteous.
What is Considered a Fair Trade?
A fair trade is subjective on the NCC, and it depends on the individual traders. Some NC traders are very strict with cap values and trading for popular items, while others might not mind a minor cap difference between items. Ultimately, you should trade for NC items you actually want. If you and your trader are both happy with the NC item(s) you received from a trade, then it's generally considered a successful fair trade. You can always create a "Fair Trade" board to ask the NCC if a trade is fair based on the item's cap value, rarity, and popularity.
Help us improve!
Did you find what you were looking for on this page?
This article was written by: Sab