The NC Mall Guide
NC Mall Re-Releases
From time to time, the Neocash Mall will place some items that had previously been retired back for sale in the Mall, either directly for sale or through a capsule, event, or game.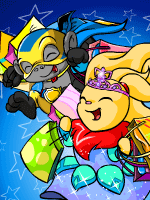 Overstock Cleanout
The Overstock Cleanout started midday on May 15, 2023, and continued through end of day on May 22, 2023. This event saw ten rare, popular items placed for sale into the NC Mall's Spring Shop for direct purchase. Prior to this, the items had not been available for direct purchase; rather, they were available through now-retired events, games, or capsules.
It is unknown if this event was a one-off or will be recurring.
| Back To Top |
---
Dyeworks Re-Release
Dyeworks is a feature of the NC Mall where you can get alternately-coloured versions of NC wearables. While some items are permanently dyeable, others are only dyeable for a limited time.
Prior to December 2022, you had to already own the undyed version of an item to be able to dye it. Because of this, players on the NC Mall Neoboard developed an economy around lending items, where users would allow others to borrow their undyed items to use for Dyeworks in usually exchange for something like a Dye potion or GBC.
During the September 2022 Dyeworks release, at least one lender had a user they lent items to fail to return them. Although TNT support was able to return the items after some time, they advised they may not be able to do so in the future and discouraged item lending. The issue was brought up to MissRainbow in November on a Neoboard topic seeking suggestions for the next batch of Dyeworks, and TNT eventually decided to release all limited Dyeworks items as buyables for the duration of the event moving forward.
April 2023
These items were available from March 23rd, 2023 until April 16th, 2023.
February 2023
These items were available from February 1, 2023 until February 26, 2023.
December 2022
These items were available from December 1, 2022 until December 25, 2022.
The final item in this set, Casual Mutant Trousers, was already available as a permanent buyable before (and after) the event.
| Back To Top |
---
Altador Cup Team Wearables
Every year during the Altador Cup season, a set of team wearables are temporarily available for direct purchase from the NC Mall. Each year, TNT will release one new team wearable to join this set. To view all of these, check out the "Altador Cup Team Support" special category in our Item Database:
| Back To Top |
---
Spring Cleaning Sales
At the end of April every year since 2012, some of the GBCs released in the previous calendar year are added back for sale in the NC Mall at reduced prices. These sales last for only one weekend. For more information on the GBCs re-released for this sale, check out the Spring Cleaning section of our NC Mall Sales guide.
| Back To Top |
---
Re-Release Capsules
A Re-Release Capsule is a Mystery Capsule that, when opened, provides either one or two items previously available from the NC Mall, but no longer. These are released relatively frequently by TNT. Sometimes they follow a seasonal theme (such as Winter), or they re-release items from a particular feature (such as Dyeworks).
| Back To Top |
---
NC Archives Wheel
The NC Archives Wheel can be accessed for a time after opening a NC Archives Fortune Cookie. Each spin of the Wheel will grant you one item from a previous NC event.
Our Item Database includes a note on any items that are current or previous prizes of the NC Archives Wheel, and you can find a full list on our guide.
| Back To Top |
---
Miscellaneous
There are several less notable or one-off re-releases. If there are any we are missing, please let us know.
Usukicon 2023
In celebration of Usukicon, these items were added for direct purchase in the NC Mall from August 18 through September 2, 2023.
Ultimate Altador Cup Gear Packs
Separate from the annually available team spirit wearables in their own section above, a special set of Altador Cup team wearables was released as part of the Ultimate Altador Cup Gear Pack (2019), then re-released again as part of the Ultimate Altador Cup Gear Pack (2022).
These packs also include a possibility of a bonus item:
Dip & Dye Neggs 2021
The 2021 version of Dip & Dye Neggs originally concluded on April 30, 2021. This meant that Negg Dyeing kits could no longer be purchased or used.
On November 2, 2021, the Negg Dyeing Kits were added back into the NC Mall and the event was reactivated. This change was unannounced, but confirmed as intentional by TNT through support tickets. The kits remained for sale until the start of the 2022 Festival of Neggs on April 15, 2022; they remained useable until through April 18, 2022.
Corridor of Chance
The key packs for the Castle Nox - Corridor of Chance game in the NC Mall were first released on October 2, 2010. They remained until May 27, 2013, at which time TNT retired the game. On March 8, 2019, the game was revived, and keys packs were returned to the Mall until March 27, 2020. In early April 2021, the key packs were re-released again at the request of an Editorial question, this time as permanent buyables.
Puppet Markings
Puppet Markings was originally for sale in the NC Mall from May 15, 2019 through June 24, 2019. On May 4, 2020, it was re-added back for sale as a permanent buyable without any announcement. It is not known if this was an oversight, glitch, or intentional.
Dyeworks Summer 2019
The summer 2019 set of limited Dyeworks items were first made available on July 31, 2019. On August 2nd, TNTer Jade posted on the NC Mall Neoboard with the following message:
Hi all, so I've actually been thinking about this idea for some time. But I was recently suggested it by [redacted by JN]. And I spoke with Scrappy and she was okay with it. So basically we are going to re-release the original dyeworks items in the mall. This only includes items that were originally sold in the mall, nc game/event items will not be sold to keep it fair for those who purchased originally.

So for this round this includes Cupcake Curtains, Maraquan Silver Markings & Baby Wading Pool! These will be in the summer shop until the 21st, so yeah just wanted to let you all know
However, after receiving some feedback from additional users on the idea, she posted again with a change of plans a few hours later:
So sorry you guys, we wanted to make it more accessible for those who never got the chance. But with the feedback being more leaning towards the fact that it is unfair I have taken them out of the mall. Apologies for not consulting you all first. We will stick with the original process of trading.
About an hour after that, she provided another update:
Hi everyone, once again I wanna apologize for making a rash decision without consulting/polling your thoughts first. I am learning one step at a time. Because I did announce it I want to follow through. We will be making these items available till the end of the day and they will be non tradeable. I wish I could make everyone happy but I know that every decision has its own set of setbacks.
On August 6, TNTer Scrappy joined the board with the following final update:
Hey friends! Sorry about the delay in informing you all on the decision for the Dyeworks items while we were discussing different options.

So heres the deal, we will put the Cupcake Curtains and Baby Wading Pool in the mall at 5pm NST and will be available until noon tomorrow. This item will remain tradable. Sorry about all of the confusion here guys! Enjoy the rest of Dyeworks

-Scrappy
These two items were then added to the Mall on August 6 and 7, 2019. (Maraquan Silver Markings, mentioned on the original post, was already in the Mall as a permanent buyable.)
War Booty Chests
The War Booty event was a limited time tie-in event with the Wraith Resurgence plot. War Booty Chests, used to activate the event, were originally available for purchase from November 17 through December 6, 2017, and redeemable through December 10.
On December 14, the event was reactivated without announcement, and the 1-, 5-, and 10-Packs (but not 20-Pack) were re-released in the NC Mall and retired on December 20. All pack sizes were re-released again on April 6 through May 14, 2018, this time with an announcement in the New Features:
NC MALL NEWS: I spy with my little eye…War Booty!! These strange treasures were left behind when the Wraiths were defeated. Each chest reveals different items. The Yurble awaits you now, wonder what's in your chest?
From New Features dated April 7, 2018
The descriptions of all packs continue to state the event ended on December 10, 2017, despite remaining active.
Free the Faeries
The Free the Faeries event was a limited time event to celebrate Faerie Festival 2017. It was originally planned to last from September 20 through 30, 2017. However, after three baby-themed wearables were changed to additionally fit basic body types, the slingshots were re-released in the mall from October 9 through 16, 2017.
January Weekend Sale 2015
The second weekend of the 2015 January Weekend Sale took place January 23 through 25, but saw a significant amount of unplanned downtime. To make up for this, the items on sale this weekend were re-released the following weekend, available from January 30 through February 2.
Key Quest Tokens
Playing Key Quest required the use of tokens. While every Neopian was awarded a free basic token, players could also buy specialty tokens from the NC Mall. Some of these tokens were permanently available (even beyond the demise of Key Quest), while others were available for a limited time. Some of the limited tokens were re-released at various intervals. Each time a token was re-released, a new wearable would be found inside, replacing whichever wearable was previously available from the token.
Jubjub Power Bounce Tokens
JubJub Power Bounce tokens were first released on June 24, 2010, and retired on September 21, 2010. The following summer, they were re-released and available from August 16, 2011, through September 18, 2011.
The holiday version of the tokens were first released on November 18, 2010, and retired on January 13, 2011. The following holiday season, they were re-released and available from December 12, 2011, through January 11, 2012.
The winter version of the tokens were first released on January 13, 2011, and retired on March 15, 2011. The following winter, they were re-released and available from January 11, 2012, through February 19, 2012.
Valentines Shop 2009
When the Valentine Shop in the NC Mall reopened on February 1, 2009, it included three items previously retired when the Valentine Shop last closed on February 18, 2008. They remained available through February 21, 2009.
Separately, Sweetheart Ball Gown was also re-released at an unknown time in February 2009, but remained available for purchase until September 27, 2009.
This article was written by: Kenny