Your jnAccount:
Log In
or
Register
| New to Jellyneo?
Click here!
The Money Tree
In the center of Neopia Central, there is a tree. It is a friendly tree, and old and generous. It is the Money Tree! At the Money Tree, Neopians (and sometimes ghosts) donate Neopoints and items, after which other Neopians can collect these Neopoints and items.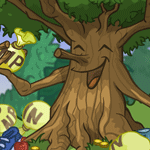 I'm not actually made of money...
Up to twenty items at a time are displayed at the Money Tree. Much of it, however, is junk. So how do you know what's good to get? Well, you'll probably recognize many of the items that you see as cheap items from dailies like Underwater Fishing or Coltzan's Shrine; you can safely let those go. Other times, you'll simply have to learn. A few refreshes at the Money Tree will help you determine what comes up often, and you can also browse through a list of inexpensive items in Neopia to get an idea of what is junk and what is not.
Rare items such as paint brushes, Nerkmids, and morphing potions get donated almost never. But you'll never know what might be there!

We've seen these things at the Money Tree - what will you find?!
And we have to say it: because the Money Tree involves collecting items and/or Neopoints, you cannot collect anything from it from a side account.
Obtaining Items
To try to get an item from the Money Tree, simply click on it or any of the text beneath it (the item name and donor.) You may collectively obtain up to ten items per day at the Money Tree, Second-hand Shoppe, and Rubbish Dump. If you try to collect more, you will see a generic message instead:
Oops! Too late...somebody seems to have taken that item while you were pondering.

Unfortunately, you will get this exact same message if someone actually did get the item before you, so the best way to tell if you've hit your limit is to actually count the items as you take them.
If you manage to get your item, you'll get this message, typo and all:

Yeah! You got it!
Thanks for visiting. We hope you enjoy your free gift. Remember, though, there are others out there less fortunate thank you...
Only a limited selection of cheap Neocash items are available at the tree. These items appear after someone has made an NC donation via an NC Upcycle Fortune Cookie, although their donation of any NC item will instead appear as one of only the following NC items at the Money Tee:
Neocash at the Money Tree
It's very faint, but the Neocash item images will also appear at the Money Tree with a green border versus Neopoint item images will all have an orange border. Additionally, Neopoint items will display the donor's username while the NC items all appear as donated by Generous NC Mall Shopper.
Occasionally you may see small bags of Neopoints that have been freely donated by generous Neopians either at the Money Tree or from the Wishing Well, or forcibly redistributed from unwitting Neopians by ghosts from a random event.


Money, money, money - MONEY!
Collection of a Neopoint donation counts towards the daily limit of 10 items even though it's not an item. You may only successfully collect Neopoints if you have less than 20,000 NP on hand; unlike the Soup Kitchen, Neopoints in your bank or shop till do not count against you. If you have more than this amount and still manage to nab a bag of Neopoints, you will get the following message:

You can only take Neopoints from the money tree if you have less than 20,000 NP :(
If you see a message that ghosts have taken everything, it simply means that there are no items at the Tree currently. Maybe you should donate something!

The ghosts have stolen all the donations!!! Try again soon!
Donating to the Money Tree
To donate Neopoints, you can click the green "Donate NP" button just above the donated items. Currently, Neopoint donations must be at least 6 NPs but not more than 5,000 NP.
To donate items, you must work from your inventory. Click on an item, select "Donate Item" from the dropdown menu, and submit. You can also donate via quick stock by selecting the "Donate" option in the item's row.
Because only twenty items at a time are visible at the Money Tree, your donations might not appear immediately.
If you donate a Neopoint wearable, your item will make its way to the Second-Hand Shoppe instead of the Money Tree.
Donating Neocash Items
If you have Neocash items you wish to donate, you will first need to acquire an NC Upcycle Fortune Cookie from the Neocash Mall or another player.
For more information about how to use the cookie, take a look at our NC Upcycle guide.
Events
Scamander Swarm
Every year on October 12th, the Scamander-in-chief donates Scamanders that swarm the Money Tree all day long, taking up a majority of spots. (Only a few regular donations may be seen, depending on the rate of Scamanders being caught.)
For the most part, these Scamanders will squirm away when you try to grab one:
However, there is a very small chance you'll be able to grab one. If you do, you'll receive the usual "You Got It!" message as you would for any other item.
As a strategy, you may click on the same Scamander as many times as you can until someone else is lucky enough to grab it. We would recommend opening up the main Money Tree page showing the Scamanders in one tab, and then CTRL+clicking (or CMD+clicking if on a Mac) to click on a particular Scamander and open the result in a new tab. Do it enough times, and you may walk away with a new petpet.
Other Events
There are times when you may see that a Neopian character has donated something. The World Events page claims that some characters will donate dozens or hundreds of items—although we have not confirmed any of the mechanics or if the donations are still active. If you see any happen, make sure to let us know!
Help us improve!
Did you find what you were looking for on this page?
This article was written by: Terry & Riley